This site contains affiliate links, meaning that we earn a small commission for purchases made through our site. We only recommend products we personally use, love, or have thoroughly vetted.
---
So, you survived puberty and made it through those pimple-filled teenage years–you probably thought your struggles with breakouts were a thing of the past, right? Well, I hate to break it to you, but when you decide to have a baby, you might find yourself running to the bathroom to see if there's any leftover Noxema from high school. I have some important words you need to hear: pregnancy acne treatment.
Yes, that's right, among other glamorous symptoms, such as pregnancy bloating and lightning crotch, pregnancy pimples are a "thing." On your face, under your eyebrows, on your back, even sometimes on your ears!
Thankfully, though, there are ways to help so you don't suffer through nine long months of looking like your former acneic self. There are plenty of safe and effective pregnancy acne treatment options that can help you combat those unsightly bumps.
First Published: October 04, 2021… Last Updated: February 08, 2022
Why Do Women Get Pregnancy Pimples?
It probably won't come as much of a shock, but just like most of the other unusual early pregnancy signs, acne during pregnancy usually has to do with (drumroll please) . . . hormones.
Now, not all pregnancy hormones are an issue when it comes to zits. Specifically, an increase in estrogen levels among pregnant women can sometimes decrease the number of pimples mamas experience. That's why many expectant mothers will rave about their glowing, clear skin.
While others of us just sit around crater-faced the whole time. Because that's fair.
But during the third trimester of pregnancy, women also have spikes in their levels of androgen hormones (the ones found in both males and females.)
The higher number of androgen hormones is what typically causes an increase in acne during pregnancy.
Hormones aren't the only thing sending you to your local drugstore for a pregnancy acne treatment, though. Increased blood flow and oil production in your skin is also a culprit in terms of pregnancy acne.
Can Acne During Pregnancy Predict Your Baby's Gender?
While some old wives' tales might insist the reason you are experiencing pregnancy pimples is that you're having a girl, there's no truth to this statement. Any hormonal acne is strictly stemming from hormones belonging to the mother. Possible hormones from a little girl have nothing to do with your sudden breakouts.
When Does Pregnancy Acne Start?
While many women won't experience acne during pregnancy until their third trimester, others notice a change in their skin as early as 6 weeks pregnant.
For some people, sudden breakouts might even be one of the first weird early pregnancy symptoms they have to deal with. Isn't pregnancy GLAMOROUS?!
Should You Ask Your Doctor About Pregnancy Acne Treatment?
If your pregnancy acne is more than just the occasional zit, you're probably starting the search for some type of pregnancy acne treatment that's safe for your baby.
Be sure to read your labels because there are certain acne products you should never take while pregnant.
If you're considering any pregnancy acne products, be sure to check with your doctor, midwife, or dermatologist first. They can guide you through the treatment process and help you create a skincare regimen that will fit your unique needs.
Which Products Aren't Safe Pregnancy Acne Treatments?
Are you wondering which pregnancy acne treatments to stay away from while you're expecting? The list below contains several unsafe pregnancy acne products that can cause congenital disabilities and other issues during pregnancy:
Isotretinoin: i.e., Absorica®, Amnesteem®, Claravis®, Myorisan®, Sotret®, or Zenatane™
Tazarotene: i.e., Avage®, Fabior®, Tazorac®, or Zorac®
Spironolactone: i.e., Aldactone®
Retinoids: i.e. retinol (approved by the FDA in pregnancy up to 1.5mg/day), tretinoin, adapalene, tazarotene, alitretinoin, bexarotene, Retin-A®, Accutane®
High dose salicylic acid: mostly peels and oral medications; low doses are found in many cosmetic products targeting acne, but the American College of Obstetricians and Gynecologists (ACOG) has deemed low doses safe
Phthalates: i.e. diethylphthalate
Formaldehyde: i.e. 5-bromo-5-nitro-1,3-dioxane, bronopol, quaternium-15, imidazolidinyl urea, DMDM hydantoin, diazolidinyl urea, hydroxymethylglycinate
And of course, if you're looking for "clean" skincare during pregnancy, there's a lot more you'll want to avoid.
Which Pregnancy Acne Products are The Best?
I'm the type of person who can't buy anything without looking at reviews first and then cross-examining them for information. When I'm shopping, I like to feel like I'm purchasing the best option possible, for the best price available.
I'm an absolute peach to deal with around the holidays, let me tell you!
So, with that in mind, I present you with our list of the best pregnancy acne treatment options on the market! Our team has scoured reviews, listened to the research, and polled our community to find out what works best to treat those pregnancy pimples. Read on to see what we've discovered:
Hint: The Noxema I nostalgically referenced earlier in this article did NOT make the cut.
Proclaimed a Women's Choice Award Winner from 2017 – 2021, this gentle pregnancy safe acne treatment is a favorite among expectant mothers.
Full of natural ingredients, such as lactic acid, cucumber extract, and green tea, this face wash provides reliable results and is one of the top-rated pregnancy acne treatments on Amazon. It's also highly recommended by dermatologists and OB/GYNs.
And if you're looking for other pregnancy-safe products, Belli is considered a safe and reliable choice all around.
The Spoiled Mama makes amazing products for all your pregnancy skincare needs. They leave out all the bad stuff, so you're saved even the time of reading labels (unless you just want to read them; you do you!) It was created by a nurse and mom who was upset by the lack of pregnancy-safe skincare products, and isn't that how all the best things are born?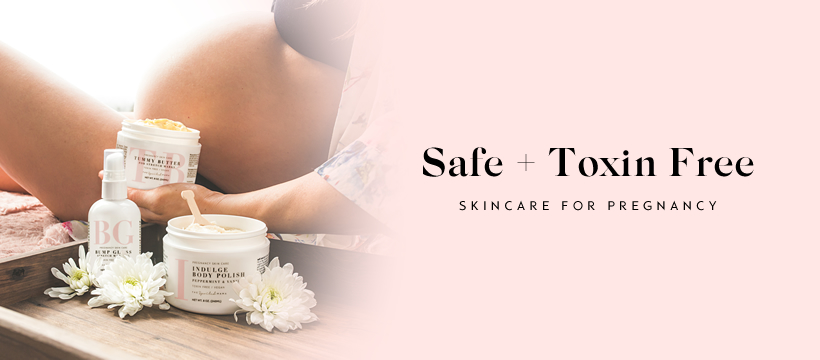 This pregnancy acne treatment kit comes with two amazing products to help clear up your skincare woes–a toner to regulate hormonal acne and a serum to apply directly to problem spots.
(Note: the serum contains .5% retinol, which is within the range recommended during pregnancy by the FDA. Do not combine with other retinoid products; you want to avoid exceeding this limit.)
Remember when we mentioned earlier that increased oil production is a common cause of acne during pregnancy? Well, if you're looking for ways to battle your extra oily skin, this Cetaphil product is sure to help.
Cetaphil products have earned a reputation for working hard yet remaining gentle. They're a popular suggestion among dermatologists and estheticians alike.
Side note: Cetaphil also has an oil-removing moisturizer with over 18,000 reviews!
This foaming face wash is not only a pregnancy safe acne treatment, but it's also a part of a larger collection of mommy and baby products.
Bella B has created a collection of safe, gentle, and effective products to help moms during pregnancy and after their babies are born. If you need to deal with pregnancy pimples, this is a great place to start.
Whether you're preparing for your maternity shoot or it's almost time for your socially distant baby shower, doesn't it always seem like zits pop up at the worst possible time?
Well, that's where the Mighty Patch comes in!
These pregnancy acne treatments might be small, but they pack a lot of punch. Just put one on your problem area at night before bed and wake up to a fresh, clean, zit-free face.
No worries about the ingredients. We choose this brand specifically because it absorbs fluid from the skin without using salicylic acid.
Burt's Bees is a household name when it comes to natural skincare solutions. It should come as no surprise that their natural acne products are a great choice for expectant mothers trying to fight against acne during pregnancy.
We love Burt's Bees because it's available most places you already shop, and you can really trust what you're putting on your skin!
If you were to look on my bathroom counter right now, you would notice that it's littered with products from The Ordinary. Not only are these items some of the most budget-friendly skincare options available, but they're also some of the most hardworking.
When it comes to nighttime pregnancy acne treatments, their Azelaic Acid Suspension 10 can stand up to even the toughest pregnancy pimples.
Learn More About SafevPregnancy Acne Treatment Options
Growing a child is hard enough without the struggle of pregnancy acne making things even more uncomfortable and awkward. Just remember, though, if you're dealing with acne during pregnancy, you're not alone!
While trying to find the right pregnancy acne products and covering up your blemishes can seem like trouble, remember what it's all for – that beautiful baby inside your belly.
Just remind them of the breakouts you suffered with for them when they start complaining about their first pimple one day!
Do you have any favorite & safe pregnancy acne treatments? We want to hear from you!
Kristen Bergeron is a freelance writer from Florida. In addition to writing, she is a wife, mother of two beautiful girls, Hadley and Scarlett, and a part-time photographer. After overcoming infertility and having two successful IVF cycles, she's made it a personal goal to help educate men and women on the realities of fertility struggles. She is passionate about supporting fellow women who are trying to navigate the complicated world of conception, pregnancy, and learning to be the best mothers we can be.