This site contains affiliate links, meaning that we earn a small commission for purchases made through our site. We only recommend products we personally use, love, or have thoroughly vetted.
---
Despite the use of diapers, babies tend to get their pee and poop in plenty of places other than where you'd actually like them to be. During diaper changes, for example, there seems to be some innate skill for releasing bodily functions all over the surface you're using for the process.
Thank goodness for changing pad covers!
Not only do changing pad covers bring a little extra style and cuteness to your baby's nursery, but they also control bodily fluids from ending up where they shouldn't.
Whether you're looking for a gender-neutral changing pad cover or something easy to wipe down after each use, our team is pleased to offer tips on all things changing pads.
Are Changing Pad Covers Really Necessary?
You know how when you're getting ready for baby, there are certain things people tell you to buy that aren't actually beneficial?
Like grocery cart covers, for instance–yes, they're adorable and can cut back on germs, but at the end of the day, they're kind of a pain in the butt and hard to put on.
Plus, if you're anything like me, you'll end up forgetting it half the time. But changing pad covers are definitely on the list of items you'll use, wash, and repeat!
But why? What makes them so special that they should definitely be on your list of baby registry must-haves?
Here are a few great reasons I'm an avid supporter of buying a changing pad cover:
1. Absorption
Let me tell you a little story about the time I forgot to put a changing pad cover on before taking care of my little one's dirty diaper.
My daughter had a royal blowout and required immediate attention. As she's lying on her cover-less changing pad getting cleaned up, she decides it's the perfect time to start peeing. There was pee EVERYWHERE.
You see, while a cover would have quickly absorbed the urine for better control, the slick changing pad surface allowed it to trickle around, where it eventually landed all over my child's back, legs, and butt.
Suddenly, a simple diaper change turned into a full-blown bath. A changing pad cover can help you avoid situations like this.
2. Warmth and Comfort
Most changing pads include a waterproof surface that's nice for long-term care but not so great for keeping your baby cozy.
A soft, fuzzy changing pad cover will bring some extra warmth and comfort to your little one's diaper changes. Since they'll be half (or completely) undressed, putting a cover on your pad will keep their naked skin from the cold waterproof fabric of the pad itself.
3. Pad Protection
Think about a regular bed mattress for a moment: if you didn't put mattress pad protectors and sheets on top before sleeping, can you imagine how quickly the mattress would get dirty and gross?
Changing pads are the same way.
It's much simpler to pull off a changing pad cover and wash it than to try and clean up the whole pad itself.
4. Style and Cuteness
Lastly, changing pad covers are just cute! Whether you go for solid colors, animal prints, flowers, or stripes, these products will bring a little extra zhuzh to your baby's nursery!
Are There Any Cons to Using a Diaper Changing Pad Cover?
So, we know there are benefits to throwing a changing pad cover onto your diaper changing pad, but are there any reasons you might not want to?
Aside from a possible increase in laundry, not really.
Now don't get me wrong, I'm not saying you HAVE to use a changing pad if you don't want to, but if it's something you're considering, there are no true cons to buying one.
If you're worried about a spike in dirty laundry, here's a trick!
Consider getting a box of puppy pads to put on top of the cover. Yes, this makes all of the other benefits of covers a moot point, aside from cuteness, but they will minimize the amount of laundry you have.
Some people even forego the changing pad covers altogether and use puppy pads on top of the diaper changing pad. I salute these utilitarian parents.
How Many Changing Pad Covers Should You Add to Your List of New Baby Must-Haves?
On average, a newborn will have six to eight dirty diapers a day. With so many diaper changes happening each day, there's a good chance your changing pad covers will start to get dirty rather quickly.
As a general rule of thumb, it's a good idea to purchase three or four diaper changing pad covers.
If you're using wipeable changing pad covers, two might be sufficient. Just make sure to have at least one extra so you'll have something to put on when the first one is in the wash.
Are Changing Pad Covers Universal?
For the most part, a diaper changing pad cover will fit most changing pads. Pay special attention to any special instructions on the pad you buy, though.
It can also be helpful to purchase contoured changing pad covers for many types of pads since these tend to fit a little better.
What Are the Best Changing Pad Covers for Your Needs?
Now comes the fun part – breaking down our favorite changing pad covers for babies! With so many different ones to pick from, we're here to help you sort through the noise and find the best of the best.
If you're on the hunt for a changing pad cover from Target that you can add to your baby registry checklist, you're sure to love this option from Cloud Island!
While it comes in various patterns, the rainbow style is one of our personal favorites! It's even a great pick if you're looking for unique rainbow baby gift ideas.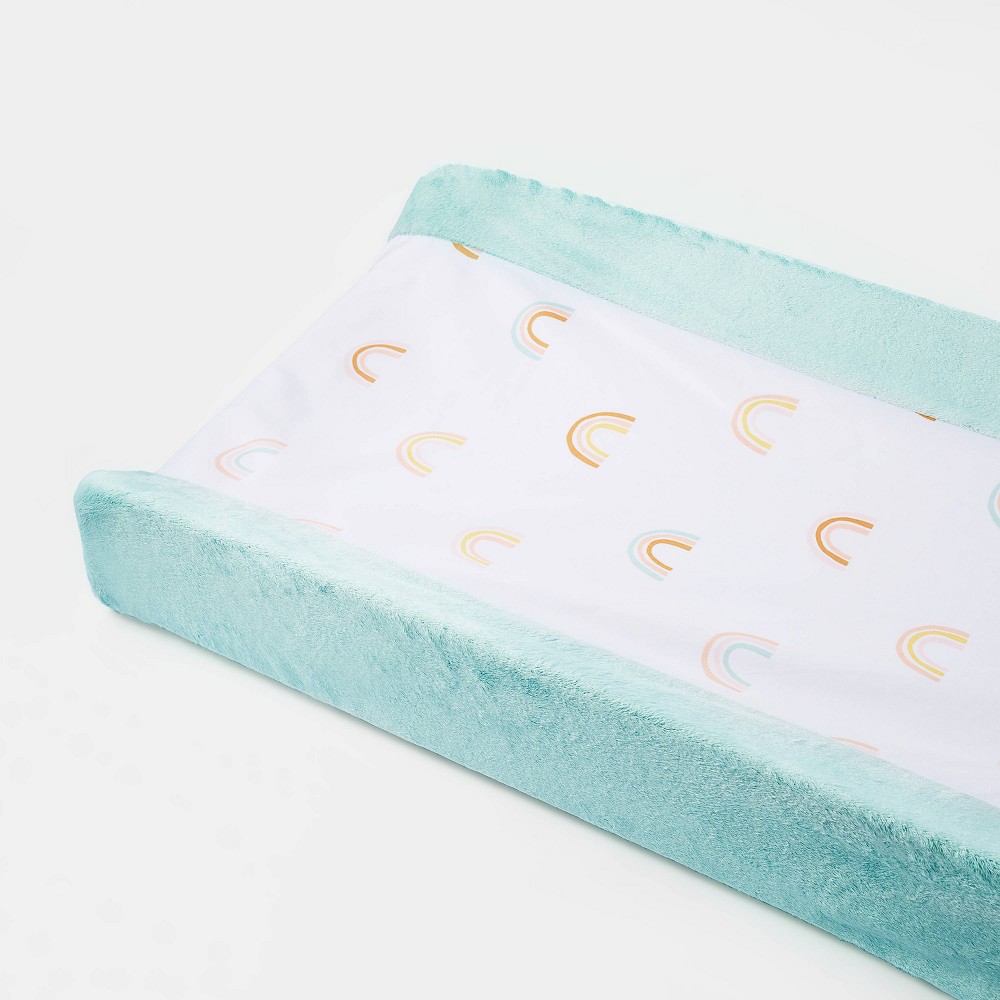 This wipeable changing pad cover makes clean-up easy and is one of the most affordable options available.
Who doesn't love a "two for the price of one" situation? This set of changing pad covers on Amazon is available in two different color options: pink and tan or blue and gray.
It's made from soft, breathable fabric that will keep your baby cozy throughout their entire diaper change.
If you thought bamboo baby pajamas were soft and indulgent, just wait until you see this luxurious bamboo cotton changing pad cover from Kyte Baby!
Kyte Baby is one of our top picks for all things bamboo cotton, and their changing pad covers are no exception.
It comes in a wide range of attractive color options to fit the look and style of any baby nursery.
Whether you're having a boy or a girl, these Organic Cotton Changing Pad Covers at Amazon are some of the cutest products on this list!
They are budget-friendly, and, best of all, are made from high-quality organic cotton you can trust for your little one's sensitive skin.
This set also works great if you're looking for contoured changing pad covers.
Not only are these products by Ely's & Co. the perfect gender-neutral changing pad covers, but they're also waterproof!
They're also lightweight, breathable, and have more than 3,000 reviews on Amazon!
Do you love all things muslin when it comes to items on your baby registry must-have list? If so, you're bound to obsess over these beautiful Aden & Anais changing pad covers!
While most reviewers loved the buttery softness of these products, some did warn that they tend to be thinner than some other changing pad covers, so that's something to keep in mind.
While contoured changing pad covers are among the most common, not all parents choose this type of diaper changing pad.
If you use a changing basket instead, these round sheets from LittleBirdieInk are precisely what you need.
They have a very boho feel and feature some of the most gorgeous gender-neutral changing pad cover styles we've seen.
Burt's Bees Baby is a popular name for new baby must-haves. Their organic changing pad covers at Target are no exception.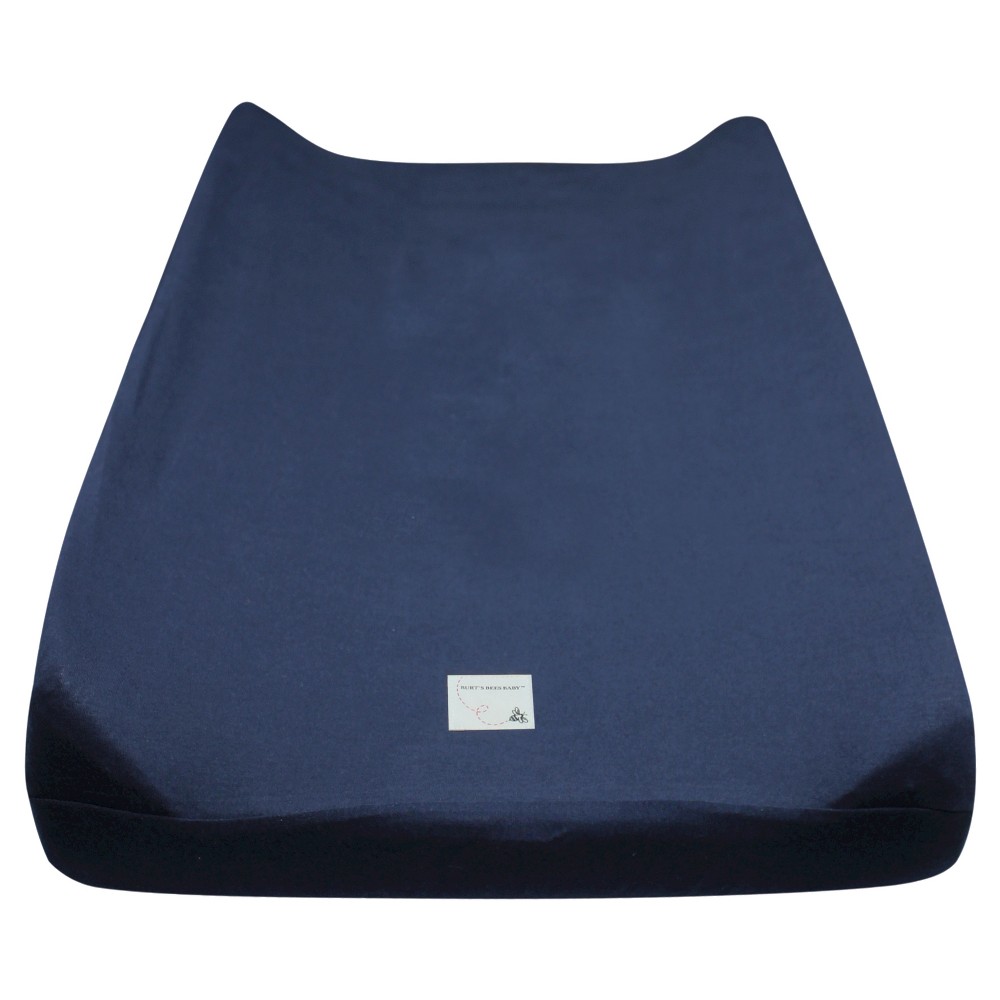 These beautiful diaper pad changing covers are available in four colors and have excellent reviews you can trust.
Boasting soft, plush fabric, this Summer Infant wipeable changing pad cover at Amazon is a go-to option for many parents looking to buy.
It comes in a gender-neutral gray chevron pattern that will fit into many nursery styles.
Since it's wipeable, you can also count on an easy-to-clean surface that's perfect after diaper changes.
Whether you're looking for rainbow baby gifts or a gender-neutral changing pad cover, this boho-chic product from Caden Lane is sure to make you swoon.
If you're anything like me, anything that can be customized for baby is a win. Plus, this changing pad cover includes the soft, cozy materials that Caden Lane is famous for! Choosing a favorite product from this list is no easy choice, but this one is right near the top.
Changing Pad Covers: The Adorable Nursery Accessory Your Baby Needs
Let me reiterate–you don't have to buy changing pad covers for your little one's nursery. But they're so darn cute, and honestly, they do come in handy.
Whether you end up choosing a gender-neutral design or go with a changing pad cover that's waterproof, the products on this list are a great place to start your search. Trust us, your baby will be thanking you (if they could talk, that is) when you don't have them lying on a naked changing pad!
Did you use a changing pad cover when your babies were small? Would you recommend them?
Kristen Bergeron is a freelance writer from Florida. In addition to writing, she is a wife, mother of two beautiful girls, Hadley and Scarlett, and a part-time photographer. After overcoming infertility and having two successful IVF cycles, she's made it a personal goal to help educate men and women on the realities of fertility struggles. She is passionate about supporting fellow women who are trying to navigate the complicated world of conception, pregnancy, and learning to be the best mothers we can be.