This site contains affiliate links, meaning that we earn a small commission for purchases made through our site. We only recommend products we personally use, love, or have thoroughly vetted.
---
During my pre-pregnancy days, I dreamed of the moment I'd get to dress my bump in adorable clothes. I couldn't wait to buy flowy maternity dresses, form-fitting pregnancy tops, and a cute maternity swimsuit.
What I forgot to consider is that I'd need to buy maternity work pants, too. And what I learned is that while everyone hates pants post-pandemic quarantine, pregnant people ESPECIALLY hate pants.
Professional clothing has never been my favorite thing to shop for (or wear for that matter), and it didn't get any more fun when I was putting together a maternity wardrobe.
Finding a decent pair of pants for work during pregnancy isn't always easy. You need something that looks good, feels good, and offers PLENTY of stretch for the next couple of months.
While this can seem impossible, it doesn't have to be.
If you want the best professional pregnancy pants for your changing body, stick around! There are lots of cute and comfortable options available, and the suggestions below are the cream of the "maternity work pants" crop!
Will Pre-Bump Work Pants Still Work?
I'm a big advocate for using what you've already got regarding maternity clothes. If, for instance, you have a collection of flowy tops or dresses that leave room for an expanding belly, why not continue wearing them?
Regular pants are often a different story, though.
No matter how much you love a particular pair of jeans or bottoms, there's a good chance they'll be hella uncomfortable once your bump starts to grow. That's why many of us start hunting for options that include an expandable waistband or belly panel. Sweet relief!
But if you want to stick it out with your current wardrobe, you do you! You can do a couple of things to prolong their usage.
For starters, you can give the hairband trick a try.
Just create a slip knot through the buttonhole of your pants and wrap the hair tie around the button itself. This isn't a perfect solution and won't work if you're wearing a shorter top, but it does help, particularly in the first trimester when you're between regular clothes and maternity work pants.
Another great solution is to purchase a couple of waist-extending belly bands. These are much more affordable than maternity work pants and usually yield decent results.
To create an affordable maternity wardrobe, you should also check out local thrift shops and online marketplaces! Mamas can often find quality pregnancy clothing without spending a fortune buying clothes second-hand.
How Many Pairs of Work Pants Does a Mom-to-Be Need?
While you can undoubtedly consider work pants one of your maternity essentials, that doesn't explain how many pairs you actually need.
Should you have, for example, a different pair of pants for every day of the workweek?
Probably not (unless you want to, that is!). I wear the same pants several times a week–in fact, a black or navy pair of work pants is a gem in terms of reusability.
Many folks call using the same wardrobe pieces frequently creating a "capsule wardrobe." If you're looking to create more of a maternity capsule wardrobe, you'll want to stick to versatile basics that you can use to make many different outfits.
Ultimately, two to three pairs should be good depending on how frequently you go into the office. You can re-wear them a couple of times a week and bulk up your office wardrobe with a few simple maternity dresses, too!
The Best Places to Shop for Maternity Work Pants
One of the great things about shopping for maternity clothes in the present day is the vast number of options available. It's not like it was in past decades when only a few places carried wardrobe options for pregnant people.
Some of our favorite choices for the best maternity work pants include:
15 of the Best Maternity Pants for the Office and Beyond
Many options are available if you're on the hunt for maternity office slacks or a comfortable pair of pregnancy scrubs.
To streamline your shopping experience, check out this list of the top 15 maternity work pants on the market!
These ankle-length pregnancy work pants from H&M are the definition of maternity comfort.
They feature a sleek, straight-leg style and are made from a buttery soft, viscose cotton blend that offers all the stretch and softness you can dream of.
If you only buy one pair of maternity work pants, the Maia Secret Belly Fit Ankle style is one of our absolute favorites!
Not only are they incredibly chic and versatile, but they also come in several colors to suit your preferences.
Plus, they include Motherhood Maternity's patented "Secret Belly Fit" design, providing plenty of room for your bump during each trimester.
Old Navy was one of my favorite shopping spots for maternity clothing during my pregnancies. I love that you can get quality products without breaking the bank. Heck, I still have a maternity tank top from there that I wear regularly, and I'm not having any more kiddos any time soon!
You'll love these pixie flair maternity work pants if you're not a fan of straight-leg bottoms.
Not only do these look great, but they also have a fantastic size range.
So, whether you're looking for plus-size maternity pants for the office or need longer lengths, there's a good chance you'll find the size you want.
I'm a sucker for a good pair of paper bag-style pants. Imagine my delight when I discovered that Pink Blush Maternity offers a pair for pregnant people!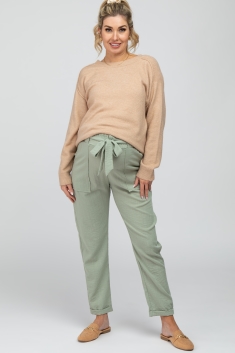 Light Olive Paper Bag Waist Cropped Matern…
A pair of solid cropped pants featuring a paper bag style elastic waist pockets and a … [More]
Note: While these feature an elastic waistband that offers excellent stretch, these won't be ideal for your entire pregnancy. As you enter the third trimester, there's a good chance they won't be quite as comfortable.
If you work in the healthcare field, finding a great pair of maternity scrubs is likely at the top of your to-do list. Many options are available, but one of my faves is the Zamora Joggers from Figs.
These are, quite frankly, some of the best pregnancy scrubs on the market. Not only are they made from a comfortable blend of polyester and rayon, but the fabric is enhanced with Silvadur™ antimicrobial technology that helps eliminate odors and prevents the growth of bacteria, yeast, and other microorganisms.
Honestly, though, none of those things are why I like Figs so much. I love that they often partner with Crocs to provide exclusive offers to the healthcare community during National Nurses' Week!
Not all of us want long pants when it comes to day wear for the office, particularly in the summer!
If you're someone who loves capris, be sure to check out this pair from Alina Mae on Amazon!
They're cute, affordable, and come in tons of colors.
While browsing around Target, deciding on your baby registry must-haves, scroll through their maternity clothing selection.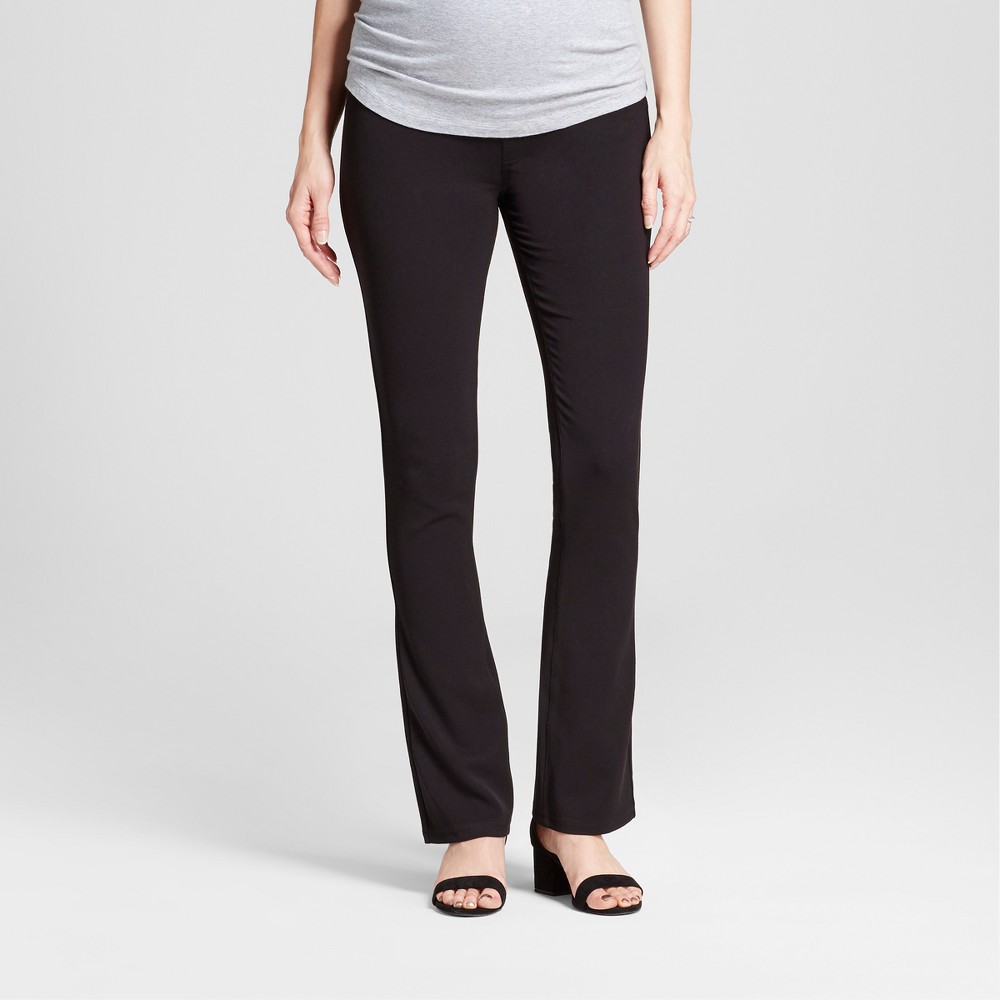 Not only do they have some great maternity jeans, but their Ingrid & Isabel line also features this stylish and comfortable pair of bootcut pants that are ideal for any office environment!
Something I hate about many maternity bands is how much you have to pay to get quality products. Let's face it; only some families have the means to spend a small fortune on clothes they will only wear for a few months.
If you're searching for budget-friendly scrubs for pregnancy, this pair from Cherokee is an excellent option!
They have outstanding reviews and come in many sizes and color choices.
A Pea in the Pod, a sister company to Motherhood Maternity, offers a variety of boutique pregnancy wear.
Their Curie Twill Pants are of my favorite products for professional wardrobes. I love the twill pattern, which can sometimes be hard to find.
One of my most significant issues with pregnancy pants for work is the lack of pockets. While many feature "faux pockets," what's the dang point?
These slacks from Amazon are highly rated, have anti-wrinkle features, AND include two front pockets for all our goods. We love to see it.
Did you know that over half of expectant people complain about back pain during pregnancy? In fact, it's one of the most common side effects we experience.
To help combat this discomfort, Motherhood Maternity sells an innovative pair of maternity work pants that help reduce the amount of stress placed on our sensitive back muscles! The Maia Bump Lift pants feature silicone flocking for gentle support all day long.
And as if that wasn't enough, these Bump Lift pants are also incredibly stylish and affordable!
Look no further if you're looking for a stylish pair of cropped pants for the office!
These mid-rise trousers at Target at the perfect maternity wear essential.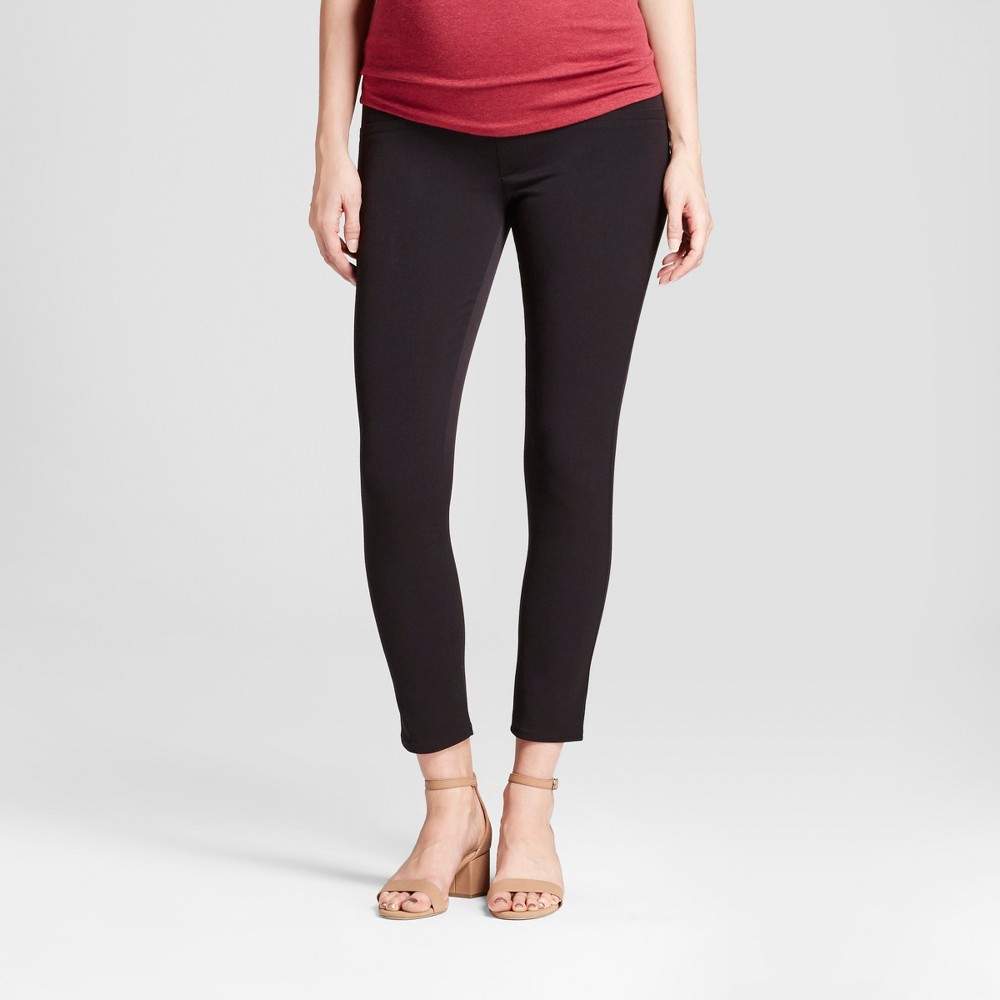 They're simple, chic, and easy to match with many outfits!
Working all day in a hospital or medical setting warrants a pair of scrubs you can feel completely comfortable in. Wouldn't it be nice, for example, if doctors and nurses could rock yoga pants in the hospital halls?
While healthcare facilities aren't casual enough for full-blown yoga pants, these scrub pants from Healing Hands are a great alternative! The fabric mimics that of leggings while still providing the convenience and durability you need to get your job done right.
Slacks and trousers are great, but sometimes it's nice to have a more casual workwear option during pregnancy.
I love these chinos from Old Navy for those days when you're not looking to rock traditional work pants in the office.
For another alternative to typical maternity work pants, these wide-leg slacks from Pink Blush Maternity are a cute option.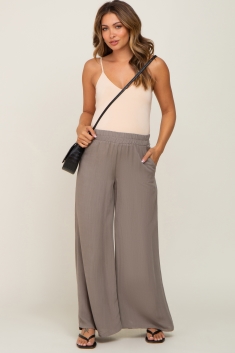 Olive Wide Leg Maternity Pants
A pair of solid wide leg pants in a lightweight material with an elastic waistband. Poc… [More]
They're a more casual choice, but they can easily be dressed up to fit most work environments.
Dress to Impress with Whatever Office Pants You Feel Good In
Whether you splurge on a $300 pair of pregnancy work trousers or rock the hair tie trick throughout every trimester, the biggest takeaway is to dress comfortably, which can be easier said than done in terms of work pants.
Pregnancy comes with its fair share of strangeness and discomfort. Why compound the problem by wearing clothes you don't feel good in?
You can shop in thrift stores, online, or continue wearing a pair of baggy sweatpants – as long as you feel good, that's all that matters!
Tell us: What are you looking for in maternity work pants, and where's your favorite place to find them?
Kristen Bergeron is a freelance writer from Florida. In addition to writing, she is a wife, mother of two beautiful girls, Hadley and Scarlett, and a part-time photographer. After overcoming infertility and having two successful IVF cycles, she's made it a personal goal to help educate men and women on the realities of fertility struggles. She is passionate about supporting fellow women who are trying to navigate the complicated world of conception, pregnancy, and learning to be the best mothers we can be.