This site contains affiliate links, meaning that we earn a small commission for purchases made through our site. We only recommend products we personally use, love, or have thoroughly vetted.
---
Going to the beach or pool while pregnant can be extra tricky, but also a lot of fun. How do you dress your bump in the cutest maternity swimsuit? Or do you intentionally not dress it, choosing a cute bikini to show off your pregnant belly? Will the cover-up you already have work, or do you need a new one specifically for pregnancy?
So many questions!
While shopping for a bathing suit can be daunting under normal conditions, figuring out the right style for your expanding belly can be downright stressful.
Luckily for us, we live in a time when pregnancy swimwear comes in more styles than ever before.
Whether you're in the market for tankinis, high-waisted bottoms, or one-pieces, there are plenty of options for your next day at the pool or beach.
We've got you covered with our favorite options for stylish pregnancy bikinis, one-pieces, and much more!
First Published: July 29,2022… Last Updated: June 28, 2023
Can You Wear a Regular Swimsuit While Pregnant?
So, you've shopped for cute maternity clothes, snagged your maternity leggings and discovered your favorite maternity underwear–good work! You've done a lot, mama.
You're probably wondering whether the other items on your maternity style shopping list are that important. You might even feel tempted to forego buying maternity swimsuits altogether, and we totally get it. All this stuff adds up!
Listen – no one will force you to shop for maternity swimwear. If your changing body feels comfortable in regular bikinis, save some money and continue wearing them!
This option might not work for everyone, though.
No matter how much we love that adorable bikini we just bought, as our bumps grow, things won't fit the same as they did pre-baby, especially if you're carrying low. You'll also be shocked how much the bottoms stretch out on your clothes, so if you keep wearing your pre-baby bikini while pregnant, it may be too big to wear again after.
Maternity swimsuits are created specifically with baby bellies in mind, and many are made to double as postpartum swimsuits. That's why we recommend snagging one if you're in a later trimester this summer–odds are, it'll still work for you next summer too!
Keep reading for our full list, then grab your favorite so you can jump in the water, cool off, and ease your pregnancy back pain!
When Should You Buy A Pregnancy Bathing Suit?
One of the great things about normal bikinis is they don't require any extra fabric to accommodate growing bumps. Therefore, some of us won't retire our regular swimsuits until later in pregnancy, if at all!
Most of us will switch to maternity clothing around six months, so the same timeline will likely apply to pregnancy bathing suits. (But hey, if you're like our founder Katy, who was already showing and in her old maternity suit at 11 weeks pregnant, you're not alone, mama!)
Where to Buy Maternity Swimsuits
One of the great things about shopping for maternity swimsuits is how readily available they are these days.
A quick search of Google will pull up tons of options–so many that it can actually be pretty overwhelming. That's why we suggest starting with a specific style of suit you want, or a specific store–it'll help narrow the many options that are out there!
If you're ready to buy a maternity bathing suit, check out these brands:
If you want a high-quality and stylish maternity bikini, these are a few of the top-rated products on the market!
When I first ordered this swimsuit, I had no idea how amazing it would be. I swear my mouth dropped when I first put in on at 5 months postpartum. It's SO flattering, and they're come out with it in a lot of adorable patterns.
Originally, I was bought this suit for easy nursing access, and because I love Kindred Bravely so I knew it'd be high quality and probably fit well. I adore that this converts to a nursing swimsuit without looking like a nursing swimsuit, and that the straps are ADJUSTABLE, so with all the hormonal fluctuations coming over the next 1-2 years, you can keep adjusting it to fit your ever-changing breast size!
What's To Love: Bustier versions come with wider straps for more support; extra layer gives easy, comfy nursing access; recycled fabric; UPS 50 sun protection.
Sizes Available: Small – 1x Busty
From classic black to bright red, the Cross Front Drawstring Pregnancy Bikini from Pink Blush Maternity is an ideal choice for anyone who wants a simple yet comfortable maternity bikini.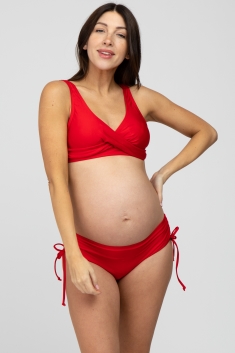 It features adjustable ruched sides that will continue to fit comfortably throughout all nine months of pregnancy, and the cross front helps it transition seamlessly into a nursing swimsuit.
What's To Love: Vibrant colors; shows off belly; cute cross-front top
What's Not to Love: Hand wash only; not available in plus sizes
Sizes Available: Small – XL
An absolutely precious suit to cover any baby bump, we love the ruffle on the bottom of this bandeau top, as well as the bright colors to help you feel gorgeous in the sun. This super cute suit comes in a variety of colors, so you can pick what will look best on your skin tone!
We recommend sizing up if you have a bustier top, as bandeau suits like this one tend to fit a little small for larger chested mamas.
What's To Love: Ruffled top; lots of color and pattern options; affordable; ruching hides excess fabric, allowing you to wear at different belly sizes; adjustable straps
What's not to love: Not supportive for larger chests; unavailable in plus sizes
Sizes Available: Small – XL
Motherhood Maternity will always be one of the top options for pregnancy clothing. Their gorgeous gingham maternity tankini proves how great their products are!
Not only does this style come with plenty of stretch for changing pregnancy bodies, but it also offers reliable sun protection.
What's To Love: Sewn-in cups; machine washable; UPF 50+ Fabric
What's not to love: Larger chests may want more coverage and support; unavailable in plus sizes
Sizes Available: Small – XL
Two swimsuit styles in one, this romantic, low-back one-piece can be worn with the straps on or off the shoulder. We love that the straps are wide and adjustable, making them more supportive for larger chested mamas with pregnancy hormones!
Cache Coeur – Cache Coeur Toscane Swimsuit –
Cache Coeur is committed to sustainable fashion, so you can trust their OEKO-TEX® certified fabric to be totally safe for your body and baby!
What's To Love: UPF 50+ Fabric; adjustable shoulder straps; machine washable; OEKO-TEX® certified; padded shelf bra with integrated cups
Sizes Available: Small – XXL
Cutout looks are all the rage right now, and this swimsuit reminds me why. It's flutter sleeves, cinched bust, and cutout below the bust is as on-trend as maternity swimwear can possibly be.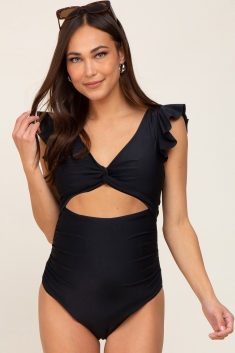 Black Cutout Flutter One Piece Maternity S…
Mamas of all chest sizes love this suit and say it's amazing at covering their growing belly, so it works well whether you're in the first trimester, second trimester, or third! I only wish it were more size inclusive because seriously, all mamas deserve to feel this amazing.
What's To Love: Removable padding; on trend; works for busts small and large; great reviews in the third trimester
What's Not to Love: Hand wash only; not size inclusive
Sizes Available: Small – XL
From our favorite maternity and postpartum brand when it comes to both quality and comfort, one thing we love about this suit is that it comes as separates and in extra large bust sizes! So if your hormonal boobs have jumped in sizes that your butt just hasn't, they've got you covered.
We love that there's a high rise and low rise option, that the top works well for nursing, and the variety of sizes that accommodate busty mamas!
What's To Love: Separates; pull-aside nursing access; wider straps for better support in busty sizes; UPF 50 protection.
Sizes Available: Small Regular – 1X Busty
We love this classic look that comes in sizes 1x-3x. The halter top is an especially great addition, as you can tie it yourself, adjusting the tightness to fit your chest.
The cut has full coverage around the hips and butt, and mamas rave about the comfort and fit.
What's To Love: Adjustable halter top; UPF 50 protection; beautiful classic cut
What's Not to Love: Handwash only
Sizes Available: 1X-3X
I can't be the only person who's a sucker for a good animal print bathing suit! That's probably why I love this criss-cross maternity bikini on Amazon. Not only is this pregnancy bathing suit stylish, but it's also affordably priced.
So, if you want quality maternity swimwear without breaking the bank, your search stops here!
What's To Love: Machine washable; adjustable shoulder straps; affordable
What's Not to Love: Thin shoulder straps provide less bust support
Sizes Available: Small-XL
We love this classic style because it'll last without aging. I got this dress during my first pregnancy and wore it again with my second one. The halter top tie makes it adjustable to chest support, and wearing a dress is super comfortable because you can worry less about achieving the perfect bikini line under your belly. (Because really, can you even see there anymore?)
The ruching along the sides ensures the fit looks right even as your belly grows, and the sewn-in cups are a huge bonus.
What's To Love: Machine washable; UV protection; adjustable halter tie.
Sizes Available: XS-0X
The good news is that coverups that are open in the front are often maternity friendly. But if you want a pregnancy-specific beach cover-up, we get it! We love this maternity and nursing beach dress from Kindred Bravely for its comfortable fabric, flattering silhouette, and nursing access after baby arrives.
Moms say this cover-up is the "perfect length," and they love its soft fabric.
What's To Love: Lightweight and breathable; pull-aside nursing access; machine washable
Sizes Available: XS/Small – XL/XXL
What Do You Think of the Best Maternity Swimsuits on the Market?
Now that you've gotten a rundown of the most popular pregnancy swimwear available, which style will you pick? Are you a maternity tankini type, or would you rather rock a bikini?
Either way, you've got plenty of incredible styles to choose from! Heck, you might even decide you want more than one! I mean, who couldn't use a little bit of versatility in their wardrobe?! Just remember to choose a pregnancy bathing suit that makes you feel amazing!
If you're pregnant, do you think you'll be shopping for maternity swimsuits, or will you continue wearing a regular bikini?
Maternity Swimsuits FAQ
Can you wear a regular bathing suit while pregnant?
You can get away with a regular swimsuit in your first and possibly second trimester, but by the end of pregnancy, most people will need a maternity swimsuit. You may be able to wear a regular two-piece suit, but be warned that it may stretch too much to be wearable after baby.
How can I hide my pregnant belly in a bathing suit?
We hope you can embrace your growing belly at some point, but if you don't yet want to announce your pregnancy, try an empire waist swimsuit a bathing suit with a ruched waistline to mask your growing bump.
What should I wear on the beach while pregnant?
Wear a swimsuit that's comfortable for you and that has UPF protection in the fabric. And be sure to wear plenty of sunscreen, as skin sunburns more easily during pregnancy. For this reason, we also suggest a sun hat and a cute swim coverup.
Katy Huie Harrison, PhD, is an author, mom, recurrent miscarriage survivor, & owner of Undefining Motherhood. She lives in Atlanta with her husband and 2 children (Jack & Branham). She believes our society puts too many expectations on women that make womanhood and motherhood restrictive. Her goal is to shift the paradigm about what it means to be a woman and mother, giving all women a greater sense of agency over their own lives. You can find Katy and her work featured in places like CNN's Headline News, Romper, Scary Mommy, Love What Matters & more.