This site contains affiliate links, meaning that we earn a small commission for purchases made through our site. We only recommend products we personally use, love, or have thoroughly vetted.
---
Ahh, potty training – a frustrating yet necessary evil if you ever want to get your kid out of diapers. No matter how impossible the process might seem, though, it has to happen at some point or another. That's why it's essential to have the right tools on your side – like high-quality potty training seats, for example.
Your child will spend a lot of time sitting on their potty chair waiting for the magic to happen. Why not pick a trusted product that other parents love?
While you might think all the products are the same, if you're trying to determine which potty training seat is best, there are a lot of options to pick from.
Luckily for you, though, we're here to help.
We've scoured the internet to find the most fun, comfortable, and functional potty training seats on the market. Whether you want a chair that goes on top of your toilet or one with a step ladder, you're sure to find the perfect choice for you and your little one.
When Should You Start Thinking About Buying a Potty Training Seat?
For some families, a potty chair might be one of their baby registry must-haves. Others might choose to wait until their kiddo is ready to start toilet training.
So, if you go with the latter option, when should you start searching for potty training seats?
On average, most kids start potty training between 18 and 24 months. Before you start counting down the days on your calendar, make sure to look for signs your child is ready to begin using the potty, such as:
Staying dry for two+ hours at a time.
Tries to copy a parent's bathroom behaviors.
Has the physical skills required to potty train, i.e., walking, undoing buttons, pulling down pants, etc.
Hiding when they have to go potty.
Has a general interest in using the bathroom.
If your little one is within this age range or showing signs they're ready to start training, it might be time to purchase a potty training chair!
Should You Wait Until You Start Potty Training to Buy Their Seat?
So, you've noticed your little one taking an interest in the big potty, or they've suddenly started sneaking off into other rooms when they dirty their diapers (this was 100% my child), you'll need to start thinking about which potty training seat is best.
Before you decide to place an order two days before you're ready to begin the process, though, hear me out:
Buy a potty training seat early and let your child check it out for a little before they start using it!
We did this for both of our kids and felt like it made the process more fun for them. They loved picking out and getting used to their toilet training seats, and we noticed it gave them more incentive to start the actual training process.
Hand over one of the best toilet training books for toddlers and let them do some reading while hanging out on their new potty chair.
Do Boys and Girls Need Different Potty Chairs?
Not necessarily. Boys and girls can certainly use the same potty training equipment.
I will say, however, that little girls might feel comfortable using small toilet training chairs that sit on the floor to start. Since their feet can touch the floor with these types of potty training seats, they will feel more comfortable, and it might help their pelvic floor relax while they're learning.
If you want to buy a seat that sits on top of a regular toilet, though, consider bringing in a step stool they can rest their feet on?
Should You Have Potty Training Seats in Each Room of the House?
Let me tell you something I've discovered–few things can cause as much parenting stress as a toilet training child who suddenly sends you racing around your house for the potty chair when they have to go.
While it's certainly more expensive to buy more than one potty training seat, it can alleviate some potty training problems.
To make things more convenient, you might want to purchase a potty chair for each bathroom in your house, and even your car! Yes, I said car.
Having a potty training seat with disposable liners in the back of your car can be an absolute life-saver on trips, as well as when you're out and about and can't find a
Our Top Picks for the Best Potty Training Seats Online and In-Store
I'm going to give it to you straight; there are tons of different potty training seats on the market…but which toilet training seats are the best?
Don't stress about picking a reliable model!
We've polled our community and offered our personal picks for the best potty training seats on the market.
What are two things that will drive your little ones wild when it comes to their toys? That's right, we're talking about lights and music! If this sounds familiar, the Summer My Size Potty is a fantastic choice for your family.
Made to resemble a child-sized version of the real deal, this adorable potty training seat has all the bells and whistles. In fact, it's so incredible; it's earned more than 41,000 reviews on Amazon!
It has a convenient wipe compartment, a realistic handle that controls the music, and a removable potty topper for an easy transition onto the regular toilet.
Does the kid in your life need a royal "throne" to do her business in? If so, they're sure to love this adorable pink crown potty training seat by Fisher Price.
Available on Amazon, one of our favorite things about this potty chair is that it converts into a stepstool.
This way, you can continue getting use out of it once their royal highness has graduated to the big potty.
If you're on the hunt for the best potty training seat for the kid in your life who loves going super fast, there aren't many options better than this training wheels racer seat by First Years.
It has great features, including a non-skid bottom, a lift-out toilet bowl, and a detachable potty topper.
This one is more than just a potty seat; it's a fun experience your little person is sure to love!
If you're looking for an attached potty training seat that sits on your toilet permanently, the Tiny Hiney Seat is an ideal solution.
One of the greatest parts of this product is that it quickly changes from a kid's potty seat into one for adults. This would be the perfect option for a bathroom that moms and dads frequent, too!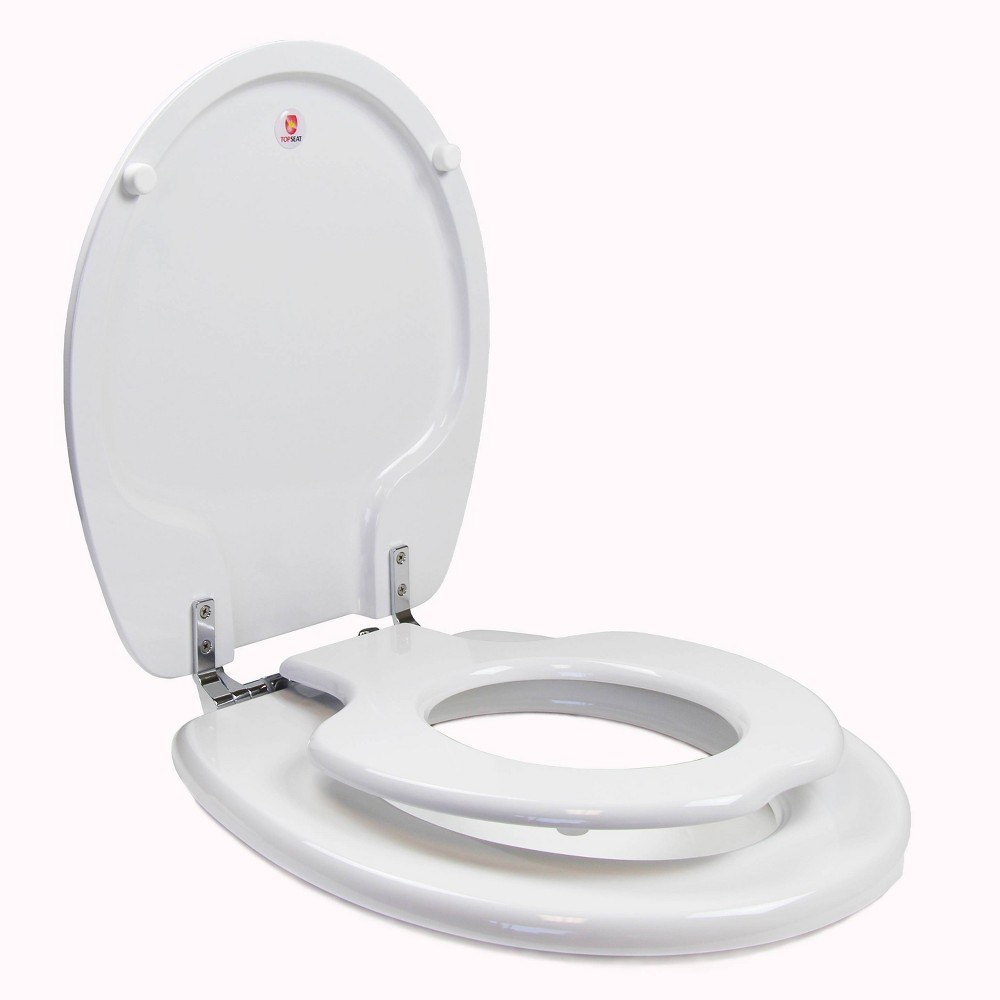 Because sitting on a child's potty seat when you have to go can be a real bummer.
Here's another product that works for parents who want to jump straight into using the big person toilet. This is also one of our favorite products on this list!
This Step Stool Ladder Toilet Training Seat fits snuggly onto a regular-sized toilet. It includes a safe and stable step stool design to help little ones get onto the potty.
Not only does this provide a more comfortable potty training experience, but it will also reduce any slips and falls from climbing onto the toilet. Another plus is that it comes in various colors.
When you feel like your child might be ready to train, have them pick out their favorite color so they're more invested!
Now and then, you'll be out with your child, and the urge will strike without any bathrooms in sight. While you might be tempted to tell them just to pop a squat, a toilet training toddler might struggle without the comfort of a potty training seat.
Enter the Honboom Portable Potty!
This lightweight, foldable potty is easy-to-use and easy to clean. One of our favorite aspects of this product though… its affordable price tag!
If you're searching for high-quality potty training seats that hook onto your toilet, don't forget to consider shape.
If you're looking for a potty training seat for elongated toilets, this top-rated product from Amazon is a win.
For around $20, you can buy your kiddo an ergonomic potty training seat from EasyGo that will keep them relaxed and comfortable while they're perusing their favorite potty training books for toddlers.
This seat not only has a soft, cushioned seat, but it also features a stable design that your little one will feel safe using.
Achieve Potty Training Success With One of These Amazing Products
While potty training can seem like a daunting, complicated task that sends you racing to the wine shelves of your local grocery store, it's an essential part of helping your kids grow.
Thankfully, you can make the experience a bit easier for everyone involved with the right type of potty training seats.
Whether you go with potty training seats for the toilet or a stand-alone product, you're sure to find something that will inspire your little one to take a new approach to doing their business.
What type of potty training seats are your favorite?
Kristen Bergeron is a freelance writer from Florida. In addition to writing, she is a wife, mother of two beautiful girls, Hadley and Scarlett, and a part-time photographer. After overcoming infertility and having two successful IVF cycles, she's made it a personal goal to help educate men and women on the realities of fertility struggles. She is passionate about supporting fellow women who are trying to navigate the complicated world of conception, pregnancy, and learning to be the best mothers we can be.