This site contains affiliate links, meaning that we earn a small commission for purchases made through our site. We only recommend products we personally use, love, or have thoroughly vetted.
---
In my ignorant, pre-pregnancy mind, a stroller was just a stroller. It was a device to move your baby from one place to another–useful and universal. I didn't realize, though, that I would have to sort through so many different types of strollers before I could pick one for my baby:
Jogging Strollers
Travel Systems
Umbrella Strollers
Prams
Cheap strollers
The Cadillac of all strollers… you get the idea.
As I worked through my baby registry checklist, I was astounded and frankly overwhelmed by the seemingly endless selection of baby stroller options.
How was I ever supposed to pick the "right one" when I didn't even understand what some of them WERE?! I polled my friends who already had kids and begged for explanations.
"Aren't strollers all the same?" I asked.
One particular friend laughed at my state of unawareness.
This may come as a surprise to you, too, but many different strollers are on the market. What works for one family may not work for another. It's essential to look at your lifestyle and preferences before making a final decision.
To help you sort through the options, we're breaking down the different types of strollers and offering insight on who they're good for, what they're good for, and when you should start using them!
Do You HAVE to Buy a Baby Stroller?
It can be challenging to figure out what baby items you need and which ones are non-essential.
While there's no denying the convenience of a baby stroller in certain circumstances, you don't have to buy one if you don't want to. Some parents prefer babywearing their little ones, and that's a valid alternative to a stroller.
You'll just need to weigh your options and figure out if you feel comfortable wearing your baby for long periods or if you'd rather have a stroller as a backup.
Are Prams and Strollers the Same Thing?
Since prams seem to be more commonly associated with European countries, you might assume that "pram" is just another way of saying stroller–much like "jumper" is just another word for "sweater."
On the contrary, a pram is actually a different type of stroller altogether.
While most traditional baby strollers have babies sitting upright, little ones lay down inside prams. This is a far stretch from many Americans' umbrella strollers, but prams are actually becoming increasingly popular in the states.
Some examples of popular prams include:
What Should You Consider Before Picking a Stroller Type?
Before you make a rash decision and simply choose a stroller because it looks cool or your friend told you to buy it, there are a few things you should think about.
Consider each of the following items before starting your stroller research:
Cost: While top-of-the-line travel systems are nice, not every family has the budget for them. Mull over how much you're able and willing to spend on your baby stroller before starting to shop.
Where Will You Be Using a Stroller: If you don't plan on using your stroller for much more than a quick trip to the mall, something lightweight is probably fine. If you're thinking about taking your stroller out on rugged terrain, however, you'll want something geared towards that.
Transitional Strollers: When it comes to the best stroller for newborns, many parents decide on travel systems that allow you to click in their newborn car seat. One of the great things about these is that they convert into traditional strollers as well for future use. Consider how long you plan to use the stroller and whether you want to buy something else down the road or stick with one transitional product.
Accessories: From cup holders to phone holders, modern-day strollers come with all sorts of bells and whistles. Take a look at the different accessories available and determine what are must-haves accessories for your new stroller.
Usability: Let me give you a little tip – some strollers are pains in the butt to unfold, refold, and stow away. When you start shopping, head into an actual store and try out the different models. You want to find something you're comfortable using day after day (and packing into your trunk when you need to travel with it).
Flights: If you're a frequent flier and are concerned about the types of strollers allowed on airplanes, we have good news for you. As a general rule, most strollers can fly with you (most of the time for FREE!). However, some airlines have specific rules about the types of strollers they'll allow on board and whether they must be gate-checked. If you usually fly with a particular airline, take a look at their stroller policy before purchasing.
The Most Common Types of Strollers You'll Want to Buy
So, we've established that most types of strollers are allowed on airplanes, that prams are different from strollers, and that you don't have to buy one if you don't want to–what comes next?
Oh yeah, that's right, helping you figure out what specific types of strollers will work best for your family!
Take a look at the most common baby stroller styles on the market:
Travel Systems
Travel systems are one of the most prevalent types of strollers among modern parents. These products are essentially a 2-in-1 system – the infant car seat and stroller together.
When you buy a travel system, the car seats click directly into the stroller for easy transitions in and out of the car. Trust me when I say there is nothing worse than trying to pull a sleeping baby out of the stroller and get them back into the car seat without waking them up!
While these products usually come as an all-in-one package, you can create your own travel system by buying the products separately from some brands. It is usually less expensive to buy them together, though.
Note: If you don't buy them together, make sure each component goes together, or it won't work.
One complaint I often hear and have experienced myself, is that travel systems are bulky. If you don't have a roomy car or need something lightweight for easy mobility, this style might not be for you.
Some of our favorite travel systems include:
We had a Graco travel system when our eldest daughter was born and loved it! Their Modes Element LX System has more than 2,100 excellent reviews on Amazon.
This stroller is considered a 3-in-1 device that will carry your little from the newborn stage through their toddler years. It has plenty of storage, a convenient toddler tray, and parent-facing stroller options.
Some parents complain that this model is pretty bulky, so it's worth checking it out in-store to get a feel for the design.
For years, Chicco has made a name by creating top-notch travel system strollers. The Chico Bravo Trio Stroller is no exception!
Designers created this system with parents' comfort in mind just as much as the baby's.
It has all-wheel suspension, a height-adjustable handle, tons of storage, and a privacy canopy to protect your little one while you're on the go.
Britax is another major player in the travel system game. One of the things parents love about the B-Lively and B-Safe system is how lightweight it is. 
It's also one of the best types of strollers when you're looking for industry-leading safety features.
Jogging Strollers
As you're rediscovering yourself after motherhood, running might be a part of that plan. If so, it's time to start thinking about whether a jogging stroller is right for you.
Instead of four wheels like most traditional strollers, jogging strollers have three large wheels in a triangular design. This allows the product to traverse bumpier terrain more smoothly.
There are tons of great jogging strollers on the market, but these are some of our favorites:
When it comes to parents who run, the Bob Gear Revolution Flex 3.0 jogging stroller is a longtime favorite.
This product offers an unmatched suspension system and air-filled tires for the ultimate in running ease.
It also has an extra-padded seat for little ones to ensure they have all-day comfort when you're going for those extra miles.
While BOB strollers are top of the line, there's no denying their high price tag. If you want a jogging stroller that works for lower budgets, the Graco FastAction is one of your best bets! 
One thing to note about this stroller is that it's heavy. Many parents love the way it rides but hate carrying it around.
Some reviewers also note the phone holder only works for older model phones.
Just because you want a jogging stroller doesn't mean you'll be running every time you use it! If you want a comfortable stroller to use, whether you're on a run or out for a walk, the Baby Jogger Summit X3 Hybrid is for you. 
This revolutionary stroller has a convenient wheel lock on the handlebar that lets you easily transition between walking and running.
Umbrella Strollers
Umbrella strollers are simplicity at its finest. They're also the most budget-friendly type of stroller on the market.
These types of strollers are for older children who can sit comfortably independently. They're incredibly lightweight and often are one of the only types of strollers allowed in airplane overhead compartments (depending on how small they fold up!)
Some top-rated options for umbrella strollers include:
The Summer 3D Mini Convenience Stroller has almost 9,000 reviews on Amazon and nearly a 5-star rating! Unlike some other umbrella strollers, it includes a wonderful sunshade to keep your little one covered during the heat of the day. 
One of my favorite things about this product is that it's incredibly affordable!
Make sure to add one of these to your list of toddler must-haves.
This umbrella stroller provides your little one with an adjustable backrest and removable sunshade to ensure their comfort 100% of the time.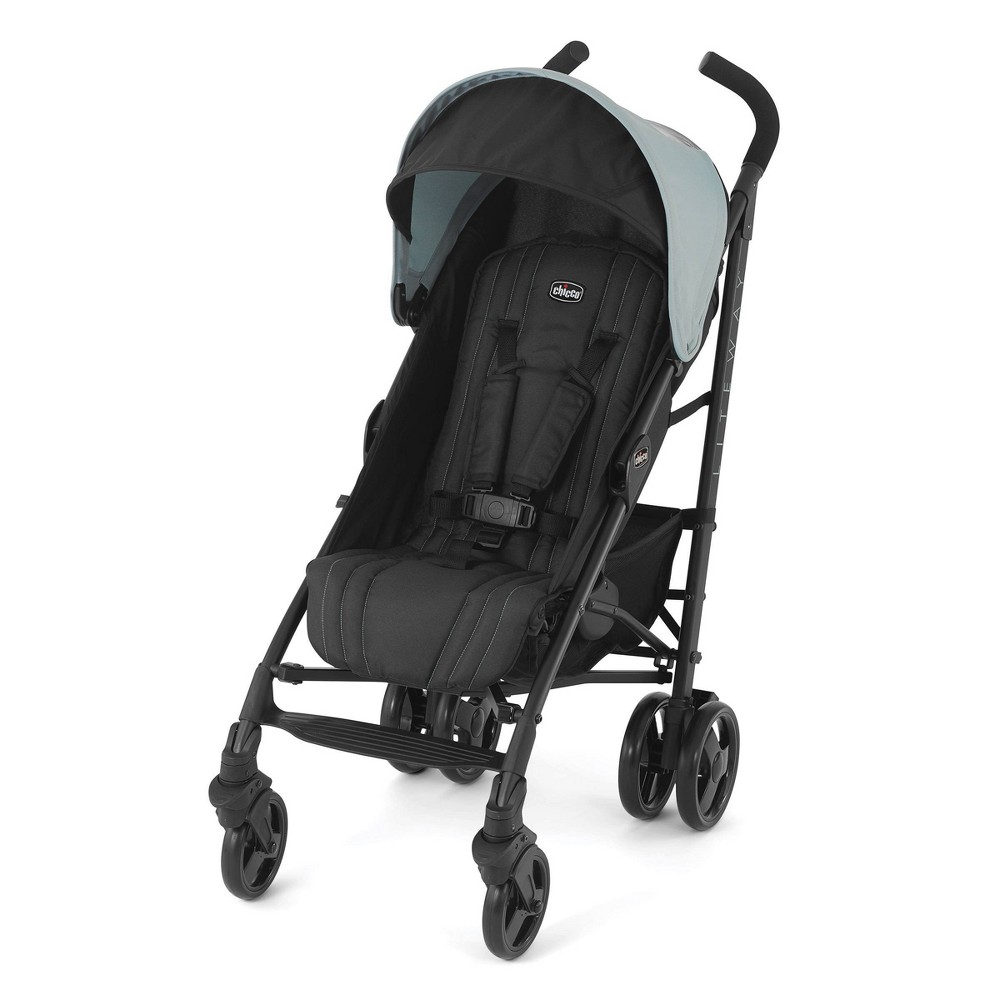 Unlike other umbrella strollers, it also includes lots of great storage for mom or dad.
Are you a Disney mom or dad? If so, you'll be excited to hear this compact travel stroller from Kolcraft is Disney "size approved!"
That's not all, though! It also comes with an extended canopy, a simple one-hand folding design, and a spacious storage compartment for all those parent and baby necessities.
So, Which Types of Strollers Will You Choose?
As you can see, there's certainly no shortage in the number of amazing strollers available. Whether you're interested in the best stroller for newborns, a lightweight umbrella stroller, or something to run with, you're sure to find a high-rated option you can trust.
Considering all the different types of strollers, which one would you pick?
Kristen Bergeron is a freelance writer from Florida. In addition to writing, she is a wife, mother of two beautiful girls, Hadley and Scarlett, and a part-time photographer. After overcoming infertility and having two successful IVF cycles, she's made it a personal goal to help educate men and women on the realities of fertility struggles. She is passionate about supporting fellow women who are trying to navigate the complicated world of conception, pregnancy, and learning to be the best mothers we can be.