When we prepare baby registries and plan nurseries, we get excited about all the precious things our new babies will need. But a major essential is missing during all this new baby preparation–focus on what YOU need too, mama, including postpartum must haves!
Dreams of cute babies get you through the harder moments of pregnancy, but when your body needs serious TLC after birth, you want to be prepared. It's hard to figure out what you need and how to use it while sleep deprived, so if it's already in a station in your bathroom, you'll be so thankful.
During the third trimester with my son, my friend Stephania, an OBGYN who was also a new mom, sent me a list of postpartum must haves. She told me about items that other people shy away from ever mentioning. And let me just say, thank God for her!
To keep you from wandering the aisles of Target with stitches, perineal pain, and a new baby, we've compiled this ultimate checklist so you'll have all the postpartum essentials you need to help aid on your own recovery.
And we're taking it one step further. In this article, find out not only what you need, but why you need it and how to use it. No one talks about these things, but they should. We've go you covered, mama!
This site contains affiliate links, meaning that we earn a small commission for purchases made through our site. We only recommend products we personally use, love, or have thoroughly vetted.

This article tells you everything you need to know about preparing for postpartum. But if you want to be extra organized, check out our video, How to Build Your Postpartum Basket. You'll be glad you did!
Postpartum Essentials for your physical health
I'm excited you're joining me to learn how to care for yourself after birth, mama. It's worth it.
These postpartum essentials will make the after-birth experience so much easier. But don't add these items to your hospital bag checklist, as most will be available at the hospital. (Pro tip: have some extra room in your hospital bag to take home as many as possible. Especially the perineal ice packs!)
When you get home, you'll be so thankful you have these items.
You'll probably notice two companies popping up time and again in this article. These include:
They'll come up time and again because they're doing amazing jobs helping prepare mamas for the postpartum experience, and we love them for that.
More bluntly known as vaginal ice packs, I buy these in packets of 24. During postpartum recovery, I'll use what I need (also bringing extras home from the hospital.) Anything I don't use goes into a box to gift later. I give new mamas 6 each and advise them to stock up at the hospital, as well.
I can't emphasize enough what a great job Frida Mom has done with this product. In addition to providing cooling relief where needed, these pad can absorb up to 260g of liquid, which you'll need as bleeding continues postpartum. They also have a soft top layer, making them comfortable against your sore, healing vagina. It's as unglamorous as it sounds, but they're serious lifesavers!
Note: Frida Mom also makes disposable underwear that pair well with these ice packs.
When you'll need this: After vaginal delivery. I cannot emphasize enough the importance of these suckers for helping numbing pain and reduce swelling.
The ultimate pain-relieving, antibacterial spray. It's an absolute postpartum must have because it helps relieve pain and itching around cuts–meaning it works for vaginal stitches or c-section wounds!
Natural alternative: Earth Mama's Herbal Perineal Spray
When you'll need this: after vaginal birth or c-section.
Pro tip: Spray on your padsicle, and use on vaginal tears before postpartum pooping.
Intended to relieve itching from hemorrhoids, I found their cooling property to be helpful for pain relief in between use of vaginal ice packs.
Natural alternative: Soak maxi pads in witch hazel and refrigerate them until use.
When you'll need this: If you have tearing after vaginal birth, or develop hemorrhoids at any point.
Don't be a hero–you can't get along with just the basic maxi pads in those immediate early days. Just get some hefty maxi pads, k? And you can feel amazing about this brand–with its soft, simple, body-and-earth-friendly design that has moms raving.
Again, I keep a stash, and give about 6 to each new mom.
After hospital pads plus the 6 pads you're gifting her, she's hopefully able to cut down to a smaller, less intrusive maxi pad, and this hybrid design is perfect.
When you'll need this: Postpartum, no matter how you gave birth. We all bleed!
Stool softener will be a serious life saver and is safe for breastfeeding.
Trust me, the absolute last thing someone who's just pushed a watermelon through their vagina wants is to become constipated from pain meds and hormones. (The same goes for c-section mamas, whose bellies have been ripped to shreds, scars are open, and they do not have the stomach muscles to strain.)
New mama note: start taking a stool softener while still in the hospital.
Trust me on this.
When you'll need this: Postpartum, no matter how you gave birth.
This list is so glamorous, right? Not every new mama will need them, but if you do, it's likely an emergency, so trust me and have them on hand.
When you'll need this: Postpartum, no matter how you gave birth.
No surprise here–the one from Frida Mom is AMAZING! You'll need to rinse your vagina with warm water because you'll likely avoid wiping with toilet paper for a while. The hospital may give you a squirt bottle, but my experience is that it's messy and leaks when you turn it upside down, so I love a designated peri bottle.
This one contains a narrow neck for comfort and it's designed for a continuous stream of water, which is amazing.
Pro tip: Add a tiny bit of witch hazel for added comfort and healing!
When you'll need this: Postpartum, no matter how you gave birth. Vaginal birth mamas will want to avoid wiping, while c-section mamas may not be able to bend over easily enough to reach everything. A peri bottle is everyone's friend!
It's admittedly hard to find time to take a bath post baby, but you can use a sitz bath to clean your nether regions and also give yourself some relief and comfort.
If you want to get the healing benefits of a sitz bath but don't see yourself taking many baths, an over-the-toilet sitz bath is the perfect solution.
Want to know more about how this works? Check out our full article on creating the best postpartum sitz bath.
When you'll need this: Postpartum, no matter how you gave birth. If you birthed vaginally, experienced hemorrhoids, labored prior to c-section and have vaginal swelling, or just want a comfortable way to clean your vagina, this is the best option!
Postpartum Supplies for mom to be comfortable
I'm going to be honest, I feel really weird calling these postpartum necessities comfort items. I just don't know what else to call them.
These are things that will make a huge difference in your physical recovery, but that look very different from buying straight up medicine.
The hospital will give you mesh underwear, but they'll barely hold the ice pack up without struggle. We like to make things a little more comfortable.
No surprise here, that's where Bodily comes in. Bodily makes incredibly comfortable boyshort-style mesh undies. They're comfortable, created specifically for postpartum, and will make your hospital stay much more comfortable.
Want a be a little more cost effective? We also love the reusable underwear from Frida Mom. They're slightly less supportive, but are still great and give you twice the bang for your buck. If you know you're having a c-section, you'll want the c-section specific underwear instead.
When you'll need this: Postpartum, no matter how you gave birth.
Not mesh underwear, but reusable panties you can use after you're finished with the mesh. For quite a few weeks, regular underwear still won't work for many of us, but we don't want to live in disposable mesh.
As you head home from the hospital and bleeding starts to lessen slightly, I recommend grabbing a few pairs of Bodily's All-In panties made to support postpartum mamas.
This super soft, anti-friction fabric has a high waist to cover shrinking bellies and c-section scars. But it's also close enough to regular underwear that you aren't buying it for just two weeks–it works for a much longer term postpartum transition!
When you'll need this: Postpartum, no matter how you gave birth.
This is more of a luxury option than a must-have, but it'll help you save on pads and other postpartum recovery panties, plus you can reuse them later for your period! Have you heard of "period panties"? They're all the rage right now, and total TMI, I'm HOOKED.
Here's what's cool. Just like a maxi pad, you can order these babies for different flow levels. But that guess work has been done for you since Thinx created this amazing postpartum set.
You'll get 5 pairs of absorbent underwear of different styles to guide you through the postpartum experience. Once you're finished needing them postpartum, wash and store for your next period, when you can forget about things like maxi pads and tampons!
This is seriously the ultimate of postpartum gifts for mom.
When you'll need this: Postpartum, no matter how you gave birth.
Since you're already investing in postpartum underwear, the best favor you can do yourself is getting some that will be comfortable and help support your recovering pelvic floor.
These support bloomers from BaoBei were designed by a PT specifically to support your recovering body. They're comfortable, supportive, and allow you to hold a perineal ice pack or an ice pack on a c-section incision.
I suggest sizing down because they double as maternity support bloomers.
There's no shortage of amazing postpartum pajamas, but I swear by a nightgown after giving birth.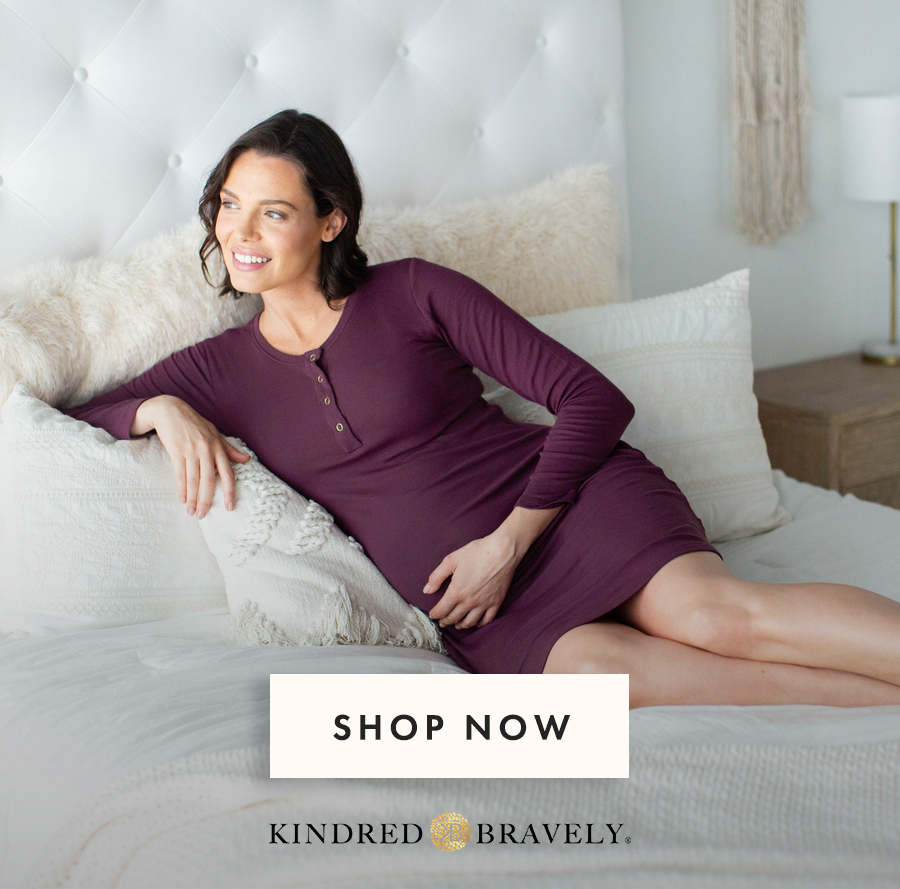 All the Kindred Bravely products are awesome for pregnancy and postpartum. Here's my very favorite postpartum nightgown.
When you'll need this: During pregnancy and postpartum, regardless of delivery type.
I hope you had one during pregnancy, but if not, you want one for postpartum! (Well, 2, so you can rotate laundry.) So comfortable–arguably more comfortable than a nursing bra when you're trying to sleep.
When you'll need this: During pregnancy and postpartum, especially if you're breastfeeding.
What's that? You've never heard of a registry for moms, not for baby? Well now you have, mama!
At Be Her Village, you can register for the things that will really support you during postpartum recovery. Forget the swaddle blankets. This is your space for YOU!
What can you include?
Postpartum doula (think home-cooked meals, freshly folded laundry, help cleaning your house)
Childbirth education
Visits with a lactation consultant
A night nanny to let you sleep
Postpartum nutritional support
And more!
When you'll need this: Create and share during pregnancy to get the support you need when baby arrives.
Postpartum Must Haves for breastfeeding
There are some needs that are specific to breastfeeding mamas that are still total necessities as part of your postpartum recovery kit. I'm not including things here like a breast pump, etc. These are things you need for your body!
Trust me, you want this, and lots of it. If your baby's latch is good, nipple cream won't be a big deal, but you'll still need it. If your baby's latch isn't good, you'll have sore nipples and run through this like water.
Also, contact a lactation consultant, because breastfeeding shouldn't hurt!
When you'll need this: Breastfeeding
These help in so many ways, from nipple soreness to breast soreness for engorgement. I can't tell you how often I wore these cooling breast pads.
Want to go really luxurious? Give these a try!
When you'll need this: Breastfeeding, especially when baby is learning to latch, teething, or if you develop engorgement or mastitis.
If you're nursing, you're also likely leaking through your bra. And here's the thing, breastmilk STAINS!
And mama, you do NOT have time right now to dawn soap your way out of all the breastmilk stains (though it does work if need be!). Reusable nursing pads will save you tons of time!
When you'll need this: Breastfeeding; during the day or overnight when you want to avoid getting heavy-staining breast milk on your clothes.
Pre-Packaged Postpartum Recovery Kit
Don't want to put your own kit together? A few companies finally came out with some awesome options.
The gift set from Frida Mom has everything you need for a vaginal birth.
You'll still need to stock up on a few supplies, but this kit covers most of the gross necessities!
Here's what's inside:
Peri bottle
4 underwear
4 instant ice maxi padsicles
Witch hazel pad liners (24ct pack)
Perineal healing foam
Toiletry bag
Caddy
Bodily's Care for Birth Box is the most comprehensive postpartum supply kit I've ever seen. It includes some breastfeeding items, so if that doesn't fit you, scale down to their slightly more basic V-Kit.
Know you're having a c-section? Bodily has you covered there too! Their Scheduled C-Section Box is fully stocked.
3. BaoBei's Soothe-and-Support Postpartum Kit
I LOVE this kit for its simplicity, so it's easy to add what you want without having too much.
But what I love most of all is that it comes with a pair of support bloomers, making it the only postpartum kit I've found with physical support for your healing pelvic floor.
How to gift Postpartum Essentials for Mom
When choosing postpartum gifts, consider a major questions before deciding to go all out on the postpartum checklist items that many moms don't know they need.
How well do I know the new mom?
If you don't know her well, stop now. Stick to traditional gifts for a new mom instead of buying the postpartum supplies we talk about here. Instead, go check out how to make a new mom care package.
But if you're super close to her, read on.
When to give a Postpartum Recovery Kit
When you give a new mom a postpartum recovery kit depends on a lot of factors.
Are you attending a shower?
What's included in the recovery kit?
Will you visit the new mom after baby is born?
Obviously, for most new moms, you don't want to give vaginal ice packs in public. Although some moms I know get quite the kick of out it. I know I would.
When I attend a baby shower, I take a special postpartum care package with all the gross must haves mama doesn't even know she needs.
I usually give a typical, from-the-registry baby present, but then I add in a separate bag that's a postpartum care kit, full of all the necessities no one wants to talk about.
If it's a formal shower full of the new mama's in-law's friends, I put the package to the side, telling her that it's there and that she should take it home with her, but not open it until she's in private.
If it's a shower full of friends, and it fits her personality, I have her open it in all its glory. And all the knowing mamas in the room ooh and ahh over its amazingness.
Remember: These down-and-dirty postpartum must haves are for immediately after birth! Like, the first 2 weeks. If you can't get it to a new mama before that time, save it for your next friend having a baby.
What is not essential in a Postpartum Kit?
Anything for the baby. A postpartum recovery kit is all about mom!
What are your essential postpartum must haves?
FAQs for Postpartum Essentials
More Favorites from Undefining Motherhood