Doesn't it sometimes seem like pregnancy is riddled with one task after another? Choose a baby name, buy affordable maternity clothes, create a birthing checklist …the number of decisions is overwhelming! Well, we've got one more to add to the list: what type of baby clothes do you want your little one to wear? If you're confused, we highly suggest bamboo baby clothes!
Not only are bamboo cotton baby clothes some of the coziest and most breathable options on the market, but they're also eco-friendly.
While you might not picture a sustainable fabric being the most comfortable choice, bamboo cotton might surprise you. So if you're wondering how manufacturers make this textile and why so many parents choose it, our team is here to help!
This site contains affiliate links, meaning that we earn a small commission for purchases made through our site. We only recommend products we personally use, love, or have thoroughly vetted.

What is Bamboo Cotton Fabric?
I'll be honest; I was confused the first time I heard someone talking about bamboo baby clothes.
A small forest of bamboo trees lined my husband's childhood home. I remember sitting on his parent's back porch in windy conditions listening to them creak in the breeze, without even the slightest indication of distress. These magnificent trees are known for being solid and unyielding, no matter what type of harsh weather conditions they face.
I thought to myself – how could something so rigid and strong create something soft enough for our little ones' sensitive skin?
Made primarily in Asia, bamboo cotton uses the fibers from a bamboo plant. The bamboo cellulose (the soft interior layer of the plant's stalk) is extracted and soaked in natural enzymes to create a pulp that's later spun into fabric fibers.
This process results in a fabric that's stretch, antibacterial, breathable, and hypoallergenic.
There are several types of bamboo fabrics available, and these include:
Bamboo Viscose: This is the most common and budget-friendly type of bamboo fabric, but it's also the least sustainable because of the chemical extraction method used to create it.
Fine Bamboo Fiber: This type of bamboo fabric is made using the mechanical process and is the most natural option. It's the only fabric that can be labeled as 100% bamboo.
Lyocell Bamboo: Produced using regenerated cellulose, this is another eco-friendly option and is commonly used to make bed sheets.
Bamboo-Cotton: While we call many bamboo fabrics "bamboo cotton," this is the only textile that includes traditional organic cotton. It's also the only bamboo material that's eligible for organic certification.
Are There Benefits to Dressing Your Little One in Bamboo Cotton Baby Clothes?
When you're getting ready for baby and trying to figure out which items should be on your list of new baby must-haves, it's not unusual to scroll product listings to figure out which options have the best ratings and reviews.
At least that's what I did when I was putting together my baby registry checklist!
It's about more than just 5-star reviews, though. It's also important to figure out why certain styles and options are better than others.
Take bamboo baby clothes, for example.
There are plenty of eco-friendly materials on the market, so what sets bamboo cotton fabrics apart from the competition?
There are several good reasons why so many new parents shop for bamboo cotton baby clothes. Here are just a few:
1. Bamboo Fabrics are Among the Softest Materials Available
While most of us can agree that wrapping our beautiful babies in rough burlap and other uncomfortable materials is an obvious way NOT to dress your little one, figuring out which fabrics are the softest and most luxurious is more of a gray area.
There are plenty of soft textiles on the market, but bamboo baby clothes remain a preferred option for sensitive baby skin.
2. Bamboo Baby Clothes are Extremely Breathable
Dressing babies usually involves lots of layers. From diapers to blankets, we keep our little ones wrapped up pretty tight in those first few months of their lives. Due to this type of bundling, it's not always easy to tell if your baby is too warm or cold. After all, a newborn baby is not likely to ask you to turn on a fan when they're starting to sweat.
That's where bamboo cotton baby clothes are helpful. They offer impressive breathability to ensure that baby is comfortable night or day.
3. They Reduce Problems with Allergies and Skin Sensitivities
Both of our daughters are cursed with the trials and tribulations of baby eczema. We have spent so much money on different lotions and potions to help take care of their sensitive skin.
Since 10-20% of the world's infant population deals with similar struggles, it's crucial to find ways of protecting their skin.
Thankfully, bamboo baby clothes can do just that.
Since bamboo fibers are naturally rounded and soft, they won't produce the "itchy" sensations that drive many little ones (and their parents!) mad. Bamboo materials will help keep skin sensitivities at bay, and they are also hypoallergenic to help with other traditional allergies.
4. Bamboo Textiles are Naturally UV-Resistant
When my girls were little, one of my "parenting fears" was them getting a sunburn. While I didn't exactly have them lounging on the beach in a bikini at two months old, we do live in Florida and suffer almost daily beatdowns of Vitamin D.
Bamboo materials offer extra protection from the sun. Research shows us bamboo fabrics offer natural UPF 50+ protection. This made me feel a lot better about all those extra Florida UV rays!
What are the Cons of Bamboo Baby Clothes?
So, we've looked at the positive side of bamboo cotton baby clothes – but is there a negative one?
Well, you'll be happy to hear whether you're searching for bamboo pajamas or a bamboo baby onesie, there aren't many "cons" to the fabric. There are a few things to keep in mind when purchasing eco-friendly or organic bamboo baby clothes, though:
Do Organic Bamboo Baby Clothes Need to Be Cleaned a Certain Way?
"Delicate" is the word of the day when caring for your bamboo cotton baby clothes. Not only do you want to wash bamboo materials in cold water, but you'll also want to use the delicate or hand wash settings on your washing machine. You should only bump it up to warm water if you're dealing with nasty stains.
Try to line dry or hang dry your bamboo clothes when possible. If you have to put them in the dryer, make sure to use the lowest heat setting possible. Don't leave them in too long, either!
Onesies are a staple of every new baby's wardrobe. Strangely enough,you don't find many traditional onesies made from bamboo materials. Luckily, though, of the products available, there are two styles of bamboo baby onesies that are everything you could want and more for your little one:
If you're in the market for beautiful bamboo cotton baby clothes, Kyte Baby is the cream of the crop. They offer an incredible selection of items, including this adorable bodysuit.
Not only is this bamboo baby onesie available in short or long sleeves, but it also comes in a wide range of gorgeous color options.
With a 5-star rating and almost 1600 reviews, it's easy to see why this product is a staple for anyone looking for bamboo baby clothes.
Milk Barn is known for its stunning organic cotton and bamboo baby clothes collection.
This potted plant one piece is one of our favorites, but they have tons of cute styles and options to pick from.
While it might be hard to find a big selection of bamboo baby onesie products, you can't say the same about bamboo pajamas! Here are some of our top picks:
Made from cozy bamboo viscose fabric, the knotted gowns from Posh Peanut are a favorite among new parents.
Reviewers rave about the excellent quality and soft material for their babies.
When it comes to buying the softest baby pajamas for your little one, few products can compete with the Kyte Baby Zippered Footie pajamas. Available in a gorgeous range of colors and unisex styles, you're sure to find the perfect look for your babe.
What's even better is that you can receive these high-quality PJs for prices that won't break the bank!
No list of incredible baby products would be complete without mentioning something from the motherhood mecca – yep, that's right, I'm talking about Target. This Goumi Moon nightgown is the perfect alternative to traditional bamboo baby pajamas.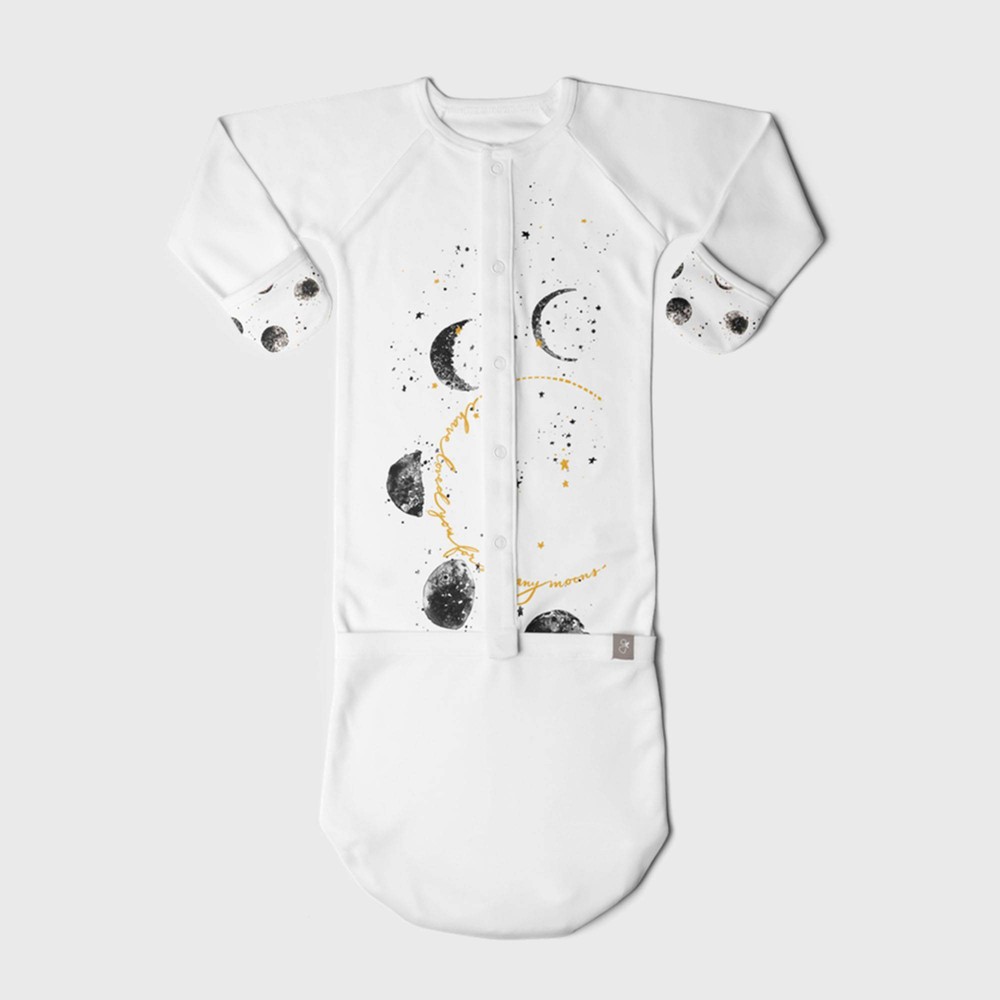 It features soft bamboo cotton textiles and a contemporary design for parents who want something beyond the normal "baby-looking" items.
Okay, moms and dads – who doesn't need an adorable set of bamboo pajamas that feature elephants in tutus?
If this sounds like something you want for your little one, Milk Barn is here to help!
Should You Put a Bamboo Onesie Underneath PJs?
Parents often wonder if they should be putting something else on their baby underneath their pajamas. Typically, the answer is no.
Unless you live in an area with really cold weather, it's not usually necessary to put a onesie on under pajamas or nightgowns. It could actually cause your baby to overheat. If it is cool, however, a bamboo baby onesie can offer the breathable comfort.
Top-Rated Outfits Made from Bamboo Cotton for Little Ones
Bamboo baby clothes are about more than just onesies and pajamas. New parents often search for adorable outfits that still offer the luxurious comfort of bamboo fabric. When you're putting together your "getting ready for baby" checklist, make sure to add some bamboo baby rompers and other outfits like these:
Give me all of the ruffled sleeves, please and thank you!
There's something so cute and dainty about this stylish element, and Posh Peanut is doing it right with their gorgeous cap sleeve bamboo baby romper!
Oh my goodness, I wish I had the words to explain how much I love the Nite Nites Baby Bamboo Viscose Pajamas! Ranging in size from newborns to toddlers, these adorable bamboo baby rompers are the perfect option for dressing your little ones.
They're soft, breathable, easy-to-wear, and, most importantly, so stinking cute!
Short sleeves or long sleeves and solids or patterns, it doesn't matter what you're looking for; the Kyte Baby rompers are sure to tickle your fancy.
This sleeveless romper is one of our favs.
Would you like to add some dresses to your collection of bamboo cotton baby clothes? Milk Barn has you covered with their great selection of bamboo dress and bloomer sets.
Available in tons of different fabric styles, these sets would make a great newborn going home outfit for your baby!
Dressing Your Baby in the Softest Bamboo Baby Clothes is Sure to Be a Parenting Win
So, whether you want a bamboo baby onesie, bamboo pajamas, or a stylish bamboo baby romper, the options available are endless!
Why not treat your precious little one to a beautiful collection of baby outfits that will not only look amazing but will also keep them cozy, comfortable, and protected? If this sounds good to you, it's time to start adding more bamboo cotton baby clothes to your new baby registry!
Have you ever bought bamboo baby clothes for your little one? What did you think?
Kristen Bergeron is a freelance writer from Florida. In addition to writing, she is a wife, mother of two beautiful girls, Hadley and Scarlett, and a part-time photographer. After overcoming infertility and having two successful IVF cycles, she's made it a personal goal to help educate men and women on the realities of fertility struggles. She is passionate about supporting fellow women who are trying to navigate the complicated world of conception, pregnancy, and learning to be the best mothers we can be.