This site contains affiliate links, meaning that we earn a small commission for purchases made through our site. We only recommend products we personally use, love, or have thoroughly vetted.
---
When it comes to breastfeeding supplies, one might assume the only thing you need is…well, a pair of boobs. But there's more involved than you might think.
From the clothes you wear to the pump you choose, picking the right types of nursing supplies can make or break your breastfeeding experience.
I remember my first breastfeeding rodeo. Before my daughter was born, I did little more than buy a few nursing bras, a set of button-down nursing pajamas for the hospital, and a breast pump. After her arrival, I realized real quick that there were more things I needed for my new mom survival kit.
Take it from one chronically unprepared mama to another, as you prepare to welcome your little one into the world, it's crucial to plan ahead.
So if you have no idea what you need for breastfeeding (which is totally okay!), we're here to help simplify the problem. Our team has taken a poll of our community and asked our fellow mommies for their favorite breastfeeding essentials. Grab a notepad and get ready!
Breastfeeding Essentials vs. Non-Essentials: What Do You Really Need?
Before diving into our top breastfeeding supplies, there's something important for you to understand:
Not every parenting product on the market is essential!
Companies create many gadgets and tools they try to market as crucial additions to your list of new baby must-haves. Realistically, though, many of those items will sit in a closet gathering dust.
While products like breast pumps are undoubtedly important (especially when you're exclusively pumping!), other things might be better off left at the store.
Some examples of non-essential nursing supplies include the following:
At-Home Baby Scales: One of the most common concerns amongst breastfeeding parents is whether or not their baby is getting enough milk. While some "experts" might recommend buying a baby scale to weigh them before and after feeds, this isn't really necessary. You can simply measure their diaper output to determine if they're getting plenty of milk.
Breastfeeding Books: Don't get me wrong, there are plenty of outstanding books about breastfeeding, such as The Womanly Art of Breastfeeding. If you're not interested in adding another title to your bookshelf, you can easily find most of the same information online or from local lactation consultants.
Lactation Massagers: With any luck, you'll never have to deal with a clogged duct. If you do, though, there's no need to buy some fancy lactation massager to help you conquer the issue. Regular body massagers, warm water in the shower, and manual manipulation can help you overcome the issue for much less money.
Are There Ways to Get Free Breastfeeding Supplies?
Sure, most women enter into their breastfeeding journey expecting they'll be nursing their little ones for quite some time. After all, the American Academy of Pediatrics recommends infants should be exclusively breastfed for at least six months.
No matter how good your intentions are, nursing might not work as efficiently as you expect it will. And despite what you might hear from judgy folks, a fed baby is best.
Whether you can't figure out how to increase your breastmilk supply, struggle to get your baby to latch, or just don't enjoy the process, there are tons of reasons a new mom might stop nursing.
For this reason, not every soon-to-be parent wants to spend a ton of money on nursing supplies until they know if the experience will work for them and their baby.
What if, however, there was a way to get some free breastfeeding supplies to hold you over? Well, luckily, there is!
While some of the items I'm about to list might not be the best nursing supplies on the market, they'll help you start your journey until you decide what you want to invest in.
Fabric Breast Pads: When you head over to Breastpads.com, you can receive up to $35 worth of free fabric breast pads. They offer tons of different styles that fit comfortably inside your bra. Plus, if you use these, one less item will end up in the trash can at the end of the day.
Target Baby Registry Welcome Kit: If you sign up for a Target baby registry, you'll be on the receiving end of an adorable welcome kit that's 100% FREE! While not explicitly geared towards breastfeeding moms, it does have a few free breastfeeding supplies, such as nursing-friendly bottles, milk storage bags, and breast pads.
Nursing Cover: A company called Udder Covers (Yes, that's really its name!) works to provide new moms with a free breastfeeding cover they can use for nursing in public. If you're anything like me, whipping out your boob in public isn't your idea of fun. These covers provide a little extra boost of comfort and modesty to the experience if you feel like this is something you need.
Something else expectant mothers should look into is getting a free breast pump.
Most health insurance companies provide customers with access to a "free" pump. There may not be a lot of options, but typically the brands provided are popular and dependable, such as Spectra or Medela.
Take Care of Your Nipples With These Trusted Nursing Supplies
As we start looking at the best breastfeeding supplies on the market, what better place to start than with products to help protect and heal your nipples? Those babies are gonna need some love.
Whether you're dealing with cracks, bleeding, or general discomfort, the first days of breastfeeding after delivery often come with a fair share of pain. To alleviate these problems, it's crucial to have the right tools to protect them.
1. Lanolin and Other Nipple Creams
Not only can coating your nipples with creams and butters after each feed help soothe pain, but it will also expedite the healing process. When you ask yourself, "what do you need for breastfeeding?" this is one product you don't want to forget about.
Some of our favorite products include:
Earth Mama Nipple Butter is one of our favorite breastfeeding supplies.
Since manufacturers make it with organic, natural ingredients, you don't wash it off before nursing your little one.
Lansinoh nipple cream often makes its way into many lists of baby registry must-haves.
It's been dermatologically tested and has become a staple for new moms looking to care for their nipples at the beginning of their breastfeeding journey.
This nipple cream by Motherlove is an all-natural option that's award-winning and top-rated on Amazon.
It includes several soothing ingredients, such as beeswax, marshmallow root, and calendula.
2. Nipple Shields
Successfully breastfeeding can be a challenge if you struggle with latch issues, inverted nipples, or flat nipples. Thankfully, nipple shields, like this one from Medela, can help!
Not only can they help babies create better suction, but they're also an ideal solution for premature little ones who are struggling to nurse.
3. Nipple Gel Pads
Companies like Lansinoh make trusted and affordable products to help women alleviate nipple pain after birth. Nipple gel pads not only help heal injured nipples, but they also reduce pain.
Score.
If you'd like a little bit of everything to start breastfeeding on the right foot, many companies also make convenient breastfeeding essentials kits, like this one from Lansinoh.
These starter packs will provide you with plenty of tools to take care of your nipples and reduce the stress of those initial nursing experiences.
Add Quality Nursing Clothes to Your List of Must-Have Breastfeeding Supplies
So, you want to succeed at breastfeeding? Here's a tip – make sure you have easy access to your boobs at all times… I mean it!
You are on your little one's schedule when it comes to nursing, and you never know when you'll need to bust out a boob and give them some sustenance. If you have the right nursing clothes, popping one out will be so much easier.
Whether you're searching for bras, shirts, or nursing pajamas, here are a few of our favorite clothing options.
This seamless nursing bra was one of my favorite articles of clothing after I had my second daughter. I made sure to order multiple, so there was always one readily available!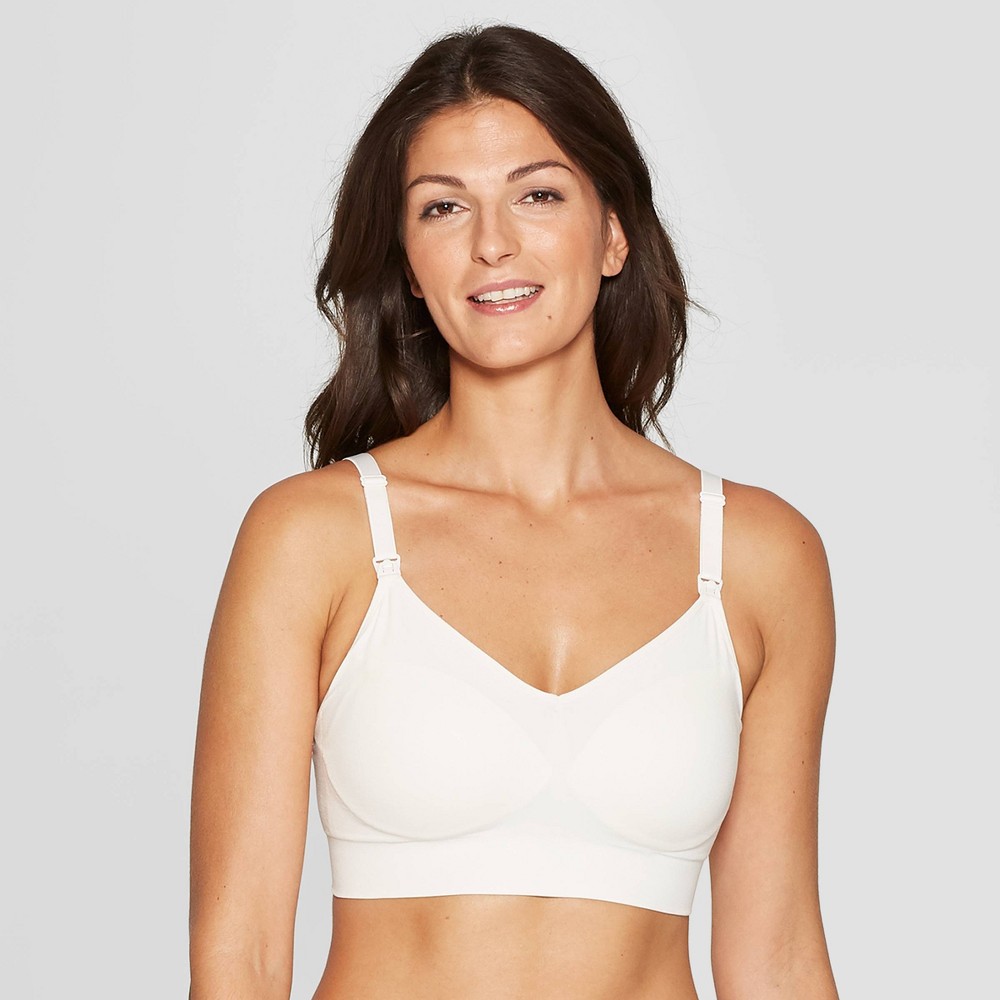 It's available in several colors, has easy clips to unhook the bra for nursing, and has earned more than 1,400 reviews on Target's website!
Our team consists of many people who LOVE all things bamboo cotton. Whether it's a bamboo onesie for our baby or bamboo pajamas for the whole family, we're big fans!
With that in mind, it's easy to see why we're such big fans of the Lounge Around tank from Kindred Bravely.
It's made from a buttery soft material that will keep you feeling cozy and provides the easy access you need to your breasts while nursing.
What's better than one excellent nursing tank? A pack of three!
This set of nursing tank tops from Smallshow is one of the highest-reviewed pieces of nursing clothing on Amazon.
They are stylish, but they're also affordably priced and offer double layers for discreet nursing.
If you're looking to add a high-quality nursing sports bra to your collection of breastfeeding supplies, you won't find much better than the Kindred Bravely Sublime®!
It provides great support throughout different activities and features moisture-wicking material to keep you dry.
Okay, I know we keep mentioning items from Kindred Bravely, but there's a very good reason for this…
All of their products are amazing! Seriously. We LOVE Kindred Bravely over here.
Button-up nursing pajamas are one of our top priorities when it comes to buying breastfeeding supplies.
This set is chic, cozy, and made-to-last.
Whether you go through your insurance company or buy a breast pump somewhere else, finding the right machine will be crucial during your nursing journey. From electric devices to a manual Haakaa, here is a list of our favorite breast pumps on the market.
To go along with your breast pump, you might also want to invest in other breastfeeding essentials, such as:
Streamline Your Nursing Experience with These Incredible Breastfeeding Supplies
So, yes, the most important tool for nursing is your breasts. However, that doesn't mean that other breastfeeding essentials can't play a vital role in the process, too.
Whether you're looking for a breast pump you can trust or the correct type of nipple cream after birth, any of the items on this list will help you and baby get off to a good start on your breastfeeding journey.
What were some of your favorite breastfeeding supplies after birth?
Kristen Bergeron is a freelance writer from Florida. In addition to writing, she is a wife, mother of two beautiful girls, Hadley and Scarlett, and a part-time photographer. After overcoming infertility and having two successful IVF cycles, she's made it a personal goal to help educate men and women on the realities of fertility struggles. She is passionate about supporting fellow women who are trying to navigate the complicated world of conception, pregnancy, and learning to be the best mothers we can be.