This site contains affiliate links, meaning that we earn a small commission for purchases made through our site. We only recommend products we personally use, love, or have thoroughly vetted.
---
It's the middle of the night, and you're feeling so many emotions at the sound of your baby's cry. Part of you is startled; another part is desperate to soothe those anxious cries; and let's be honest, part of you wants to just pull the pillow over your head and cry yourself.
For breastfeeding mamas, you know this nighttime feed is totally on you. If you're wearing nursing pajamas that make breastfeeding quicker and easier, you'll get to soothe baby more easily and be back to sleep faster. Yes, PLEASE!
First Published: July 7,2020… Last Updated: October 21, 2020
I'm a huge believer that our bodies need to be soothed and comforted during the postpartum experience.
And it seems I'm not alone. That's likely the reason thousands of women read our article on the best postpartum pajamas each month.
But there's one major request I get from women who read that post. More pajamas for breastfeeding, please!
I hear your cries, mamas, and am here to help.
As an avid pajama lover who adored breastfeeding, I'm here to recommend my very favorite nursing PJs to keep you comfortable, cozy, and quickly accessible to baby!
What to look for in nursing pajamas
When you're buying nursing pajamas, there are a few specific things that are really important:
Comfort – you aren't getting enough sleep as it is; comfort makes a huge difference in helping you rest when you can.
Ease of access – when you're exhausted and baby needs milk, you want to be able to get your boob out as quickly and easily as possible.
Breathability – having a tiny human on you can get HOT! Add in hormonal fluctuations (especially if you're freshly postpartum), and you've got a recipe for overheating. Keep a blanket where you nurse at night in case you get cold, but having breathable fabric in your favorite nursing sleepwear is essential.
Moisture wicking – this isn't essential, but it is ideal. Your breasts will leak, baby will drool, and you'll sweat (gross, we know). Having fabric that wicks away moisture will keep you more comfortable in many ways.
Every recommendation we make will meet these criteria, but in case you're searching beyond this post, there are a few fabrics that are ideal for nursing pajamas because of their comfort and breathability.
My favorite nursing pjs fabrics include the following:
Cotton: Pros: Soft, breathable, and machine washable. Cons: Can shrink with too much washing; doesn't wick away moisture, so breast milk leaks may stay wetter.
Bamboo: Pros: Soft, breathable, eco-friendly, machine washable, doesn't shrink in dryer, wicks away moisture so breast milk doesn't stay as wet. Cons: Harder to find, often more expensive.
Nylon/polyester: Pros: super breathable, moisture wicking, often very affordable. Cons: Less eco-friendly, not as soft.
Modal: Pros: lightweight, breathable, doesn't shrink in washer, eco friendly. Cons: Cold-water wash only.
How to choose the best style of nursing PJs
The style of nursing pajama really depends on what makes you most comfortable.
Do you like loose and baggy? Form-fitted? Nightgown or shirt and pants? How do you prefer to give access to the breast?
There are three main ways that nursing pajamas and clothing provide breast access:
A clasp that unlatches on the strap, letting the fabric come down for easy access
A gap in fabric that's hidden by the design, but is easily accessible when you pull two pieces of fabric apart
A pull down elastic neckline that you can pull down to get to your boob quickly
Personally, I prefer a clasp or fabric gap.
I have really large breasts, so the extra elastic neckline didn't always work for me.
Necklines that crossed, on the other hand, worked wonderfully, although you're more exposed (less important for pajamas than daytime clothing, and also depends on your comfort level).
The style of pajama that's best for you really depends on your comfort. I really like a nightgown with a clasp or fabric opening, but that's just me.
You know what you're most comfortable in, so look for nursing sleepwear that matches your personal sleeping style and comfort level!
My favorite pajamas for breastfeeding
(1) Kindred Bravely Jane Nursing Pajamas
My absolute favorite nursing pajamas that aren't a nightgown (I'm a sucker for a good nightgown. Recs for those coming up!)
I love leggings as opposed to loose legs, and this top is so cute that it can be worn as clothing or nursing pjs. Access is through a gap when you lift the flap on the shirt. The leggings also have an extra tall elastic band, making them a dream on the waistline.
(2) Ekouaer Long-Sleeve Nursing Set
This nursing pj set is one of the best sellers on my postpartum pajamas list, and it's clear why. Super cute, totally comfy, can be worn around the house all day (a major pajama plus), with easy nursing access. Love them.
Access for breastfeeding is through a hole when you pull the material apart, and the pants have an elastic band with buttons that allow you to resize as you shrink postpartum (and that keeps them from being too tight, making them a great option for c-section mamas!).
(3) Storq 3-Piece Loungewear Set
This super luxurious pajama outfit can be mixed and matched to work however you need it to. The belted jacket works over plenty of clothes, not just the pajamas.
Nursing access through a button-down tank top.
(4) Undercover Mama Nursing Shirt
I'm all about taking clothing that is meant to worn everyday and making them into pajamas, AND taking pajamas and making them everyday clothing.
This way, we don't have to spend an arm and a leg on all sorts of breastfeeding clothes.
This super comfy nursing shirt is a great way to do that! Just pair with your favorite pajama bottoms and go to sleep in the same top you wore all day long.
(5) Loyal Hana Kendall Long-Sleeve Nursing Tee
Another option that works for both day and night. And a super unique concept!
Breast access on this tee comes from a side zipper! Simple, easy, and not something I've seen anywhere else.
(1) Kindred Bravely Eleanora Bambooo Nursing Dress
I adore this new nursing nightgown with POCKETS!!!! I would totally wear it as a daytime dress, or even add my favorite postpartum leggings to go out in it when it's cool outside.
Nursing access is through a flap gap; just lift the top panel and nursing is easy!
(2) Kindred Bravely Lucille Maternity and Nursing Nightgown
You'll notice that I recommend Kindred Bravely a lot because they make my very favorite maternity, postpartum, and nursing products. And this gown is the perfect reminder of why.
They want women to feel comfortable, happy, and bold in their bodies. And so do I.
For example, did you know that nursing nightgowns could be cute? In this case, dare I say totally SEXY? But also comfortable?? Well, these are.
Nursing sessions are easy with clasp access to feed baby, which is my favorite kind of easy access for breastfeeding. It's also 95% modal, which is great for comfort.
And OMG it's cute, and your partner might like it too (if you're ready to think about that sort of thing).
(3) Undercover Mama House Dress
Admittedly not made to be pajamas, this is still a great nightgown! Tie it up at the bottom for a cute daytime dress, or leave it untied and wear it as a super comfy nightgown.
My favorite part is that you don't have to figure out sizing! You're either petite, one size (anyone with an "average" body type), or plus size (a phrase I don't care for, but it works for knowing what is best for your amazing mama body!).
Nursing access comes from simple unbuttoning the top.
It's so loose-fitting when untied that this is perfect to change into after labor and delivery so you can comfortably rest and nurse in the hospital! Unbutton for easy skin-to-skin time.
(4) Bamboobies Nursing Nightgown
Simple, comfy, cute. I love this nightgown. It's seriously awesome.
Admittedly, it won't double as a dress the way the Kindred Bravely one can, but Bamboobies makes amazing nursing products, and this is another great one!
Nursing access comes from a super stretchy neckline that pulls down easily–easy and comfy, though admittedly, I prefer a clasp!
(5) Papillon Bebe Nightgown: Super soft fabric blend in a beautiful color. Unique nursing access via ZIPPER that's hidden behind the appearance of buttons.
(6) Ingrid & Isabel Long-Sleeved Dress: A favorite brand for pregnant & nursing moms, this Target special is well priced and made of soft, comfy cotton. Unbutton for nursing access.
Other essentials for your nursing loungewear collection
Having good nursing sleepwear is key; no one is questioning that. But for many breastfeeding mamas, a comfortable sleeping bra, a nice robe, and good nipple pads are keys to comfort, as well.
Best Nursing Robes
Let's be real here. Any robe that crosses and ties in the front (and isn't that how we define a robe?) is a nursing robe! It's pretty easy to pull your boob out of a crossover.
So for these suggestions, I'm recommending my favorites that are soft and perfect for postpartum bodies.
(1) Kindred Bravely Emmaline Nursing Robe: I love this robe for 2 reasons. 1. Modal fabric that's super comfy; 2. Super deep pockets, which are ALWAYS a win!
(2) Nest Designs Bamboo Silk Nursing Robe: This robe is BEAUTIFUL and so comfy. I normally don't recommend silk to nursing mamas because it isn't as easy to care for when you get breast milk on it (and you will), but for a robe and not actual pajamas, it's a great option to feel beautifully pampered.
(3) Pink Blush Maternity/Nursing Robe: I'm listing this particular one because it's GORGEOUS. But browse the whole website. This company has so many beautiful nursing robes for great prices.
(4) STORQ Delivery Robe: Totally gorgeous, incredible soft, and machine washable. It's pricier than others, but if it's in your budget, this is luxury.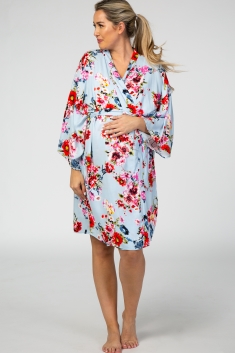 Light Blue Floral Delivery/Nursing Materni…
You can wear this pretty printed dressing robe for casual lounge wear or a special occasion. [More]
Best Sleeping Bras
(1) Kindred Bravely Sublime Adjustable Crossover Nursing & Lounge Bra
My favorite thing about this bra is that it's adjustable, which is strangely rare in a sleeping bra, and made with a stretchy fabric.
93% nylon, it's great for moisture-wicking, and because Kindred Bravely is better at comfort than many brands, it's more comfortable than many other sleeping bras made from synthetic fabrics.
Cons: Handwash! What? (However, gentle cycle in a mesh laundry bag worked just fine for me.)
(2) Cake Maternity Milk Bamboo Nursing Sleep Bra
To say I lived in this thing would be an understatement. I LOVE Cake Maternity's undergarments for both pregnancy and postpartum, and I'd be lying if I said I don't still sometimes wear this sleeping bra when my boobs are sore near period time.
My favorite night-time nursing bra, it's 75% bamboo, so not as comfy as straight bamboo would be, but still super comfortable. Also, if you ever find a 100% bamboo sleeping bra, PLEASE let me know!
Amazing Breast Pads
(1) Kindred Bravely Organic Bamboo Nursing Pads: These are super comfy, soft, organic nursing pads, and they come with an adorable, waterproof bag for carrying them!
(2) Bamboobies Overnight Nursing Pads: Extra absorbent for moms with heavy leaks, whose milk production hasn't regulated yet, and for overnights!
(3) Keababies Organic Bamboo Nursing Pads: Want different size options? This is your breast friend (#sorrynotsorry). You can choose from multiple colors and sizes to fit your chest, absorb your milk, and not show through clothes!
What were your favorite nursing pajamas?
Nursing Pajamas FAQ
What are nursing pajamas?
Nursing pajamas are pajamas that provide easy access to the breast to make nighttime nursing quicker and easier. Most are also designed to adjust with belly size and can double as maternity pajamas.
Why do I need nursing pajamas?
Waking up at night to breastfeed is exhausting, and being able to easily latch your baby without taking off clothing is extremely helpful. We recommend buying specific nursing pajamas or sleeping in low-cut tops with stretchy necklines.
How do I know which nursing pajamas are best for me?
Always work within your budget, and look for pajamas made of cotton, bamboo, nylon, polyester, or modal fabrics. Also decide what type of nursing access you like best (strep comes down, button down, etc.) and choose the style that works best for you.
Katy Huie Harrison, PhD, is an author, mom, recurrent miscarriage survivor, & owner of Undefining Motherhood. She lives in Atlanta with her husband (affectionately known on the internet as "Husband,") son (Jack), and dog (Charlotte). She believes our society puts too many expectations on women that make womanhood and motherhood restrictive. Her goal is to shift the paradigm about what it means to be a woman and mother, giving all women a greater sense of agency over their own lives. You can find Katy and her work featured in places like CNN's Headline News, Romper, Scary Mommy, Demeter Press's Motherhood and Social Exclusion, & more.