This site contains affiliate links, meaning that we earn a small commission for purchases made through our site. We only recommend products we personally use, love, or have thoroughly vetted.
---
Bringing home a new baby is exhausting, hard, and overwhelming. Want to actually make a new mom's life EASIER? A thoughtful new mom care package is more than a gift. It's a game changer!
Sure, baby blankets and scented candles are nice, but why not look for practical, useful, and pampering essentials that every new mom needs when you're putting together a care package for new parents?
These are the items mom didn't get at her shower because she didn't know to register for them and no one thought to give them.
They're the things you only realize you need when you are in the throes of new parenthood and wish someone had told you.
So here I am, telling you, so you can be the person who's remembered for being a total saving grace.
Note: These gifts are not for baby. They are the ultimate new mom care package items.
Mom and dad will receive plenty of items for their freshly born son or daughter. What mom doesn't always receive are the luxurious gifts she deserves after bringing said little one into the world. By using the following suggestions to put together a postpartum care package, you're sure to provide her with the TLC she wants, needs, and is worthy of.
First Published: August 12,2019… Last Updated: October 12, 2021
How to Make a New Mom Care Package
Great news! An amazing care package doesn't have to be beautifully wrapped or even in a basket. What matters is the new mom gifts that are inside!
Hell, you could drop off a grocery bag filled with your postpartum care package items as long as they hit certain requirements! Are you wondering if a particular product would make a good addition to a new mom gift basket? Ask yourself these questions:
Is it helpful?
Will it make her life easier?
Does it help her feel cared for or pampered?
If the answer to any of these questions is yes, you're winning.
To make an amazing care package for new moms, simply assemble a variety of these new mom gifts to fit your budget.
Using these ideas, your gifts will be helpful, useful, AND enjoyable!
When to Give a Care Package for New Parents
A traditional or drive by baby shower is a great place to deliver a new mom survival kit. If you're not attending the shower, take it straight to her house so she doesn't have to transport it.
It's a great gift to give before baby is born, but a new mom care package can also be the perfect addition to your first visit to meet the new baby. Any new mom gift box delivered within the first 1-2 months of baby's life will be super helpful!
Note: When you go visit, don't stay too long, take something useful, and offer to help while you're there.
How can you help?
Hold the baby only if mom is comfortable. If she says yes to letting you hold the baby, insist that she take a shower, go rest, do something she can't do when you aren't there. Don't let her entertain you.
Take out the diaper pail bag or trash
Wash the dishes
Do a quick load of laundry
Ready-to-Go New Mom Gift Boxes
Don't have time to make your own care package for new parents? We've got you covered!
There are tons of premade postpartum care packages out there, but since most of them are crap, we've narrowed the list for you.
Solly Baby is hands down one of our favorite brands, and if you're looking for a sweet and useful new mom care package that doesn't focus too heavily on the gross aspects of postpartum, this is the perfect fit!
It's packed with outrageously soft, luxurious products that will support mama through her new mom journey, from a robe soft enough to support even the most luxurious of mamas to the most comfortable wrap for babywearing a newborn.
An incredible gift that marries practical with comfortable, the Care for Birth box from Bodily includes recovery essentials like a periwash bottle and nipple cream, but also cozy, pampering gifts like cozy socks and comfortable mesh panties (a postpartum must-have!)
One of the other great things about this product is that it's sure to cover several of the items on soon to be mom's hospital bag checklist!
This new mom care package has all the things a new mom needs to care for her postpartum body–underwear, vaginal icepacks (padsicles), cooling pad liners, and healing foam.
It's only a fit for someone you're comfortable giving these items too, but it's amazing to promote relief and healing after birth.
This new mom gift box has many of the same necessities as the Frida kit, PLUS some items to make mom feel pampered. My favorite add-ons are the sleep mask and fussy baby roller.
Warning–it does contain "sexy time" oil, so be comfortable sending that to the new mom in your life. (Also, what a weird addition. What new mom is thinking about sex?)
Made just for expecting and new moms, the items in this box are curated based on her due date or child's age.
This new mom care package is a mix of practical and pampering items for mom and baby. All products are organic, natural, and small batch!
Useful, Practical New Mom Gifts for a DIY Postpartum Care Package
These thoughtful gifts are out-of-the-box, but the new mama will get so much use from them. Just don't take them to the hospital–too much to carry home as it is!
Hydration is essential, especially if the mama is nursing or exclusively pumping. But it's SO hard to keep up with. A water bottle is a great gift, and if you choose a super cute one, it'll give mom a little pick-me-up when she sees it too.
I'm totally obsessing over this adorable new mom water bottle. It's absolutely adorable, and would remind me to hydrate, for sure!
Note: Since an ample amount of coffee will probably be a significant part of the new mom's parenting experience, a funny mom mug is another great option for any new mom care package.
New moms spend a LOT of time just sitting around in the dark. (Don't mistake this as resting. She just desperately doesn't want to wake the sleeping baby who's on her chest.) The ability to listen to audiobooks is a serious game changer.
New moms need something to listen to the audiobooks with that won't wake a (FINALLY!) sleeping baby. This hands-free option is a lifesaver, especially at night time! Plus, their small size makes them an easy for a care package for new parents.
I don't get how people parented before Amazon. My husband and I made so many middle-of-the-night orders it was insane. I basically sent up cosmic thanks to all the beautiful people who gave me Amazon gift cards as a new mom gift.
Also, you can use the gift card for things like Amazon Home Services, which provides handyman services, housecleaning, and so much more that a new mom might need during her postpartum recovery phase.
And lots of it! Do you know how often new moms get to take showers? Trust me–if you don't know, you don't want to. Dry shampoo will allow her to freshen up when folks come over unannounced (this happens, unfortunately) without a shower. Just spray and go!
New moms practically live in pajamas, so having lots of comfortable ones is huge. Check out our list of best postpartum & nursing pajamas, but these Kindred Bravely options are a definite reader favorite!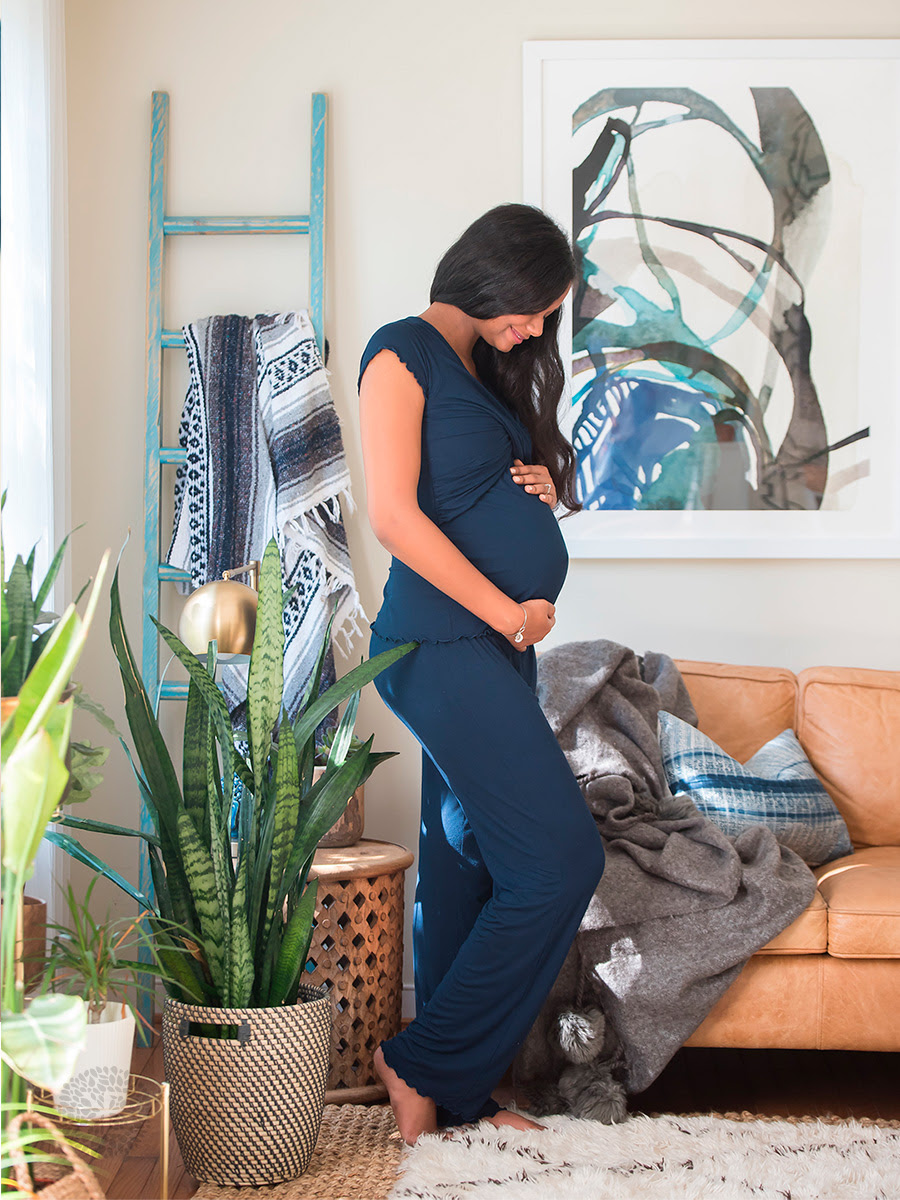 You also can't go wrong with ANYTHING from Leena & Lu. Their pajamas are like sleeping on a cloud. (Use code undefining10 for 10% off any Leena & Lu purchase!) Trust me, if you include these in your postpartum care package gift, you're sure to be the recipient's favorite person EVER.
Meals & Snacks in a Care Package for New Moms
New moms need food! And luckily for us, food delivery services abound.
I've surveyed tons of mom groups, and the answer is pretty much unanimous. They all wish for more gifts of food, especially food that isn't lasagna or casserole! (No offense to those of you who make lasagna and casserole. They do freeze well!)
Make the new family a meal, or provide grocery delivery, meal delivery, or give the new mom healthy snacks!
Here are my favorite ideas for food gifts!
Freshly is an amazing option because it delivers full meals that are REHEAT ONLY! No new mom has time to cook, so if you aren't a chef either, just send some meals to her door.
(2) Grocery Delivery
If the new parents are cooking, or if you just want to send them snacks, you can easily do that through an Amazon Fresh free trial or through Instacart.
Want to let the parents pick their own food? Send an Instacart gift card or a 30-day Free Trial + $25 off the first order at Thrive Market.
(3) Healthy Snacks
Not sure what to send as a part of your postpartum care package grocery delivery? Healthy snacks that can be eaten with 1 hand are amazing.
Pampering New Mom Care Package Items
Sometimes, new moms just want to feel good. It's a hard time, and a little pick-me-up from pampering is worth a lot. These gift ideas can help you pamper the new mama in your life!
We run oil diffusers all the time, and they're so calming. I wish so much that I'd had one during postpartum.
Sleep is an unheard of new mom commodity. Even if baby is giving mama a few moments of rest, her mind is spinning with to-do lists.
This sleep mask will physically close out the sight of all those worries and help mom relax while baby sleeps.
Bath time is SUPER RARE for a new mom, so when she finds time for that indulgence (possibly while you're there watching her baby), she needs to enjoy it to the fullest.
I love this full gift basket from Etsy, which is an easy, one-click purchase.
I know it doesn't sound luxurious, but I promise it IS. Personal care gets super neglected with a new baby. Add sore, raw nipples into the mix, and the new mom in your life will be begging for this postpartum care package favorite. Help a mama, and her nipples, out!
I'm obsessed with the Greek Yogurt Nourishing Sheet Masks from Aillea. AND, you can wear them while taking care of a baby if you aren't moving around a lot, so they're great to wear while you're nursing.
General FAQ About Postpartum Care Packages
What can I bring a new mom?
Bring a new mom help! Clean her house, do her laundry, take out her trash, cook her a meal. And if you want to bring a gift, bring something practical and that makes her feel pampered.
What is the best gift for a new mom?
Assistance. The ability to sleep, shower, or eat while you hold her child, OR the time to love on her child while you clean her house, do her laundry, empty her diaper pails, do her dishes, and take out her trash.
What should I put in my new mom care package?
Only include items she'll really get use out of–snacks she can leave sitting around the house, water bottles to drink out of, a super comfy sweatshirt or pajamas.
Do you bring a gift when visiting a new baby?
Yes! Bring a practical gift for the parents or baby, and if you can swing it, show up with a meal that isn't lasagna. Also, don't expect to be entertained or fed while visiting.
What do new parents really want?
Practical, useful gifts that will feed them, relax them, or otherwise make their lives more comfortable.
What's your most essential care package item for a new mom gift basket?
Posts for New Parents
Katy Huie Harrison, PhD, is an author, mom, recurrent miscarriage survivor, & owner of Undefining Motherhood. She lives in Atlanta with her husband (affectionately known on the internet as "Husband,") son (Jack), and dog (Charlotte). She believes our society puts too many expectations on women that make womanhood and motherhood restrictive. Her goal is to shift the paradigm about what it means to be a woman and mother, giving all women a greater sense of agency over their own lives. You can find Katy and her work featured in places like CNN's Headline News, Romper, Scary Mommy, Demeter Press's Motherhood and Social Exclusion, & more.