This site contains affiliate links, meaning that we earn a small commission for purchases made through our site. We only recommend products we personally use, love, or have thoroughly vetted.
---
Sometimes I get mad about all of the things I didn't realize were available to me during and after my first pregnancy. Postpartum belly wraps, for example, would have been a welcome addition to my postpartum recovery.
Thankfully, though, by the time my second kid rolled around, I'd learned a thing or two and decided to add a belly binding wrap to my hospital bag for mom.
Unfortunately, not everyone understands the benefits of postpartum wraps and how they can help your body return to normal after a c-section or natural birth.
If you're on the fence about whether this technique is something you'd like to try for your postpartum body, we've got tons of great information from belly binding experts to help you make the smartest choice for yourself. Find out why some moms swear by belly wrapping, while others (including many pelvic floor physical therapists) warn against it.
What Are Postpartum Wraps?
Why don't we start with the basics – what are postpartum belly wraps?
Postpartum wraps are a tool used for belly binding, also known as abdominal compression. While many might think this sounds like a new trend developed by modern mommy influencers, you might be surprised to learn that women worldwide have been practicing it for generations.
The most common reasons for using postpartum belly wraps are to strengthen, tone, and shrink abdominal muscles after childbirth. If used correctly, they also offer great support for your belly, which won't shrink back down to its original size for quite a while. In fact, the uterus usually takes about 6 weeks to shrink back down to normal after giving birth.
The Top 4 Postpartum Belly Wrap Benefits After C-Section & Vaginal Birth
While starting to get your body back in shape after delivery is undoubtedly one of the most popular postpartum belly wrap benefits, it's only the tip of the iceberg.
Moms who use proper belly wrapping after childbirth can expect several significant advantages, such as:
Pain Relief: Research shows us that using a postpartum belly wrap after a c-section effectively manages pain.
Healing Weak Muscles: Childbirth, whether it's through c-section or vaginal delivery, can leave new moms feeling weak in their abdominal area. Effective belly binding can help rectify this muscle weakness.
Note: While belly binding can help you overcome muscle weakness, many professionals don't suggest a postpartum belly band for diastasis recti. Using a wrap in this situation might support a woman's abdominals but won't treat the condition overall.
Helps New Moms Get Moving: While getting off the couch and doing anything with my postpartum body after delivery sounded pretty terrible, I knew it was crucial to my recovery. Thankfully, though, the support offered from belly wraps can make it easier to get going.
Belly Binding Cons: Are There Any Reasons Not to Use Postpartum Wraps?
The main issue with belly wrapping, which we don't talk about enough, is that belly wraps that don't effectively lift your core can actually increase your risk of prolapse. It's essential, therefore, to learn to wrap properly and ensure you're lifting your core during any compression. This is also the reason many pelvic floor therapists say not to use postpartum belly binding techniques.
If you decide to give postpartum belly wraps a try, other potential problems include pain, itchiness, and rashes. When worn too tightly, postpartum wraps can also lead to a prolapsed pelvic floor. Symptoms of prolapse include:
Pain
Sexual Dysfunction
Frequent Urination
Difficulty Peeing
Remember, if you choose a belly wrap, you should use it to support your body during your postpartum period. When worn too tightly, it can do more harm than good.
Please remember that waist trainers and corsets are NOT the same things as a supportive postpartum wrap. These could cause many of the adverse side effects mentioned above.
Remember: it's ALWAYS a good idea to talk to a member of your care team or your doctor before using any product postpartum.
How to Use a Postpartum Belly Wrap the Right Way
As we just mentioned, it's always a good idea to run something new by your doctor first. They can help you determine if there's any reason wearing postpartum belly wraps isn't a good choice for you.
New moms who receive the go-ahead often begin belly binding within a few days after a vaginal delivery and within 2 weeks if they've had a c-section.
You'll only want to wear a postpartum wrap for a few hours at a time and not all day. If you wear your wrap too much, it can cause your symptoms to worsen. You should also include gentle exercise in your daily routine (when approved by your doctor) to improve your results.
Many healthcare providers suggest patients discontinue using a belly wrap around 6 – 12 weeks postpartum.
When is it Too Late to Wear a Postpartum Belly Wrap?
Around 6-weeks postpartum, the results obtained with postpartum belly wraps will begin to decline. If you haven't started belly binding before this point, it's not likely the experience will provide much help.
The Top 10 Popular Postpartum Belly Wrap Products
If you're ready to start the search for the best postpartum belly wraps on the market, you might as well purchase one of the top options available. That's why we're bringing you our favorite picks for your upcoming belly binding experience.
With a low price tag and 37,000+ reviews, it's no wonder this 3-in-1 postpartum support belt is one of our top picks.
This postpartum wrap serves as a pelvic belt, belly belt, and waist belt all in one. The breathable material will keep you feeling comfortable, and its adjustable design will ensure you have the support you need throughout your entire postpartum period.
If you're putting together a new mom survival kit for yourself or a friend, then you don't want to forget the Bodily Belly Band as a part of the package!
Made from a combination of nylon and polyester, this postpartum wrap offers gentle compression and lumbar support at the same time.
If you want the Rolls Royce of postpartum belly wraps, then you're looking for the Postpartum Luxe Belly Wrap from Belly Bandit!
Reviewers rave about how much this belly binding device helped them feel like their old selves within a short time after delivery. It also provides full coverage while remaining invisible underneath your clothes.
If you're looking for a postpartum belly wrap after a c-section, this is it!
As someone who's addicted to all things bamboo cotton, I was thrilled to find that Belly Bandit also offers a top-rated viscose bamboo belly wrap to support your postpartum body.
Bamboo is an incredibly breathable fabric that will keep you cool, comfortable, but also (and most importantly) supported.
The Bellaband from Ingrid & Isabel is always an excellent option when it comes to the best postpartum belly wraps.
Not only is it a can't-miss maternity essential, but it also works to support your body after delivery.
Our team has a soft spot for anything from BaoBei, and while they don't have a typical postpartum wrap, we couldn't help but include these fantastic postpartum recovery shorts on our list!
Whether you're working out or lounging around the house, these shorts will offer the gentle compression your body deserves to help support it after childbirth.
I know, I know – I've already told you that corsets are a no-no after childbirth. Hear me out, though! The Bellefit postpartum corset offers medical-grade support ok'd by the healthcare community.
This postpartum wrap is a great option after both c-section and vaginal deliveries. Plus, it helps reduce the effects of diastasis recti (though it still won't treat it!).
These UpSpring postpartum panties at Target not only serve as comfortable underwear after delivery, but they still provide the medically-approved belly binding support you're looking for.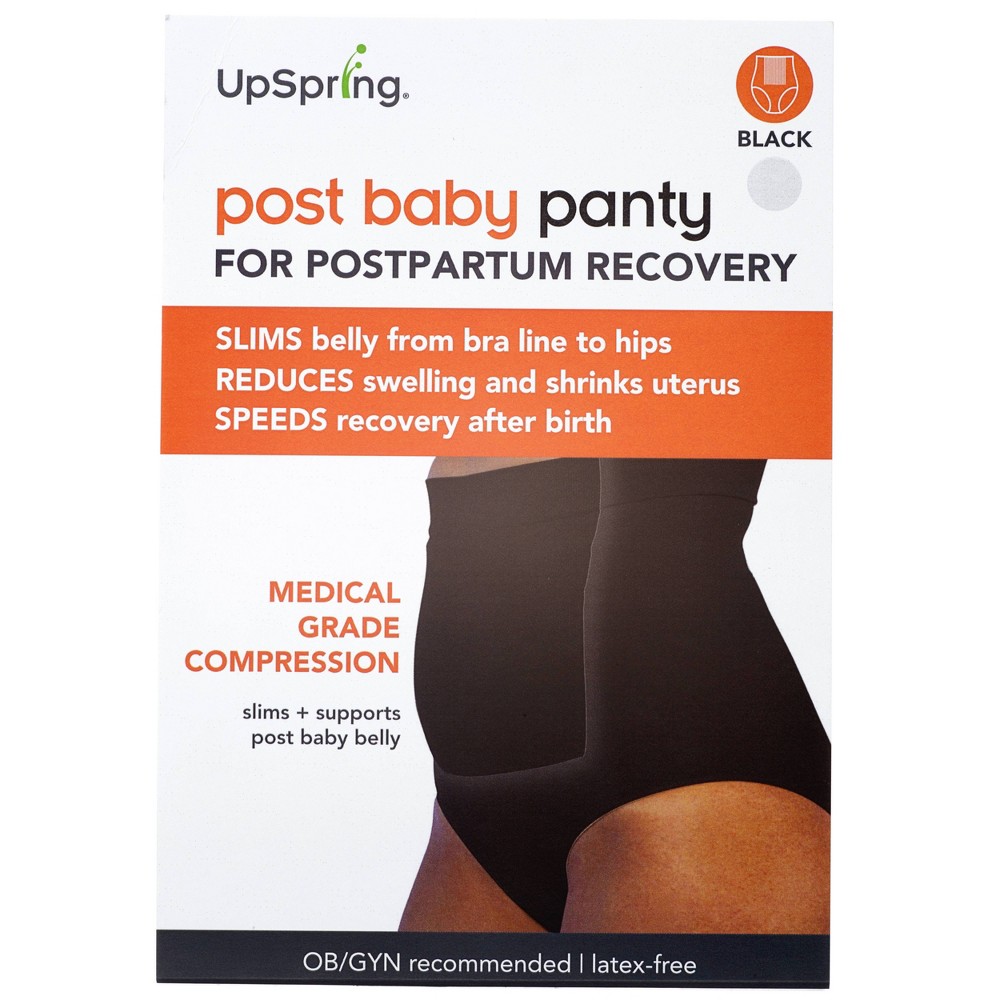 Target has a surprising amount of maternity and postpartum gear that we love. These panties are no exception!
Finding the best postpartum belly wraps after a c-section can seem like a challenge. Thankfully, though, this latex-free support band might be just the ticket.
Many reviewers were amazed by the outstanding quality of this band (especially for the price!). They also mention the incredible support it offers after both vaginal and c-section deliveries.
The B.F.F. Belly Wrap didn't get its name for nothing; it's certain to be your best friend during your postpartum recovery!
This postpartum wrap always makes the list of belly binding favorites among our community. It has an easy-to-use adjustable design to accommodate your changing postpartum body. It also comes in two different color options to fit your needs.
Is Belly Binding Right for You? Talk to Your Doctor to Learn More About Postpartum Wraps
While we'd love to say that postpartum wraps will work for anyone who wants to use one, this isn't always the case. Mamas should practice belly binding with care, and some new moms might not be good candidates for the practice at all.
Before you start using one of our picks for the best postpartum belly wraps, ask your doctor for more information. Find out which type of wrap would work best for you and what protocols you should follow when using one.
As long as you use them safely, the postpartum belly wrap benefits make belly binding an incredible option for support and recovery after delivery.
Have you ever used one of the postpartum belly wraps on our list? What was your experience like?
Kristen Bergeron is a freelance writer from Florida. In addition to writing, she is a wife, mother of two beautiful girls, Hadley and Scarlett, and a part-time photographer. After overcoming infertility and having two successful IVF cycles, she's made it a personal goal to help educate men and women on the realities of fertility struggles. She is passionate about supporting fellow women who are trying to navigate the complicated world of conception, pregnancy, and learning to be the best mothers we can be.