When I was trying to figure out what to wear after giving birth, I focused on many different things. Finding stylish postpartum clothes that were cute enough for pictures but accessible enough for breastfeeding was at the top of my list. Little did I know that picking the right type of postpartum underwear should have also been on my preparing for baby checklist.
Choosing the best postpartum underwear isn't usually a priority for new moms. If you're anything like me, for instance, you probably just assumed you'd hop back into your pre-pregnancy panties.
Regretfully, this isn't usually how our postpartum bodies (or our postpartum belly) work(s).
So, before you start packing up your hospital bag for mom, take a look at our tips and suggestions for buying the "right" kind of postpartum underwear.
This site contains affiliate links, meaning that we earn a small commission for purchases made through our site. We only recommend products we personally use, love, or have thoroughly vetted.

What Makes Postpartum Underwear Different?
Giving birth involves more than just babies coming out of our bodies. You can also expect to shed other "things," such as tissue, blood, amniotic fluid, and more.
Basically, anything that was inside your uterus during pregnancy has to come out.
While this is a natural part of the birth and postpartum process, it's not exactly comfortable to walk around with "stuff" slipping out of your body. Plus, your lady bits and belly will probably be sore after the whirlwind of trauma involved in bringing your baby into the world.
Lovely image, huh?
To help ease the wetness, discomfort, and general grossness of the postpartum period, it's essential to keep yourself covered. While some women might choose to rock traditional pads (I would suggest the overnight ones with a soothing postpartum padsicle on top!), others want something with a little more protection and support.
That's where postpartum underwear can be helpful.
Now, when I say "postpartum underwear," I can probably guess what you're picturing – those "adorable" white, mesh items the hospital supplies you with that closely resemble an adult diaper.
While those are certainly an option (and a preference for some new moms), they aren't the only type of postpartum panty on the market.
Many companies are now designing soft, breathable underwear that's highly absorbent and comfortable in those first days and weeks after birth.
These products often provide light compression to support your body during your postpartum recovery period.
Do You Have to Wear Postpartum Panties?
Definitely not! If you don't want to spend additional money on postpartum underwear, you don't have to. The hospital will likely send you home with a few pairs to get you through the first couple of days postpartum, and you can wear a pad with your regular underwear after that.
How Long Will You Need to Wear Them?
Most women will continue to experience postpartum bleeding and soreness for up to six weeks after birth. If you choose to buy postpartum underwear, you'll probably want to wear them throughout this time.
For the 33% of us who continue to experience postpartum incontinence for 3 months or more after childbirth, however, you might decide you'd like to continue wearing them even longer.
There's no right or wrong time to stop wearing postpartum panties.
Heck, maybe you put them on and decide you like them more than regular underwear and want to make a permanent change.
To that, I say: You do you, Mama, you do you!
Breaking Down the Different Types of Postpartum Panties
As we've already discussed, postpartum underwear goes well beyond the delightful mesh panties you'll receive at the hospital. If you're shopping online or in-store for hospital bag essentials, you'll want to keep these different styles in mind:
Postpartum Disposable Underwear
Most commonly, these are the mesh postpartum underwear we've come to know and, er, love. They're also one of the most frequently used styles after childbirth.
Light Compression Postpartum Underwear
Your postpartum belly won't be in the same condition as your pre-baby stomach. Many women feel better when they have some mild support for their abdominal muscles. Gentle compression underwear is a great option in situations like these.
C-Section Panties
During your c-section recovery, it can be painful and irritating to have fabric rubbing against your incision line. To avoid this, some companies make high-waisted postpartum underwear geared towards c-section moms.
Period Panties
Move aside Diva Cup – period panties are becoming one of the most popular alternatives to pads and tampons during your period. It should come as no surprise that these products are also a great option when you're looking for non-mesh postpartum underwear.
However, please note that during your first few days of postpartum recovery, your bleeding will probably be rather heavy. You might still want to wear a pad inside your period panties for added protection.
Do You Need to Size Up After Birth?
As a general rule of thumb, you'll probably want to buy postpartum underwear that's one size larger than what you normally wear.
How Many Pairs Should You Buy?
The heaviness of your flow after childbirth will help determine how many pairs of postpartum panties you'll need to have.
As a general rule, though, if you're using mesh postpartum underwear, you can probably get away with one to two pairs a day for around a month. If you're going with reusable panties, you should think about buying at least 5-7 pairs.
Our Picks for the Best Postpartum Underwear
Whether you want mesh panties to put on under your postpartum clothes, or you're looking for highly-absorbent period panties, there are tons of options to choose from.
Luckily for you, our team has polled our community, read the reviews, and lent our own experiences to help you figure out which products will be the best postpartum underwear for you.
We're breaking these options down by style to help you find exactly what you're looking for:
Disposable Postpartum Underwear
From mesh postpartum underwear to other materials, there are tons of popular items on the market when you're looking for disposable postpartum panties:
I'm a huge fan of anything Frida Mom, so I was thrilled to learn they're now making postpartum underwear. These products are soft, stretchy, wicking, and mesh-free.
They do require a pad but will keep you feeling comfortable in those exhausting first days as a new parent.
Look, we get that mesh undies aren't going to be hitting the pages of Vogue magazine any time soon, but when it comes to postpartum comfort, these disposable postpartum underwear are bringing their A-game.
Pair them with a DIY padsicle for the ultimate in post-delivery pain relief.
Light Compression Underwear
When it comes to those worn-out abdominal muscles, some gentle compression will do your postpartum body good. Here are our top picks!
Did you know it can take up to six weeks for your uterus to shrink back down to normal size after childbirth? That's why many women find compression-style underwear helpful.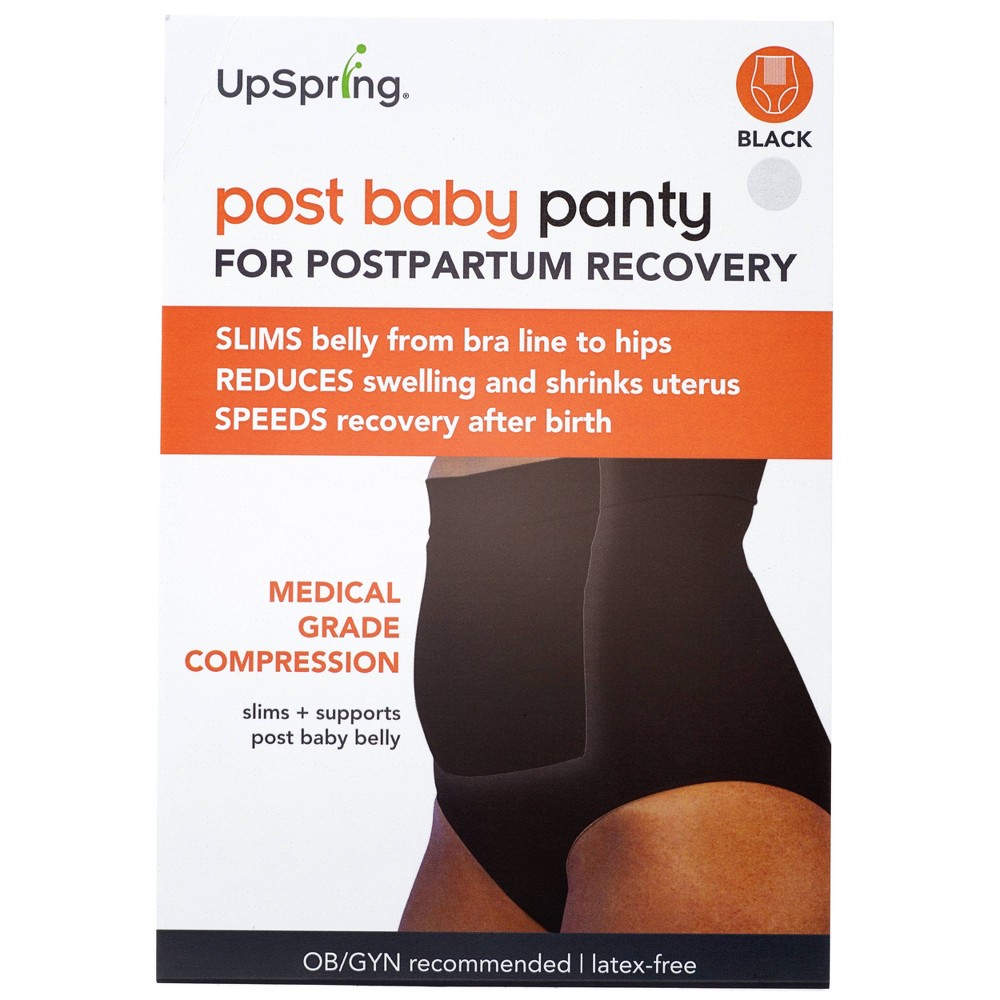 In addition to offering overall support, these UpSpring compression panties will aid your uterus as it returns to its normal size.
Suppose you're looking to combine a quest for comfortable postpartum underwear with interest in belly binding after childbirth.
In that case, this set of postpartum compression underwear from Leonisa is exactly what you're looking for.
Not only do these mild compression postpartum underwear come in a set of five, but they're also one of the most affordable and highly-rated post-baby panty styles on Amazon! They come in several different colors and boast a breathable wicking material that will keep your tender lady bits cool and comfortable in those first days and weeks after delivery.
They're also a full coverage panty with plenty of support for your recovering belly.
C-Section Underwear
For all the brave mamas who endure a c-section during delivery, finding the right type of underwear to protect the incision line is crucial. If you've recently undergone a cesarean section, it's time to take a look at some of the best postpartum underwear available.
There's no rule stating that your postpartum underwear has to look dull and medical. If you'd like to bring an extra element of style, the lace-lined postpartum recovery panties from Kindred Bravely are sure to win you over!
For the affordable price of $34.99, you can get a 5-pack of postpartum panties that are perfect for c-section recovery.
With more than 48,000 reviews on Amazon, our list of the best postpartum underwear for c-section moms wouldn't be complete without these Wirarpa cotton recovery panties. This underwear won't ride up, slip down, or bunch up inside your pants.
They'll bring you unbeatable comfort post-surgery and will support your body as you adjust to life as a new parent.
Belly Bandit offers products that support new moms during their postpartum period. It's no wonder they also have a top-rated pair of c-section recovery panties.
In addition to incredible belly support, these panties also feature silver-tipped fibers that cut down on odors and infection-causing bacteria as your incision line heals after surgery.
Period Panties
What better way to deal with bleeding than to rock a pair of postpartum underwear whose sole purpose is to absorb bodily fluids? Plus, you can keep reusing these period panties long after your postpartum recovery has come to an end!
Whether you're struggling with incontinence after pregnancy or you're trying to deal with the loss of lochia after delivery, Bambody's high flow period panties are a top-rated option. They're absorbent enough to hold two tampons worth of blood and provide trustworthy coverage to work for overnight wear.
Keep in mind that if you choose any type of period panties, you'll likely still need a pad in those first few days after delivery.
I am not ashamed to admit that I'm slightly obsessed with TikTok. Amidst my normal "For You" videos, I was surprised when my content suddenly became overloaded with videos about Thinx period panties!
These postpartum underwear products have quickly become a social media favorite. What's great about them is the fact that they not only come in a wide variety of styles, but you can also pick from a full range of different absorbency levels.
Thinx Hiphugger Period Underwear – Beige I…
Our original best-selling pair with a full-coverage fit, a comfy lace waistband, and mo… [More]
Target even offers a less expensive version of the same style!
Are you looking for a pair of period underwear that feels a bit more like traditional panties? Well then, you're going to love these plastic-free Ada full briefs by Dear Kate!
They feel like silk and will keep you comfortable and protected throughout your postpartum period.
Choosing the Best Postpartum Underwear is a Personal Choice
As you can see, there's an endless selection of postpartum underwear products to fit the needs of new moms. Choosing the best ones, however, isn't always black and white.
Depending on whether you're focused on abdominal support, c-section recovery, or absorbency, you'll have tons of options to pick from. The most important thing is to find a style that works for your individual needs.
What type of postpartum underwear do you wear?
Kristen Bergeron is a freelance writer from Florida. In addition to writing, she is a wife, mother of two beautiful girls, Hadley and Scarlett, and a part-time photographer. After overcoming infertility and having two successful IVF cycles, she's made it a personal goal to help educate men and women on the realities of fertility struggles. She is passionate about supporting fellow women who are trying to navigate the complicated world of conception, pregnancy, and learning to be the best mothers we can be.