When many of us were children, we went to bed at night in a crib full of fabric bumpers, cozy blankets, and loads of stuffies. Now, sleeping safety guidelines for infants have undergone a significant transition.
This is why so many of us end up adding sleep sacks for babies to our registries.
Sleep sacks aren't just cozy and helpful; they're also a crucial tool for creating safe infant sleeping habits. That's why they should become a regular addition to your baby's bedtime routine.
The CDC has spoken against loose bedding, but it doesn't mean you can't still provide your newborn with the comfort and warmth they need during bedtime.
By choosing one of the ten wearable blankets mentioned below, you can feel confident that you're helping to create the perfect sleep space for your little one.
This site contains affiliate links, meaning that we earn a small commission for purchases made through our site. We only recommend products we personally use, love, or have thoroughly vetted.

Say No to Blankets: Understanding the Importance of Sleep Sacks for Babies
Whether you're setting up a baby registry or shopping for one, baby blankets are always a popular baby shower gift. They're soft, cozy, and so adorable. The funny thing is that your infant shouldn't be using one alone at night.
Per the American Academy of Pediatrics (AAP), each year, approximately 3,600 babies will die while sleeping. Many of these deaths result from suffocation or strangulation due to loose bedding and blankets in their crib.
Research even shows that blankets and bedding can increase your child's risk of SIDS.
These are heartwrenching statistics but also something every new parent needs to know.
It's understandable that you'd want to create a comfortable space for your little one to sleep in. No matter how soft and lovely loose blankets might be, they're a serious risk factor.
With the creation of sleep sacks for babies, often called wearable blankets, you can still offer your baby comfort and warmth without the added dangers.
What Should You Look for In a Wearable Blanket for Your Little One?
When it comes to sleep sacks for babies, the number of options available is kind of overwhelming, to be honest.
Adding a sleep sack to your baby registry checklist can quickly go from fun to confusing. Don't start stressing, though, there are several factors you can weigh to help determine which type of wearable blanket is right for you and your baby.
1. Size
Rather than buying a different sleep sack for every month of life, wearable blankets usually work for more extended periods. You might see something like the following in the size options:
Small (0-6 Months)
Medium (6 – 12 Months)
Large (12 months to 3T)
These sizes aren't set in stone, though. Every brand will have different guidelines. Make sure to pay attention to any sizing guides and choose the product that best fits your baby's age and weight.
2. Fabric
Sleeper sacks are available in many different fabrics, from bamboo cotton to cotton muslin. There are pros and cons to each.
Here's a little more information on the most common options to help you decide:
Fleece: If you live in colder climates, purchasing a fleece sleep sack could be an excellent option for your baby. Just be careful that your baby doesn't start overheating since this is a heavier textile.
Bamboo Cotton: Soft bamboo materials are not only one of the most eco-friendly options on the market, but they're also luxurious, absorbent, and gentle on sensitive skin. However, one con is that some products tend to wrinkle after being washed.
Muslin: One of my favorite things about cotton muslin sleep sacks and swaddles is the weight of the fabric. It's not super heavy and ensures enough protection to keep your baby warm with a smaller risk of overheating. It's also an extremely breathable fabric that decreases the likelihood of skin irritation.
3. Budget
When you start reading about the best baby sleep sacks in the section below, you'll notice we feature products with a wide range of price points. An item doesn't always have to cost a fortune to be good.
The cost of sleep sacks for babies varies greatly. Take a look at your own budget for baby and decide how much you're comfortable spending.
4. Style
From zippers to shoulder snaps and short sleeves to long, there are many different styles of wearable blankets. Consider the weather where you live, your baby's unique preferences, and your list of wants and needs while shopping for a sleeper sack.
Infant Sleep Sack Safety – Here's What You Need to Know
No matter what type of new baby must-haves you're looking to buy, there's no denying most of us put safety at the top of our priority list. We're always looking for the best products for our little ones while also questioning which items are safe.
Don't worry if you're confused about the overall safety of sleep sacks for babies—our team is here to answer some of the most common questions about these products.
1. Are They a Safe Sleeping Option in General?
First and foremost, let's answer the most general of questions: is a sleep sack safe for your baby?
The answer is a resounding yes!
A 2019 study found that baby sleep sacks are a much better option for bedtime than loose bedding. While swaddling is still a great option in the early days because it mimics the womb, as soon as your baby starts rolling, a transition to sleep sacks is the best next step.
2. Is a Weighted Sleep Sack Safe?
Per updates to the 2022 AAP safe sleeping recommendations, experts no longer recommend using weighted products on or around babies.
3. Can Babies Use Sleep Sacks When They Start Rolling?
Absolutely! Sleep sacks are an excellent option after swaddles because they're safe for rolling babies.
4. Will Your Baby Overheat in a Sleep Sack?
Overheating in sleep sacks is one of the only risk factors when using these products. It's always crucial to pay close attention to your baby's temperature while using wearable blankets.
Keep tabs on how their skin feels and maintain a safe temperature inside their nursery (between 68 and 72 degrees.)
Since temperature control is crucial for newborns, you'll also want to pay attention to the TOG rating of whichever sleep sack you're interested in.
TOG, or Thermal Overall Grade, represents the warmth measurement of various products and materials. The higher the TOG number is for a particular item, the warmer it will feel to baby.
5. Are Wearable Blankets Good for Your Baby's Hips?
Swaddling is a fantastic tool for new parents but doesn't come without risks. One of which is hip dysplasia. When babies are improperly swaddled, it can interfere with the their hips.
The same, however, can't be said about sleep sacks.
Since wearable blankets don't wrap tightly around a little one's body, their hips are less restricted.
When Should You Stop Using a Sleep Bag?
Discontinuing the use of a baby sleeping bag is less about age and more about size. While designers make large sleepers to fit toddlers, many little ones start to outgrow them around 2 years old.
The good thing is that by the time your child is too big for their sleep sack, they're typically the right age to start using a blanket.
The Top 10 Sleep Sacks for Babies
Now for the fun part – choosing the right sleep sack for your baby's wardrobe! We're lucky to live in a world where many incredible brands and products are available for our kiddos. Sleep sacks for babies are no exception.
While there are many great options to choose from, the ten fantastic products below take the cake!
We might as well start with the piece de resistance – the Kyte Baby Sleep Bag is one of our all-time favorite wearable blankets!
This luxurious product is made from buttery soft bamboo cotton and has earned a reputation for quality excellence. It has a TOG rating of 1.0, making it a suitable option for nurseries with temperatures within the 68-degree and 72-degree range. It also has a two-way zipper that makes for easy diaper changes at night!
Some reviewers did mention some trouble with zippers getting stuck. Make sure to let the company know if you're experiencing similar issues.
Once you finally find a wearable blanket you love, you'll probably want to keep it as long as possible.
That's where the "Sleepy Bag" from Little Sleepies comes in!
Made with custom-milled Lunaluxe™ bamboo viscose cotton, this product might be the best sleep sack for long-term use. Not only is it designed with above-average lengths for extra leg room, but it also includes adjustable shoulder snaps to prolong usage.
If you live in a location with warmer climates, the Aden & Anais sleep sacks for babies are one of my top picks.
Given the extra airflow you'll get with the cotton muslin used for these bags; your baby will be less likely to get overheated.
As if that's not enough of a reason to buy one, they also have some of the cutest patterns I've ever seen!
There's a good chance I'm slightly obsessed with this celestial-themed wearable blanket from Burt's Bees!
This sleeper provides parents with the fantastic quality that Burt's Bees products are known for. It's made from cozy organic cotton that's GOTS certified and has zipper guards to further protect your baby's sensitive skin.
Just be sure to pay close attention to the size guide, as some reviewers complain that this sleep sack is almost too loose.
Once your baby starts toddling around, you might want to consider a sleep sack for walkers. We love this footed sleep bag from Kyte Baby when this moment comes.
This product has all the same great features as the normal Kyte Baby sleepers, except it has ankle cuffs that keep those adorable feet free.
This way, they can have all the safety of a wearable blanket without restricting their mobility.
There are a lot of luxurious fabrics in the world, but when it comes to comfort, microfleece has got to be one of the coziest!
This wearable Halo sleepsack keeps little ones warm while boasting a broad range of other benefits, including its hip-healthy design.
Per the Halo website, they've even earned the title of being the "#1 sleepsack choice for hospitals nationwide."
We all know how quickly babies can go through clothing when the diaper changes get interesting. That's why it's always a good idea to have extra sleep sacks on hand. Rather than just buying one at a time, why not go with a pack of 3?
Simple Joys by Carter's has a great 3-piece sleep bag set that comes in tons of adorable patterns.
Plus, they're one of the most affordably-priced options on this list.
For frigid winter nights, the Baby Deedee Sleep Nest Wearable Blanket offers a quilted duvet material to keep your little one extra warm and cozy.
This sleep sack for babies is machine washable and includes a reversible zipper that simplifies those midnight diaper changes you're sure to experience!
The Hudson Baby long-sleeve sleep sack has more than 10,000 reviews on Amazon! Parents love the soft cotton material and fold-over mittens that will keep your baby's hands warm and prevent little scratches while they sleep.
Since this product has long sleeves, you can rest assured that your baby will stay warm all night long. All you'll really need to add is a onesie underneath.
It comes in many different styles, so you're sure to find something you and your baby will both love!
Made from a mixture of rayon and bamboo cotton, this adorable Loulou Lollipop muslin sleep sack is an excellent option if you're shopping for wearable blankets at Target!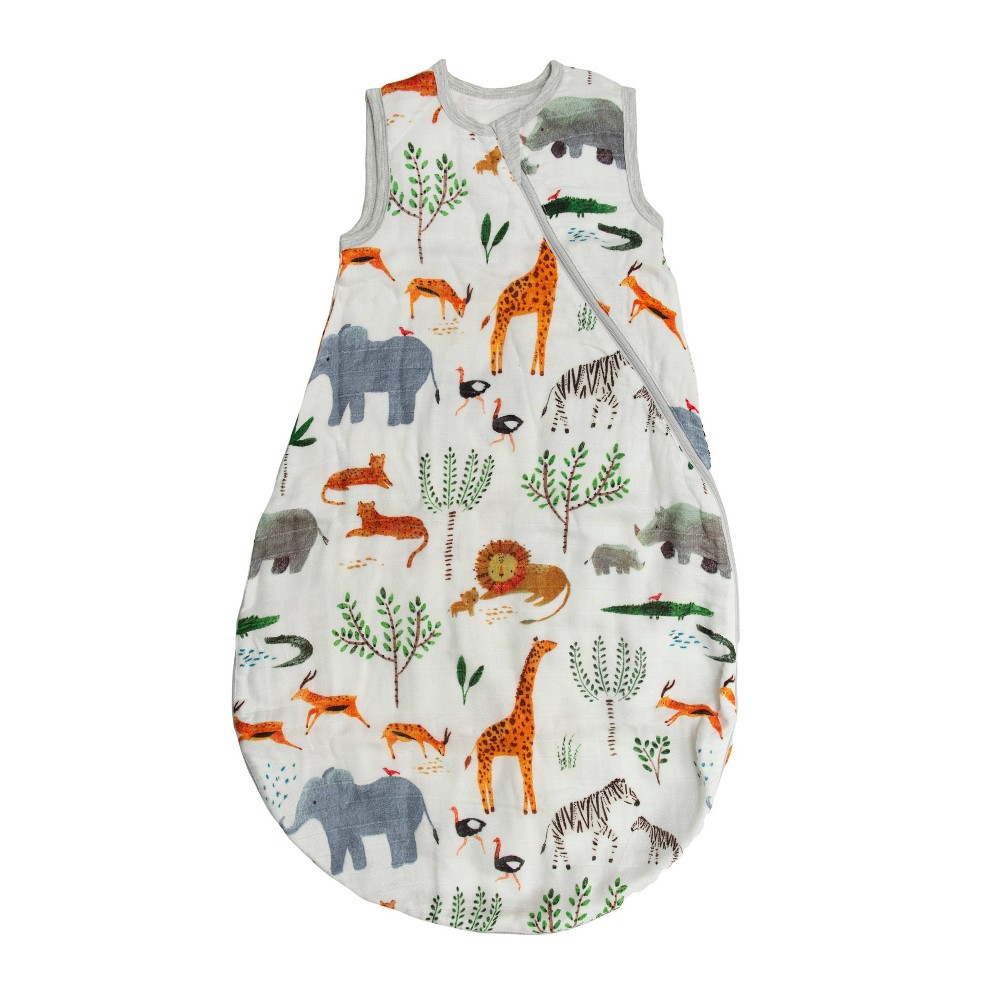 Many reviewers mention that the soft, breathable fabric is perfect for summer.
Keep Your Little One Safe in a Sleep Sack
As tempting as it might be to let your little one snuggle up with a blanket while they sleep, it's just not a safe option. However, with the wide variety of sleeper sacks on the market, there's sure to be a safe, comfortable alternative your baby will love!
So, whether you're looking for a little extra warmth during the winter months or planning your baby shower registry, make sure to have one of our favorite wearable blankets on your list.
Trust us when we say you'll appreciate the peace of mind they'll provide during your bedtime routine!
Have you used a sleep sack for babies in the past? Which brand or style is your favorite?
Kristen Bergeron is a freelance writer from Florida. In addition to writing, she is a wife, mother of two beautiful girls, Hadley and Scarlett, and a part-time photographer. After overcoming infertility and having two successful IVF cycles, she's made it a personal goal to help educate men and women on the realities of fertility struggles. She is passionate about supporting fellow women who are trying to navigate the complicated world of conception, pregnancy, and learning to be the best mothers we can be.