This site contains affiliate links, meaning that we earn a small commission for purchases made through our site. We only recommend products we personally use, love, or have thoroughly vetted.
---
Before I got pregnant, I envisioned maternity style as an array of extra-large tops and drawstring pants. But I felt like a kid in a candy store when I realized how many great options are available to pregnant people now!
Take maternity jeans, for instance.
From skinny jeans to wide-leg styles, I was astounded by the full range of options. The problem then became figuring out which item would be my "perfect pair" of pregnancy pants.
Pregnancy jeans are a maternity wardrobe staple for most expectant moms. If you're struggling to figure out what to buy, when to buy, or where to buy, we're here to help. We're ready to help you find a gorgeous pair of jeans for every stage of pregnancy!
Pregnancy Jeans vs Regular Jeans: Is buying new jeans a Maternity Essential?
When planning your pregnancy and postpartum budget, buying a new pair of jeans might be at the bottom of your priority list.
But that pre-baby pair of skinny jeans you've been rocking might not accommodate your growing bump for long. As your body changes, you'll need some new additions to your wardrobe.
Unless you want to join a nudist colony for the duration of your pregnancy – that's always an option!
Onto the next question –
Can't you just buy regular jeans and size up?
Not exactly.
One of the great things about maternity clothing is that designers create them specifically for pregnant bodies.
Sizing up is going to make your jeans bigger all the way around. They'll be longer and looser in the legs and the stomach area.
Maternity denim jeans leave plenty of space for your growing belly while still offering a stylish cut everywhere else. Plus, they usually have an elasticated waistband or side panels to support your bump throughout your entire pregnancy.
Will it hurt your baby if your jeans are too tight?
When I was pregnant, I constantly feared doing something to hurt my baby in utero. The good news is that your little one is VERY protected inside the amniotic sac.
So, have no fear, Mama – while wearing super tight jeans might be uncomfortable during pregnancy, it's doubtful you could wear a pair tight enough to injure your baby inside your belly.
Tricks to make your Pre-Pregnancy Jeans work longer
Not everyone is ready to rush out to Motherhood Maternity and buy a new pair of pants for their burgeoning bump.
If you're looking for ways to make your current pants last as long as possible, here are a few popular tricks you can try:
Buy a Bump Panel: Go to many online maternity clothing stores, and you're likely to find a decent selection of belly panel products. Whether you choose a full or demi-panel, these products go over the waist of your everyday jeans to support your growing bump. This way, you can rock your favorite pair of denim jeans without worrying about zipping them up or buttoning them.
Try a Waist Extender: Many brands offer various waist extenders that hook onto the buttons of your jeans. These let you adjust the waistline of your pants as your belly grows. Some people pair these with a bump panel.
Use the Hair Elastic Trick: It's incredible what a simple hair tie can do for your belly bump. Loop a regular elastic around your button and through the buttonhole to add extra room. Not sure what we mean? Check out this great video! Just pair this trick with plenty of long, flowy tops to ensure the open zipper doesn't show.
Maternity Mom Jeans 101: Understanding the most common styles
Whether you're looking for comfort or style when shopping for maternity jeans, three main types are available.
Under-the-belly pants provide an elastic waist that rests underneath your bump. If you're a person who doesn't love the high-waisted style, these might be a great option.
However, if you're all about a high waist like me, another common style is over-the-belly pants. These come with an elastic panel attached to the top of your pants, and they come up over your entire stomach.
The third most common design option is side panel maternity jeans. These offer stretchy, elastic panels along your hips.
One thing to remember with maternity jeans for expectant moms is the designs don't always come with functional pockets. If this is a dealbreaker, pay careful attention to product descriptions when shopping for maternity clothes online.
Best Maternity Jeans in 2023
If you're anything like me, you'd rather have someone tell you straight out which products are the best of the best. I hate trying on clothes and searching through reviews to try and figure out what I want to buy!
When you're ready to start shopping for the best maternity jeans in 2022, take a second to look at the products below.
The Best Pregnancy Jeans overall
The pregnancy jeans listed below are the cream of the crop. They are highly rated, comfortable, stylish, and so much more!
Shopping for affordable maternity clothes might seem impossible, but Target is here to help!
These gorgeous, medium wash Isabel maternity jeans are a favorite among the pregnancy community.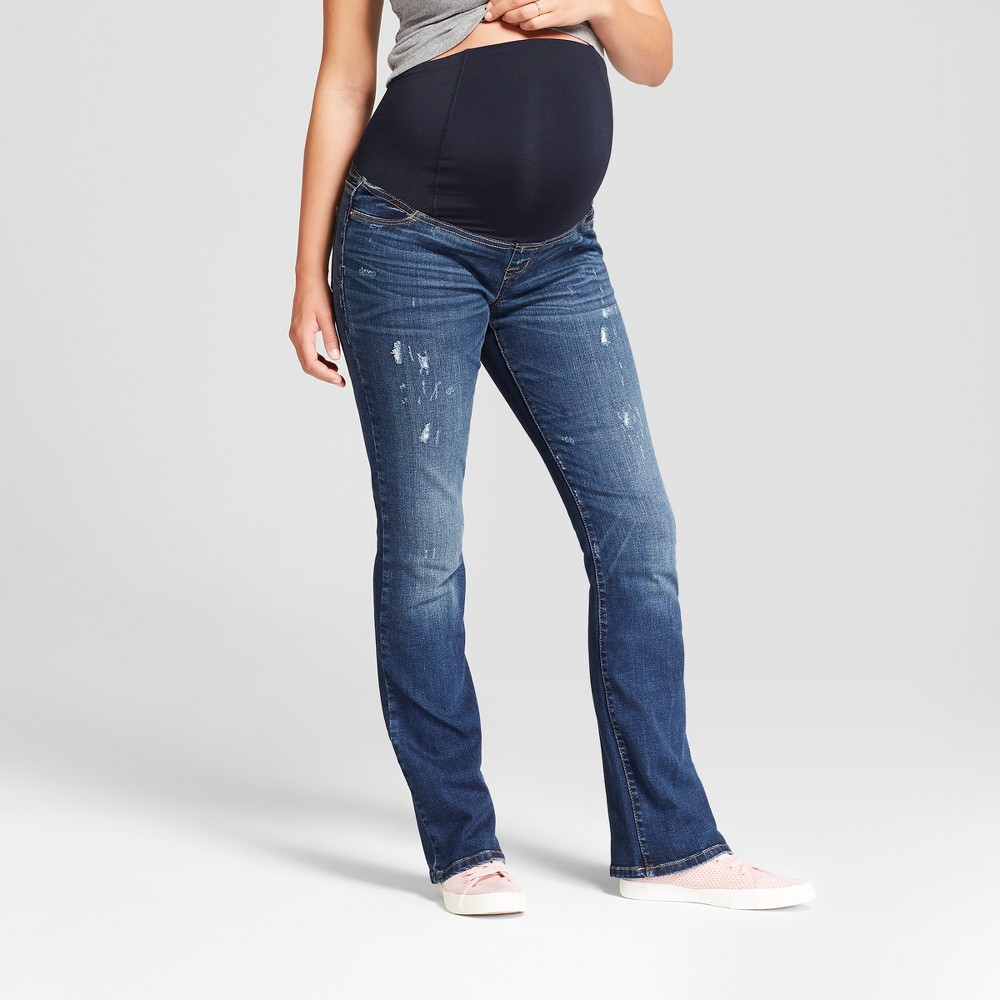 They offer enough stretch to keep you comfortable while still looking stylish enough for a night on the town.
Whether you're looking for dark wash, light wash, or black maternity jeans, Levi Strauss has you covered! Their Gold Label Maternity Jeans have almost 5,000 fantastic reviews on Amazon and cost a mere $30.
Some women who wanted skinny jeans complained that they were looser than they'd like, so pay careful attention to sizing!
Maybe you want to switch up your maternity capsule wardrobe and buy more than just traditional maternity jeans.
If so, these overalls from Motherhood Maternity are an adorable option!
Are functioning pockets on your list of maternity must-haves? If so, Jessica Simpson's brand is here to help!
Her adorable maternity jeggings with Motherhood Maternity don't just look good, but they feel good, too. Plus, as one of the only options on our list with real front pockets, they're sure to become one of your wardrobe staples.
Madewell's Over the Belly TENCEL jeans might not be one of the most budget-friendly options on our list, but they are hugely popular in the realm of maternity fashion.
One reviewer even raved about how sexy they made her feel throughout pregnancy. What's not to love about that??
Favorite Plus Size Maternity Jeans
Are you trying to find the perfect pair of plus-size pregnancy jeans? Here are some of our favorite options!
Who doesn't love a good pair of distressed jeans? If you're shopping for an edgy maternity look, these light wash plus-sized maternity jeans from Pink Blush Maternity are a win.
They combine comfort, stretch fit, and a lot of style to create a top-rated pair of maternity jeans.
No maternity wardrobe is complete without a gorgeous pair of dark wash jeans. In our opinion, there's no better choice than the Secret Fit Belly Skinny Plus-Sized Maternity Jeans from Motherhood Maternity!
Reviewers love the comfort level of these jeans and mention how nice the fabric and stretch are for growing baby bellies.
If you're an avid Amazon shopper like I am, you'll be thrilled to see they offer one of the top-rated pairs of maternity jeans on the market.
While not strictly marketed as plus-size, these Hybrid & Company stretch pregnancy jeans are available in sizes up to 3X.
Best Pregnancy Jeans for Petite Women
As a fellow shortie, I know that finding great jeans for petite women isn't always the easiest task. To help provide some clarity, we've done the research for you and found the best maternity jeans for shorter women.
Do you like a little extra stretch in your jeans? Well, when it comes to maternity jeans in petite sizes, Abercrombie & Fitch has a first-class option.
Their maternity jean leggings have a comfortable over the belly panel for growing bumps. They also have great size and length options, including short styles for petite women.
If you're searching for a stylish pair of boot cut maternity jeans, the Secret Fit Belly jeans from Motherhood Maternity are a frequent purchase among expectant mothers.
Not only are these available in many regular length sizes, but the company also provides essential options for petite bodies. Yay!
Shopping Tips and Tricks for Finding the Best Pregnancy Jeans
Finding the perfect pair of maternity jeans can be simple and fun. Just remember–your favorite doesn't have to be the same as someone else's.
Here are our top 4 tips for finding the perfect maternity jeans for YOUR body and lifestyle:
Choose a style that will fit with your daily wardrobe: Just because you find an adorable pair of jeans doesn't mean they're a good option if you can only wear them to a fancy dinner twice during your pregnancy. Think about your daily clothing styles and only look at jeans that work for your style. This will help you narrow your options, and will ultimately save you time and money because you won't need as many pairs of maternity denim.
Decide what price point is comfortable for you and stick to your set budget. Since most maternity stores are online, you can use their filter features to narrow your selections by price. This will also help you choose brands–looking for a nice pair that you're willing to spend more on so you can wear them everyday? Hit up Hatch Maternity or Seraphine Maternity. Need something to let you get by on a budget? Target and Old Navy are your new best friends, mama!
Narrow your search by your preferred waistbands. I am an over-the-belly waistband girl all the way when I'm pregnant and postpartum. But I know people who much prefer panels that help jeans expand. Knowing what you prefer can really narrow your buying pool, as well as ensure you'll be happier with the final product you choose!
Buy your pre-pregnancy size! We often feel overwhelmed as we try to size maternity clothes, but remember, they're made to fit your changing body. If you were a 10 before pregnancy, you're not suddenly a 12 or 14 because your belly is larger. Sizing up will make your pants too tight in the legs. Instead, stick with your original size, and trust that the companies who specialize in making maternity clothes understand how to adjust for your body.
Maternity Mom Jeans FAQs
Don't let shopping for maternity jeans during pregnancy stress you out. We've got all the answers you need to your most pressing questions about pregnancy pants.
When should I start wearing Maternity Jeans?
While every woman's body will develop differently, most will need to switch to maternity jeans between 4 and 6 months.
Where can you buy the Best Maternity Jeans?
There are many options when it comes to shopping for comfortable maternity jeans. Some of our favorite options include:
– Amazon
– Motherhood Maternity
– Madewell
– Target
– Pink Blush Maternity
Why do you need to wear Maternity Jeans?
There's no rule stating you can't wear your normal jeans throughout pregnancy, but if you want the best comfort for your growing belly, you'll probably want to try some maternity jeans. If you try to stick to pre-baby jeans, you'll likely want to buy a belly panel or waist extender.
Is it OK to wear jeans during pregnancy?
Jeans can be a great option during pregnancy, but you want to make sure they fit comfortably and are not too tight. Maternity jeans are the most comfortable and easiest option, but in early pregnancy, some people enjoy wearing jeans with a belly band.

Can you wear maternity jeans first trimester?
Maternity jeans are a great option for comfort no matter how far along you are in pregnancy. Many parents experience bloat during the first trimester that makes regular jeans uncomfortable, and maternity jeans are a great solution.

What jeans are best for pregnancy?
The best jeans for pregnancy are comfortable, flexible, and don't put any undue pressure on your abdomen. For an everyday go-to, we love the Isabel line from Target.

What shouldn't you wear while pregnant?
It's best to avoid excessively tight clothing that could impact your circulation, and some parents like to avoid synthetic fabrics, as they don't breathe well and can become uncomfortable if hormonal changes are causing you to sweat.
Upgrade your Pregnancy Style with a great pair of Maternity Jeans
We're lucky to live in a time where there's a bounty of available products for pregnant bodies. When it's time to retire your regular jeans temporarily, you can feel good that there are plenty of popular pregnancy jeans available.
If you've already had a baby, what are the best maternity jeans you've ever worn?
Maternity Clothing Roundup: Great articles on dressing your bump
Affordable Maternity Clothes
Maternity Pajamas
Maternity Bras
Maternity Hospital Gowns
Maternity Underwear
Maternity Leggings
Kristen Bergeron is a freelance writer from Florida. In addition to writing, she is a wife, mother of two beautiful girls, Hadley and Scarlett, and a part-time photographer. After overcoming infertility and having two successful IVF cycles, she's made it a personal goal to help educate men and women on the realities of fertility struggles. She is passionate about supporting fellow women who are trying to navigate the complicated world of conception, pregnancy, and learning to be the best mothers we can be.