When my first pregnancy test turned up positive, I began to ponder the wonderful world of maternity must-haves. Whether it was maternity pajamas, tops, or dresses, I wanted it all! My only hold-up in starting to shop was not knowing where to find the best maternity clothes and what maternity essentials I really needed.
Lucky for all of us expectant mothers, though, maternity clothes online and in-stores offer an endless supply of incredible options.
Gone are the days when our parents would search for cute maternity clothes and end up getting stuck with a bunch of shapeless muumuus no one wanted to wear.
In today's fashion-forward society, there are more options for pregnancy clothing than ever before. If you're wondering where to shop or what to buy, however, our community of parents is here to help!
This site contains affiliate links, meaning that we earn a small commission for purchases made through our site. We only recommend products we personally use, love, or have thoroughly vetted.

How to Buy Maternity Clothes You'll Actually Want to Wear
I have a distinct memory of shopping for maternity clothes with my mom while she was pregnant with my little brother. Her options ranged from oversized sacks to annoyingly cutesy t-shirts that featured teddy bears or other animals in all of their glory.
While my nine-year-old self thought they were spectacular, in my older age, I've come to realize these were not the cute maternity clothes she'd probably been anticipating.
Today, however, some of the best maternity clothes are not only functional for expanding bellies but incredibly stylish, too.
If you're looking for tips on what to buy, when to buy, or where to buy, we've got you covered!
Maternity Clothes vs. Oversized Clothes vs. Nursing Clothes – Is There a Difference?
While it might seem more logical and less expensive to simply go out and buy clothes that are a few sizes too big when you're pregnant, this isn't always the best solution.
Maternity clothes are specifically curated to accommodate the unique shape of a woman's changing pregnancy body. Many of them come with expanding design elements that allow you to continue wearing them as you get bigger.
Other options, especially maternity leggings and pants, come with support features that help increase your comfort throughout pregnancy.
Nursing clothes are made to improve accessibility to your breasts. This way, you can feed your little one more discreetly (if that's a concern for you – if not, that's good, too!) and easily when you're on the go.
And guess what?! Many maternity tops will double as nursing tops, such as these nursing tanks from Kindred Bravely. This will help cut down on some costs after your baby is born.
When to start wearing Maternity Clothes
Every woman is different, so there's no clear-cut answer for when you need to start adapting maternity clothes into your wardrobe.
On average, though, most women will begin to "show" around 16 weeks pregnant. By 20 weeks pregnant, many pregnant folks will have made the switch to maternity clothing.
Maternity Clothes Sizing – What size to buy online or in-store?
Typically, when you're shopping for the best maternity clothes, you're going to be looking for the same sizes you wear on a day-to-day basis.
That said, though, not every brand or style will work the same way. As with our everyday wardrobes, you might need to go up or down in size on occasion.
If you want more information about maternity sizing, Motherhood Maternity has put together a super convenient size chart that we love.
Best Places to Buy Maternity Clothes that are Affordable
When you're shopping for maternity clothes online or in brick-and-mortar shops, you'll probably notice they can get pretty expensive.
Luckily, though, affordable maternity clothes do exist!
When it comes to shopping for inexpensive maternity clothes, here are a few of our favorite options:
If you're shopping for the best maternity clothes online but still want to save some money, Amazon and Pink Blush Maternity are probably going to be your best options.
Can You Continue Wearing Your Current Clothes to Save Money
You might think the best way to save money on maternity clothes is not to buy them at all. This doesn't usually work, though. At some point, your favorite jeans are probably not going to work with your burgeoning baby bump.
If, however, you're hoping to use some of your regular clothes throughout pregnancy, you might have some options.
Cardigans and other outerwear, for example, don't have to be maternity! Just throw one on over your favorite pregnancy shirt, and you'll have a great outfit. If you love loose, flowing tops as a part of your standard wardrobe, you can adopt these into your maternity clothing.
Another way to save money on pregnancy clothing is to create a minimal maternity capsule wardrobe that covers all of the basics.
And when all else fails, and your jeans are getting tight, you can always utilize the rubber band/hair tie trick for as long as possible!
Where to Buy Maternity Clothes
So now that you know a little bit more about why finding cute maternity clothes to carry you through your pregnancy is so important, it's time to start doing some shopping!
Our team has taken polls, read reviews, and asked the experts for all their information on the best maternity clothes available.
We're breaking them down by clothing type to ensure you have everything you need to know about clothing for your beautiful belly.
Trendy Maternity Clothes: Maternity Tops
While purchasing maternity tops is going to be essential during your shopping, you might be wondering how many you need.
I tend to over-indulge when it comes to buying shirts, so if you ask me the correct answer is fifty million different styles. If we're being reasonable, however (and not a shopaholic like me,) most people suggest picking up AT LEAST three to five maternity tanks and t-shirts.
It's a good idea to have a few tops you can dress up, but don't forget solid tees that are a great addition to any maternity capsule wardrobe.
Here are a few of our favorite options when you're on the hunt for maternity shirts and blouses:
When it comes to affordable maternity clothing, this 2-pack of organic jersey cotton tank tops is a maternity essential.
Not only are they incredibly comfortable and well-reviewed, but they're also versatile. Add them to a nice pair of jeans with a blazer to create a stylish outfit, or throw them on with a pair of leggings while you're lounging around. Either way, you're sure to love them!
During the cool winter months, these long-sleeved tees are going to be your best friend. They're cute, cozy, and available in tons of different colors and designs.
Love the look but hate the long sleeves? No problem! They come in short sleeves, too!
What wardrobe couldn't use a stylish, classic turtleneck? If you're looking for one that will work for your baby belly and breastfeeding journey, this one from Kindred Bravely is one of our favorites!
We love this warm-weather option for its classic simplicity & versatility, not to mention that it's made by one of our favorite maternity brands!
When I was pregnant, I loved a good "tieable" shirt. This chambray maternity shirt would have been at the top of my maternity must-haves list!
Ingrid & Isabel – Popover Tie Waist Mater…
This deep-V woven (maternity) top pulls double pregnancy duty: Wear it with a blazer an… [More]
The tied design makes it highly versatile for your ever-changing baby bump. Plus, it features soft, breathable material that will keep you feeling cool, despite your hot flashes from raging pregnancy hormones!
While some cutesy "new mommy" clothes can be a little cheesy, that doesn't mean there's not a place for it at all in your maternity wardrobe. This Mama pullover from Pink Blush Maternity is a great example.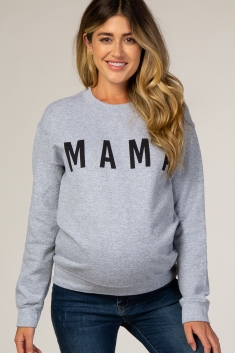 Grey Screen Print Mama Maternity Pullover …
A pullover crewneck sweatshirt with screen print detail. [More]
Best Maternity Clothes: Maternity Pants
Whether you're looking for cheap maternity jeans or the best maternity leggings, there are tons of great options available to suit your needs.
How many of each style should you buy?
A couple of pairs of jeans and a couple of pairs of leggings should be sufficient. If you live in warmer weather or you're pregnant in the summer, you might want to throw in a pair or two of shorts, too.
So, during your search for the best maternity clothes online and in-stores, be sure to grab some of these styles:
Not only are the Indigo Blue Secret Jeggings from Motherhood Maternity some of the most fashionable pregnancy pants on the market, but they're also among the top-rated!
They're also available in three different shades of denim if you want some versatility in your pregnancy wardrobe.
The number one bestselling pair of maternity jeans on Amazon – these Signature by Levi Strauss maternity pants are sure to become a staple in your wardrobe.
Some of their 3,700+ reviews claim these are a top pick when you're looking for cheap maternity jeans. They're comfortable, stylish, and come with a cooling belly band that doesn't get loose and annoying as you wear them.
When the phrase "feels like butter" and "maternity leggings" go hand-in-hand, you know you've found an incredible product.
The Louisa leggings from Kindred Bravely are among the most popular items on our list of the best maternity clothes. They'll keep you feeling cozy and supported throughout your pregnancy, and they'll also work great during your postpartum recovery.
A fan favorite among pregnant moms, the stylish macrame bottom is adorable for everyday wear. These leggings are also recommended for workouts!
Ingrid & Isabel – Macrame Maternity Worko…
Whether your goal is to stay in shape or just keep moving, these stylish form-fitting l… [More]
These leggings are Okeo-tex approved, meaning they're guaranteed to have no chemicals that can penetrate the skin. What a great feature when the waist band covers your baby belly!
You can wear these over the belly or folded under the belly for extra support. The absolute BEST feature of these leggings: no tugging! Put them on, and they'll stay there without slipping down.
Best Pregnancy Clothes: Beautiful Maternity Dresses
Where pregnancy comfort is concerned, throwing on a dress is a favorite option among many expectant mothers. Be sure to add 2 – 3 of the following to your shopping list:
Expecting a baby or not, is there anything better than a t-shirt dress? If you feel the same, it's time to add this little organic cotton number to your wishlist!
Made from breathable fabric, this maternity dress is an excellent example of what cute maternity clothes should look and feel like. It comes in gorgeous colors that can be easily dressed up or down, depending on your mood.
Whether you're shopping for work, date night, or an upcoming event, this v-neck long sleeve fitted maxi dress is a beautiful, versatile option.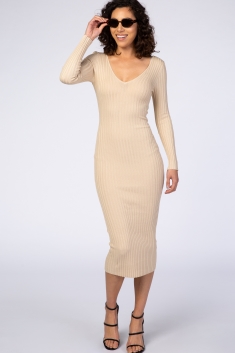 It comes in a beautiful collection of colors for you to pick from.
From solids to polka dots, this ruched maternity dress from Amazon comes in an incredible number of different styles and colors.
Its ruched design also makes it a staple in any maternity capsule wardrobe and is a primary reason it ended up on our list of the best maternity clothes available. This type of style will keep you feeling good, no matter how big your belly gets.
Boasting delicate, tied straps, this smocked maxi dress from H&M Maternity is a top seller from their MAMA line.
One of the best things about this type of dress is that it doesn't just leave plenty of room for your growing baby belly. It also provides extreme comfort and works for a wide range of different events and activities.
It would be silly of us to put together a list of the best maternity clothes without adding maternity pajamas to the list.
After all, if you're having one of those pregnancy days where you feel like a pile of crap, sitting at home in comfy jammies is sure to be a good idea.
Kindred Bravely is a favorite for our fearless leader, Katy, and it's easy to see why. Their clothing features beautiful lines, classic looks, and the softest fabrics imaginable.
Their Davy nursing and maternity pajamas are no exception!
With nearly a perfect 5-star review, there's no denying these pajamas are a favorite maternity item for many soon-to-be parents. Since they're also for nursing, they will make a great addition to your hospital bag for mom, too.
Have you been searching for the perfect set of thermal maternity pajamas? Well, your search ends today.
These come in a wide selection of fashionable colors and bring the warmth and luxury you're looking for when you hop into bed at the end of the night.
While technically a dress, this nursing henley dress serves perfectly as a nightgown for your pregnancy body.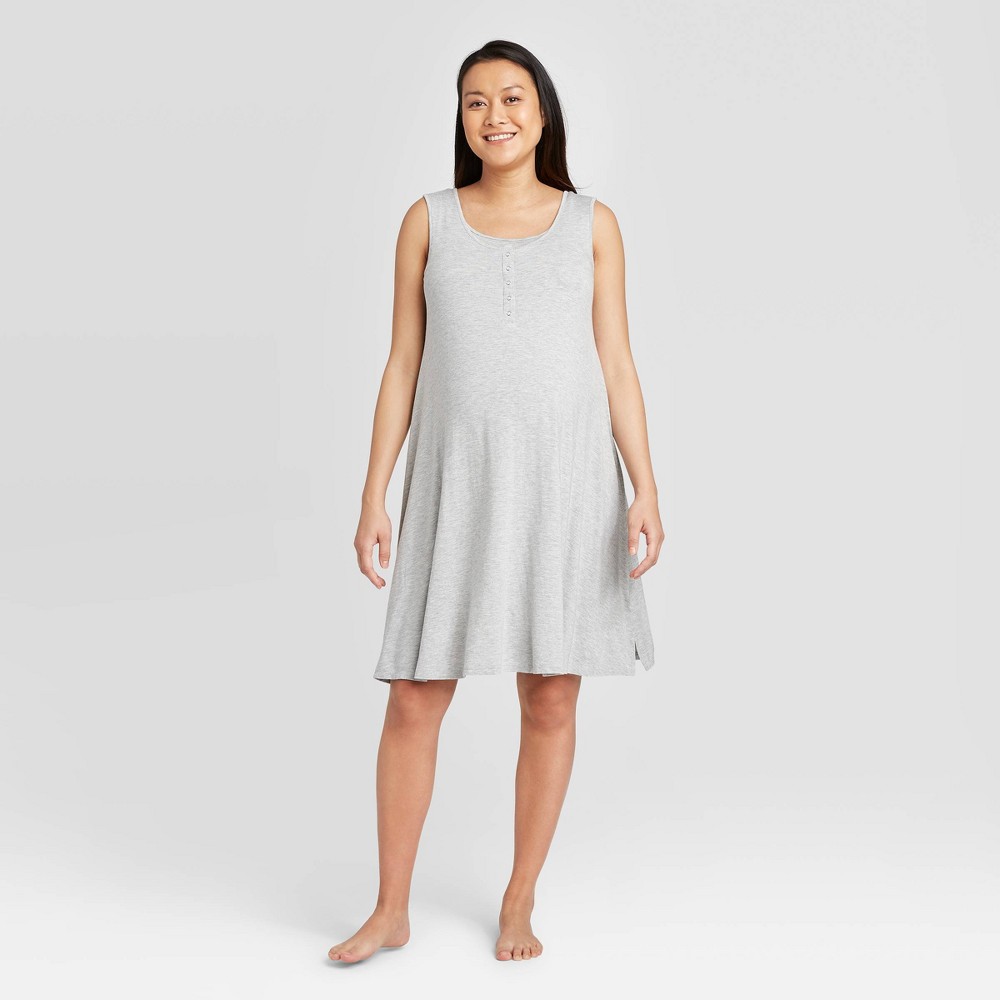 Since designers made it with breastfeeding in mind, it's the ideal choice for your postpartum body, too!
While building a collection of the best maternity clothes tends to focus on fun items like dresses, shirts, and pants, there's one other thing you definitely don't want to forget about – maternity underwear!
Check out our list of favorites below:
Trendy Maternity Clothes: Maternity Work Clothes for the professional mama
While work clothes may not be the first thing that come to mind when we think of maternity clothes, there are tons of options available to help professional mamas look amazing while still feeling comfortable.
Get started by creating a maternity capsule wardrobe specifically for the workplace. This will allow you to mix and match different items without having to buy tons of new clothes! Stock your capsule wardrobe with things like:
For trendy, trustworthy brands of maternity work clothes, we especially love:
Stylish, sophisticated, and loved even by celebrities!
This dress made social media fame for its flexible versatility.
An amazing choice for basics that will hold up beautifully, these are the perfect pieces to style your capsule wardrobe for work!
You can't go wrong with this gorgeous blazer or any of their other amazing pieces for work.
Known for being the trendiest maternity brand around, Pink Blush makes the perfect pieces to add a little flare to the basics you use to fill your maternity capsule wardrobe.
We especially love this brand for work blouses and maternity dresses!
Best Pregnancy Clothes for working out
Maternity workout clothes are all about two things:
Bump support
Breathability
When you're working out while pregnant, it's essential to support your bump because that support helps protect your low back and your pelvic floor. You'll find just what you need with the perfect pair of maternity leggings for exercise!
Here are our top 3 favorite brands for maternity workout clothes!
Founded by a physical therapist and pilates instructor, BaoBei is our favorite brand for providing support while you exercise.
If you're looking to protect your muscles with as much lift as possible, their Sculpt & Support Maternity Leggings are your new best friend!
Beyond Yoga is famous for more than just maternity clothes. They're basically known for making some of the most comfortable workout gear on the market, period. And their maternity clothes are no exception.
If you're looking for soft, breathable comfort, look no further, friend. This is it.
You don't have to spend much time on this site to know that we LOVE Kindred Bravely. Their clothes check so many amazing boxes for moms, and their maternity leggings are an amazing option for a breathable workout with gentle bump support.
Their Louisa leggings are made to provide very gentle bump support, but were designed with an extra special feature. If you want added support, just fold down the waistband to sit right below your belly, and voila! Extra support while still maintaining comfort and breathability.
Why shopping for Cute & Trendy Maternity Clothes doesn't have to be a challenge
No matter how excited you might be to start shopping for cute maternity clothes, it's not always as easy as it sounds.
Many of us don't know what to buy or where the best place to buy maternity clothes even is. Thankfully, though, this list is a great jumping-off point. From ASOS Maternity to Amazon, you're sure to find plenty of gorgeous options when you're looking to outfit your developing belly.
So, what are the best maternity clothes in your opinion? Were there any maternity must-haves we missed?
What to do with Maternity Clothes when no longer needed?
There's one thing for sure about maternity clothes–you won't need them forever! That can feel frustrating, as we sometimes spend a decent bit of money on them, but it also makes them an amazing item to share or sell.
When you finish with your maternity clothes, there are 4 things you can consider doing:
Store them: If you aren't sure you're finished having kids yet, put the pieces that work for a capsule wardrobe into a plastic bin with a lid, label them, and store them for later. You'll be glad not to have to buy all of this again!
Pass them down: If you've recently been pregnant, chances are good you know someone else who's expecting. Share the love and ask if they want any of your maternity clothes!
Sell them: Consignment stores and the internet make it super easy to sell your gently used clothing, and moms are always thankful to be able to get their hands on less expensive maternity clothes by buying pre-worn.
Donate them: Plenty of people need maternity clothes without the budget to buy a whole new wardrobe, so donating clothes to different stores, shelters, and nonprofits can be an amazing way to give your maternity wardrobe new life.
Where to sell maternity clothes
There's a huge market for used maternity clothes, so selling yours can be a great bet.
To sell locally, consider posting on places like Facebook Marketplace, and ask if you're allowed to share in your local mom groups.
My favorite way to sell maternity clothes online is through Poshmark, which lets you list your own items, set your own prices, and ship after someone purchases.
To sell in person, check out local consignment stores, or keep an eye out for major baby consignment sales, which are often full of maternity gear, as well.
Where to donate maternity clothes
There are plenty of people who would be thrilled to have your maternity clothes, so donating can be an amazing option.
You can take maternity clothes you'd like to donate to any store where you drop donations, such as Goodwill. But we also love getting even more hyper local and creative with maternity clothes donations.
Consider reaching out to local women's shelters to see if they're in need of maternity clothes. They're often full of women at all different stages of life, and being gifted clothes that are made to fit their expecting bodies can be a real treasure.
Best Places to Buy Maternity Clothes FAQs
What month should you start wearing maternity clothes?
The timing varies from person to person, depending on factors like body type, hormonal bloat, previous pregnancies, and so much more. Most expecting moms will need to switch to maternity clothes sometime between 12 and 20 weeks, but it's completely okay if you need them sooner or later than those times!
How to dress during pregnancy without maternity clothes?
To avoid maternity clothes during pregnancy, look for loose, comfortable, breathable items, such as oversized sweaters. Stretchy leggings can also get you through a lot of pregnancy, as well as using a hair tie to expand the button on your pants. Still, most women will ultimately need at least a few maternity clothes to make it through a full-term pregnancy comfortably.
Can maternity clothes double as postpartum clothes?
Most maternity clothes are also made to be worn as postpartum clothes because it can take a while for your belly size to shrink back down. You'll often find nursing access built in to maternity clothes for exactly this reason. Just be aware that some maternity clothes are extra form-fitting, which make some moms feel less comfortable after baby arrives.
More clothes for pregnant women
Kristen Bergeron is a freelance writer from Florida. In addition to writing, she is a wife, mother of two beautiful girls, Hadley and Scarlett, and a part-time photographer. After overcoming infertility and having two successful IVF cycles, she's made it a personal goal to help educate men and women on the realities of fertility struggles. She is passionate about supporting fellow women who are trying to navigate the complicated world of conception, pregnancy, and learning to be the best mothers we can be.