When you get pregnant, you pretty much understand that you'll be shelling out some cash for new clothes to fit your expanding (yay!) body. For example, we all know the day will come when you start wondering when you need to buy maternity clothes? However, many of us forget that if you're planning on breastfeeding, you also need some quality nursing bras for after baby makes their big debut.
If this is your first baby, you might assume all nursing bras are the same. On the contrary, there's a freaking plethora of styles, materials, and potential uses for nursing bras.
Whether you're shopping for wireless nursing bras, nursing bras for plus-size bodies, or something more athletic, you'll probably be unsurprised to hear that the world of breastfeeding essentials is expansive.
Gone are the days of our parents when shopping for pregnancy and postpartum supplies was limited to a slim selection of products. Brands now offer more options than ever before to help us create the ideal postpartum and maternity style for our unique needs!
So, when shopping for the best nursing bras available, have no fear that the perfect product for your body and your baby is out there.
The only challenge is figuring out which one that is! Luckily for you, our community is full of breastfeeding mamas (and mamas who formula feed and help us determine which formulas and bottles are best!) who have all the advice you could ask for when shopping for nursing bras.
This site contains affiliate links, meaning that we earn a small commission for purchases made through our site. We only recommend products we personally use, love, or have thoroughly vetted.

Can't You Just Wear Your Regular Bra When Breastfeeding?
Suppose you're one of those moms who's not interested in purchasing anything you don't actually need for pregnancy and post-delivery. We feel you: consumerism can really get out of hand when you're expecting. In that case, you might be wondering whether you can get away with wearing your regular bras for nursing.
While I'm not familiar with this penny-pinching technique and am more in the camp of "buy all of the cute things whether I actually need them or not," even I questioned if nursing bras were that beneficial.
Here's the thing: when you have a newborn in your arms, you will want to do anything you can to make the feeding process more comfortable for both of you. In short, breastfeeding is hard work for mama and baby!
That's why designers created nursing bras in the first place.
Nursing bras help streamline the breastfeeding process with their easy access and clips. Trust me, when a baby is screaming for something to eat, the last thing you want to be doing is fumbling with your bra.
Now, trust me, there were times during my breastfeeding experience that I wanted the extra "oomph" a regular bra can provide your boobs. So, instead of rocking one of my nursing bras, I practiced the "let's awkwardly fold my cup down and try to shove baby in there" technique.
There's no law stating you have to rock nursing bras while breastfeeding.
Just remember they're there for a reason. If you want to make breastfeeding as easy as possible, nursing bras are where it's at.
Buying Bigger Bras vs. Wearing Nursing Bras
You might assume adding a few larger bras to your collection is a valid alternative to wearing nursing bras. Again, you do what works best for you, but bigger bras still don't offer as much as nursing bras if you're looking for convenience and comfort.
Do You Have to Wear a Bra All the Time While Breastfeeding Your Baby?
I've heard this wild rumor that not all women have waterfalls of milk spilling down their breasts in those first months of nursing.
This was not the case for me.
I leaked and leaked…and leaked some more while breastfeeding my girls.
For most of us, as our body adjusts to the breastfeeding and milk production process, leaking does slow down or go away completely.
Until then, however, wearing a bra all the time can help minimize the awkward feeling of running around or waking up with a wet shirt.
This is entirely a personal choice, though. Some breastfeeding mamas choose to go bra-less for easy access and comfort.
If you don't mind your shirt getting a little wet from time to time, by all means, forego the bra. For me, I couldn't stand the feeling of milk-wet clothing, so I wore some type of nursing bra 24/7 in my first months postpartum.
Do what you are comfortable with and know that whether you keep a bra on all the time or don't wear one at all, both are safe and valid options.
When Should You Start Shopping for Nursing Bras?
If you're expecting to breastfeed your little one, I always think it's good to buy a few nursing bras before your baby is born. This way, you'll be ready to go after delivery.
What I will say, however, is that I don't think buying a ton is necessary right away. Start with a couple so you can feel prepared.
Once you have your baby and start breastfeeding, you'll have a better idea of whether or not you plan to continue. From there, you can start adding more nursing bras to your collection. When my baby was born, I started with four or five nursing bras and then slowly added more.
You also won't know what type of nursing bras you'll like until you're using them.
Take me, for instance. I started by buying a few super-fancy nursing bras that cost a small fortune because I thought they would be the best. Color me surprised when my favorites were some affordable nursing bras from H&M!
You'll quickly discover what you really need and prefer to use as you breastfeed.
How Many Nursing Bras Should You Buy?
Once you have an established nursing routine, you'll probably want to invest in a few more bras to carry you through your breastfeeding experience.
Unlike regular bras that you can wear more than once before washing (we all do this, right??), nursing bras are more of a one-and-done piece of clothing for many people. This is primarily due to leaking in those early months.
Having 8 to 10 different nursing bras is probably a good range. Our advice is also to buy different types. For example, you could purchase 2 or 3 nicer nursing bras, a couple of sports bras, and a few more casual pieces and sleep bras.
Diving Into the Best Nursing Bras on the Market
Now that we've thoroughly covered the importance and usefulness of nursing bras, it's time to start shopping!
If you're interested in some of the most popular nursing bras available, here are a few of our top choices:
Standard Nursing Bras You're Sure to Love
While there are plenty of niche bras we will discuss, why not start with a collection of all-around great nursing bras for anyone on a breastfeeding journey?
If you're looking for a simple, comfortable nursing bra, these are a few of our top picks:
With more than 600 reviews, the 24/7 Classic Thirdlove Nursing Bra is a popular choice for any new mom.
Made with thin foam cups that mold to your body, this bra is the ultimate in breastfeeding comfort. It's also available in a vast collection of sizes, so this is an ideal choice if you're searching for nursing bras for large breasts.
When I was shopping for nursing bras, I found that some of them felt so bulky underneath my clothing. This is not a problem you'll have with the Auden wireless nursing bra at Target!
It's a seamless bra that creates a smooth silhouette underneath any top, t-shirt, or dress.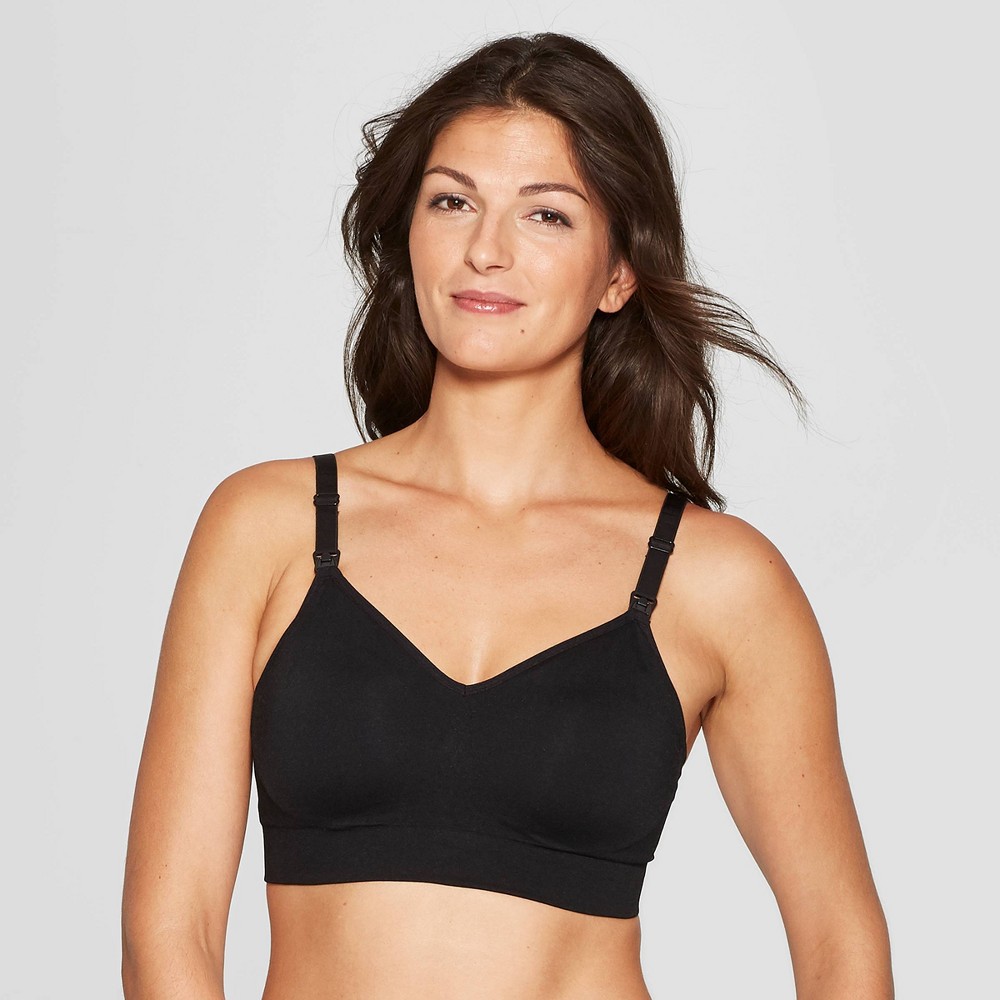 This way, you don't have to advertise to the entire grocery store that you're wearing a nursing bra when you venture out to the grocery store.
If you want the best nursing bras on the market without spending a small fortune, Amazon is here to help! They offer this 5-pack of Suekaphin bras that have more than 23,000 reviews!
Reviewers rave about how good these feel, and many users even wear them to bed. One of my favorite things about them is that they're a great starter set of nursing bras.
If you want to hold off on buying a bunch, this package is a budget-friendly solution.
At Undefining Motherhood, we have a not-so-secret obsession with all things Kindred Bravely. Not only do they offer some gorgeous maternity clothing products, but they also have an impressive collection geared towards the postpartum period.
The Simply Sublime® Nursing Bra is one of our personal favorites. It blends style, durability, and comfort to create one of the best nursing bras on this list.
We're here for it.
Sports Bras for Breastfeeding Mamas
Just because you're breastfeeding a baby, doesn't mean you won't still be doing the other things you love.
Take working out and sports, for instance.
Before you hit the gym, though, why not purchase one of these amazing nursing sports bras? Each one of these products has a reputation for quality and reliability.
When many people think of luxurious bamboo cotton, they probably imagine products like bamboo pajamas, baby onesies, and sheets. However, the company Bamboobies is taking things a step further by creating some of the best nursing bras on the market.
Their yoga nursing bra is a postpartum essential for any new mom who's ready to hit the gym or one of those adorable mommy and me workout classes!
Or, you know, just lounging on the couch and catching up on Netflix, which, in our opinion, can also be a sport.
Kindred Bravely has really outdone themselves with the Sublime® Nursing Sports Bra!
This product is available in several gorgeous colors and has a reputation as one of the most popular sports bras for breastfeeding mothers.
If you're on the prowl for a nursing sports bra that works great, feels great, and doesn't cost an arm and a leg, this racerback from Playtex will hit all the items on your want list.
We like the extra support of the racerback, and Playtex has been around for a million years.
In fact, I'm pretty sure my first actual BRA was Playtex.
Stylish Nursing Bras for Larger Breasts
If you're having difficulty finding nursing bras for larger breasts that fit well, we've got some incredible options you need to check out.
In addition to some of our previously mentioned styles, such as the Sublime® Nursing Sports Bra and the 24/7 Classic Thirdlove Nursing Bra, our community loves the following products.
With size options up to a 48E, this Gratlin Nursing Bra for plus-size women is perfect for anyone with larger breasts.
As one of the best nursing bras for plus-size moms, it's no shock that this product has more than 4,800 reviews.
It is worth noting, that while many reviewers say this bra fits perfectly, others suggest sizing up.
The Sublime® Nursing Sports Bra isn't the only fantastic nursing bra you will find on Kindred Bravely for women with bigger breasts. In fact, they have an entire collection for "busty women."
Their French Terry racerback is one of our favorites in terms of access and comfort.
Plus, if you're looking for a cute nursing bra, their vintage floral pattern is absolutely adorable!
Pumping Bras to Make Your Life Easier
Whether you're a casual pumper or exclusively pumping for your baby, having the right type of bra can help simplify the process.
If we're going to talk about the best nursing bras for pumping, we might as well start with the cream of the crop. The MomCozy Hands-Free Pumping Bra is the #1 best-selling nursing bra on Amazon.
Its universal design ensures it works with most popular pump brands, such as Spectra or Medela.
Surprise, surprise, another Kindred Bravely bra made our list – but trust us when we say we wouldn't recommend them if they weren't worth it!
Their hands-free pumping bra wows breastfeeding mothers and streamlines the pumping experience.
If you're looking for an affordable pumping nursing bra at Amazon, the Easy Expression Bustier should be your first choice.
We love how cost-effective this product is, and it has tons of great reviews. One thing to keep in mind, however, it is made with Medela pumps in mind.
This is not to say that it won't work with flanges from other pumps, but sizing could be an issue to consider if you're using a different pump.
It's Time to Stock Up on Nursing Bras for Your Postpartum Period
So, you've decided to breastfeed and are trying to pack your hospital bag for mom. Adding one of the best nursing bras on the market should definitely be on your packing list!
Thanks to our personal experiences and an incredible community of mothers, we're pleased to bring you this list of the best wireless nursing bras available. Whether you need a nursing bra for plus-size women, a pumping bra, or prefer something athletic, these products will give you a great place to start your search.
Which types of nursing bras are you most interested in? Have you used any of the items on this list?
Kristen Bergeron is a freelance writer from Florida. In addition to writing, she is a wife, mother of two beautiful girls, Hadley and Scarlett, and a part-time photographer. After overcoming infertility and having two successful IVF cycles, she's made it a personal goal to help educate men and women on the realities of fertility struggles. She is passionate about supporting fellow women who are trying to navigate the complicated world of conception, pregnancy, and learning to be the best mothers we can be.