This site contains affiliate links, meaning that we earn a small commission for purchases made through our site. We only recommend products we personally use, love, or have thoroughly vetted.
---
While plus-size fashions are becoming more readily available and versatile than ever (yay!), that doesn't mean that it's always easy to find pieces you love. Add in an ever-changing baby bump, and things can get downright complicated.
But if you're in the market for plus-size maternity clothes, you'll be happy to hear there are some great options.
Several stores and brands offer amazing maternity products for full-figured bodies, whether you're looking for pants, tops, or dresses! Check out the information below to find out where to go, when to shop, and the best tips for finding plus-size maternity fashion that's right for you.
Do You Have to Buy Maternity Clothes?
Before you dive into shopping for plus-size maternity clothes, you might be wondering whether they're necessary in the first place. 
Is there a way to save money and continue wearing your regular clothes?
Maybe…but not likely.
While you can probably keep wearing some pre-pregnancy items, like loose shirts and maxi dresses, other things can be difficult.
As your belly grows, buttoning and zipping your regular jeans, for instance, will likely become impossible. You can try using tricks, like the hair band trick, to prolong their usage, but at some point, you'll probably want to switch to maternity leggings or jeans.
When you stumble upon the best maternity clothes on the market, you'll notice they include various features, like elasticized waistbands or ruched sides to accommodate baby bumps.
No matter how much you love your everyday wardrobe, I can almost promise you'll be more comfortable in items designed with pregnancy in mind.
When Should You Start Wearing Them?
Making the switch to maternity clothes doesn't happen at the same time for everyone. While some of us might sprout a bump as soon as the test turns positive, others might not start "looking pregnant" until they reach their final trimester.
On average, though, most of us start rocking maternity wear during the sixth month of pregnancy.
Tips to Make Shopping for Plus Size Pregnancy Clothing Easier
If the idea of shopping for plus-size maternity clothes is stressing you out, you're not alone. Many of us, myself included, love the wearing part of new clothes, but actually finding them isn't always fun. 
If you're dreading the search for pregnancy clothes that make you look and feel great, here are a few tips that might simplify the process.
1. Take Your Measurements
If you're anything like me, most of your shopping happens at home, in front of a computer. I can't be the only one noticing that going into stores to try things on has become increasingly obsolete.
While digital shopping certainly has its conveniences, the struggle to find perfect sizes is still a downfall.
Before you start searching online, one helpful tip is to take measurements – especially of your bust, waist, and hips. Many online stores offer charts that utilize these measurements to help you figure out which size clothes work for your body.
Keep in mind your measurements will change throughout pregnancy, though. That's the benefit of pregnancy-specific clothing, however – it's made to grow with your body! Use your best judgment when looking at size charts to figure out what will fit best now and throughout the remaining months.
When you're faced with re-stocking your wardrobe for your changing body, you might think you need to buy tons of different options.
Don't!
Not only is this an unnecessary expense, especially when you're budgeting for baby, but lots of options will only heighten your pregnancy stress. Instead, we suggest creating a capsule maternity wardrobe filled with high-quality basics and staple pieces you can mix and match for stylish looks.
3. Shop Second-Hand or Borrow
While we're on the topic of budget-friendly plus-size maternity clothing, one of my favorite tips is to borrow from friends or shop second-hand.
Let's face it; you won't wear maternity clothing forever. Well, except for maybe that one pair of fabulous leggings you can't give up (I speak from experience). After your little one makes their big debut and your body starts returning to its new normal, your pregnancy clothes will end up in garbage bags or boxes in the garage.
If you can find great options at thrift stores or have a friend who can loan some plus-size pieces out, this is an excellent way to cut down on the costs of your maternity wardrobe.
Brands We Love for Plus Size Maternity Clothing
Finding the perfect pieces for any plus-size maternity wardrobe starts with choosing the best brands. While many stores and companies offer clothes for mamas-to-be, not all of them cater to curvy individuals.
Don't let that discourage you, though!
If you're ready to buy plus-size maternity clothes, tons of size-inclusive options are available. Here is a list of the most popular brands currently on the market.
Whether you're shopping for stylish loungewear or a dress for a baby shower, Pink Blush Maternity is one of my favorites. 
During both of my pregnancies, I frequented Pink Blush. It was my go-to, especially whenever I needed a special occasion dress! 
One thing I've always loved about this brand is its size options.
You can find some fantastic products on the site if you're looking for stylish, high-quality clothing for full-figured mamas. Some of their most popular styles include:
Yes, I might be a sucker for lace, but this dress is one of my favorite options for photoshoot dresses or baby shower outfits.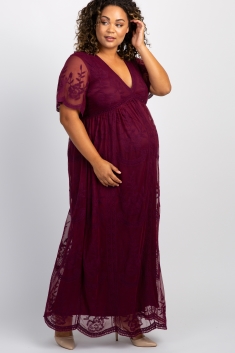 PinkBlush Burgundy Lace Mesh Overlay Plus …
A lace mesh overlay plus size maxi dress featuring beautiful scalloped trim semi-sheer… [More]
It comes in several color options and is also "post-bump friendly," – which means you can keep wearing this gorgeous gown until you get back to your pre-pregnancy size.
Comfort is key during pregnancy; that's why I believe your selection of maternity items should always include a nice pair of sweatpants.
Black Soft Drawstring Maternity Plus Sweat…
A pair of soft plus size sweatpants with an elastic waistband with a contrast drawstrin… [More]
From days spent lounging on the couch to running all of those pre-baby errands, this cozy pair of fleece-lined sweatpants is a winner.
No conversation about a plus-size pregnancy wardrobe would be complete without mentioning Motherhood Maternity. 
This brand continues to serve as a staple for us pregnant folks. And no matter what size maternity wear you're looking for, there's a good chance they'll have something that works. So, before you start making any big wardrobe purchases, make sure to check out this long-standing maternity line.
They have tons of great options to pick from, but some of our favorites include:
Trust me; I get it – shopping for maternity swimsuits can seem like torture. I mean, looking for bathing suits isn't often fun, even when you're not rocking a watermelon-sized bump under your t-shirt.
The great thing is that there are many stylish pregnancy bathing suits for plus-size moms. This gingham-print ruched maternity tankini is one of my favorites!
It's available in sizes 1X, 2X, and 3X and even features a UPF 50+ rating to protect your skin.
Okay, listen, when you're planning you're on the hunt for plus-size maternity clothes, your closet will not be complete without a luxurious pair of leggings. 
This set of cropped maternity leggings from Motherhood Maternity is a great option.
Good American, the brainchild of Khloe Kardashian, is a clothing retailer that prides itself on offering every style in a plus size range, including their maternity fashions.
While this brand is definitely pricier than others, you'll get what you pay for. The clothes are made from high-quality materials and come in an array of stylish options you'll be proud to wear throughout your pregnancy.
Note: While Good American offers sizes up to 6X, items go out of stock quickly. Finding the right options in the products you're looking for can sometimes be challenging.
Good American is known for its awesome jeans that fit all body types. One of my favorite styles is the Good Legs Crop jeans. This is one of the best-selling products on the site and comes with a full panel for extra belly support.
Embrace your gorgeous pregnancy silhouette with this beautiful belted body dress!
This dress features a stylish ribbed fabric that allows you to embrace all of your gorgeous curves. Whether you're going to a wedding or want to ramp up your office wardrobe, this item is a Good American fan favorite.
From undergarments to sweaters, the plus size maternity clothing on Amazon offers a landmark online shopping experience.
While I was pregnant, I found that Amazon was a great place to find maternity basics. I ordered things like nursing bras, t-shirts, pregnancy underwear, and maternity leggings. What's great is most of their top sellers are available in plus-size maternity options. 
Made from buttery soft bamboo cotton, this 4-pack of maternity underwear is one of my favorite pregnancy essentials for expectant mamas.
They range in size from XXL to 3X and come in several neutral color options.
Another popular maternity basic on Amazon is these ruched-side tank tops. 
Reviewers rave about how comfortable and breathable this plus-size maternity tank top is. Plus, it comes in tons of colors and is super budget-friendly.
You can wear it on its own for a cute summer look or layer it without jackets and sweaters during winter. 
Much like Good American, Torrid specializes in size-inclusive clothing that's cute, trendy, and comfortable. They have a fantastic selection of plus-size maternity products for full-figure bodies. If you want to cut right to the chase and check out their best options, the following items are some of their top sellers.
Who couldn't use a great pair of jeggings throughout their pregnancy? If this sounds like you, the Torrid high-rise maternity jeggings might be a good option. 
These are one of the best-selling products on the site and have earned a 5-star review. Something people love about these pants is the fact that they seamlessly blend style and comfort.
While you might think nursing bras would be a better fit for a list of plus-size postpartum clothing options, some of us like to start wearing them before our babies are born – I know I did!
This particular nursing bra supports your gorgeous curves while simplifying the breastfeeding process. It even includes Torrid's 360 back smoothing technology.
Look for Clothing that Makes You Feel Good During Pregnancy
Whether your fashion priorities are style, budget, or comfort, plenty of amazing plus-size pregnancy clothing options are available to meet your needs. The main thing to remember is to pick items that make you feel good about your changing body.
That beautiful bump should be your favorite accessory during pregnancy. By choosing clothes that support and embrace it, you'll feel even better about the amazing things your body is doing.
So, stop thinking about the oversized, shapeless maternity t-shirts of yesteryear. Put your curves in clothing that makes you feel proud!
What type of plus-size maternity clothes are you looking forward to buying?
Kristen Bergeron is a freelance writer from Florida. In addition to writing, she is a wife, mother of two beautiful girls, Hadley and Scarlett, and a part-time photographer. After overcoming infertility and having two successful IVF cycles, she's made it a personal goal to help educate men and women on the realities of fertility struggles. She is passionate about supporting fellow women who are trying to navigate the complicated world of conception, pregnancy, and learning to be the best mothers we can be.