This site contains affiliate links, meaning that we earn a small commission for purchases made through our site. We only recommend products we personally use, love, or have thoroughly vetted.
---
Please tell me I'm not the only person who HATES shopping for pants. I can go to the store and load up on shirts, dresses, and loungewear, but buying pants is the bane of my existence. And during pregnancy, maternity pants were no exception!
While shirts and dresses are more universal, there are too many variables regarding pants:
What size is the waist?
How long are they?
Are they too tight? Too loose?
Are they high-waisted? Low-waisted?
Does my butt look okay in them?
Will I have a plumber's crack?
The list goes on and on…
Now, add in a growing belly bump, and the list of sizing and comfort expectations gets even more interesting.
What if there was a way to narrow down the search field, though? Instead of scouring the internet and stores for the perfect pair of pregnancy pants, you could go to one place and find a list of all the best options for every style.
Oh wait, you can!
In honor of my own distaste for pants shopping, I'm here to make your life a little easier. Read on to find a list of high-quality maternity pant options for every style scenario.
Do You Have to Wear Maternity Pants?
Simply put–no.
If you like your regular pants and feel comfortable in them throughout pregnancy, why not continue rocking them until your due date? For many of us, though, our changing pregnancy bodies will require a bit of extra space and stretch to accommodate our adorable baby bumps!
While you might get away with wearing regular pants, especially during early pregnancy, you might consider adding at least a couple pairs of maternity bottoms to your wardrobe.
If you're dead set on sticking it out with your regular pants, you can always try tricks to make them fit better, such as the hair tie trick or purchasing a belly band.
When Should You Switch Out of Regular Pants?
Retiring your pre-pregnancy pants happens at different times for each of us. As your uterus expands to make room for the baby, your pants might feel snug. Many mamas switch to maternity clothing between 14 and 20 weeks.
How Many Pairs of Pregnancy Pants Should You Buy?
I'll be honest; I ended up with way more pairs of maternity pants than I needed. Likely because it took me so long to find options I actually liked!
As a general rule, 4-10 pairs of pants should be sufficient.
You can get by with a pair or two of maternity jeans, a nice pair of pants to wear out, and a few pairs of work pants and maternity leggings.
4 Things to Consider When Shopping for Pants During Pregnancy
Okay, so we've established that maternity trousers are pregnancy essentials for the majority of us. The next step is figuring out what options will work best for YOU and your changing body.
Here are four great tips to help you decide what kinds of pregnancy pants you need to search for.
1. Belly Panel
Many of the best maternity jeans and pants have a built-in belly panel to support your expanding bump. These will typically be a full coverage panel that goes over your entire belly or a low-rise alternative that rests below your stomach.
I had both during my first pregnancy but discovered I hated full-panel pants. The extra layer beneath my shirt felt irritating to me.
You, however, may feel differently.
Before buying maternity clothing, you might want to go to a local maternity store, such as Motherhood Maternity or A Pea in the Pod, to try various styles. This will help you decide what type of belly panel you feel most comfortable with.
2. Versatility
If you want to avoid purchasing too much pregnancy clothing, you may want to consider putting together a maternity capsule wardrobe.
This consists of buying staple pieces that you can rotate to create different outfits.
Part of that includes shopping for a few high-quality pairs of pants you can wear in several ways. This means finding products that are simple yet versatile.
3. Comfort
In my humble opinion, the number one rule when shopping for maternity pants is to find comfortable clothing you feel good in.
Let's face it; pregnancy does lots of weird things to our bodies–many of which don't feel spectacular. Why add more discomfort by picking clothing that isn't comfortable? Buy pants that you won't end up complaining about.
4. Postpartum Usability
Wouldn't it be nice if we could pop out a baby and bounce right back to our pre-pregnancy size? The reality, however, is that it can take 6-12 months, sometimes more, to return to our pre-baby weight.
That means we won't squeeze into our everyday jeans right after delivery!
It's a great idea to look for maternity clothing that can also be used during your postpartum recovery. Leggings, for instance, can often be worn during pregnancy and beyond for support and comfort.
The Best Maternity Pants for the Office
If you work in an office-type environment, you'll need some nice professional maternity pants. The following are some stylish and popular options.
Stretchy, stylish, and affordable – three great reasons the Maia ankle-length pants at Motherhood Maternity are a favorite product among expectant mamas!
One of my favorite things about this pair of professional maternity pants is they're just as comfortable as they are chic. They feature a luxurious stretch-fit material and phenomenal belly support that you can rock through every trimester.
Plus, they come in three different colors!
With almost 3,000 reviews and a fantastic selection of color options, these beautiful capris are the right fit for any mama during pregnancy.
Unlike the elastic waist you'll find on many other pairs of maternity pants for work, these pixie flare trousers from Old Navy feature stretchy side panels that offer outstanding stretch throughout pregnancy.
They do only have faux pockets, though, so if you're a person who wants a place to put your stuff during the day, there might be better options for you.
Not only does A Pea in the Pod offer some of the best maternity dresses on the market, but they also have some go-to options for buying pregnancy pants for work.
As someone with a soft spot for twill fabrics, I'm a big fan of their Curie-style professional pants!
Maternity Scrub Pants You're Sure to Love
If you work in a hospital or medical setting, buying pregnancy scrubs will likely be part of your shopping experience. Here are a couple of reliable options.
I'm slightly obsessed with these jogger-style scrub bottoms from Figs–heck, I don't even work in a healthcare facility, and I want to buy a pair! These pregnancy scrub pants come in three different colors, several sizes, and even various length options.
However, one of my favorite things about these pants has nothing to do with the product themselves.
Figs is an outstanding company to shop from!
They have an app where shoppers can get special offers and deals, and they also partner with Crocs to provide free giveaways to thousands of winners during National Nurses Week! We love this.
I love this beautiful collection of scrub pants from Healing Hands, made from a stretchy yoga-style fabric that you can move around in easily. Plus, when you're in the market for plus-size maternity scrub pants, this product comes in sizes up to 3XL.
Do you need petite maternity pants and scrubs? You can choose between regular and petite lengths!
If you prefer to do your shopping on Amazon, pay close attention!
These maternity scrubs from Cherokee have many color options, excellent reviews, and a full-panel waistband to suit your pregnancy needs.
Let me ask you this: Is any pregnancy wardrobe complete without a great pair of maternity leggings?
Yeah, I don't think so, either! I suggest adding a couple of these pairs to your shopping cart!
If there's one thing our team can agree on, Kindred Bravely is our favorite choice for maternity leggings!
If you were to ask our opinion on the best maternity leggings overall, we would hands down choose their Louisa pregnancy and postpartum support leggings.
They're made from a cozy polyester spandex blend that gives the perfect stretch and looks nice enough to rock with dressy sweaters or t-shirts depending on your mood!
I love this product from Belly Bandit because they offer top-notch support throughout pregnancy and then provide gentle compression during your postpartum period.
If you're looking for affordable maternity clothes, a popular option is the maternity leggings at Old Navy!
They come with the comfort and style you deserve without the hefty price tag!
There are several great options online if you're in the market for a comfortable pair of plus-sized maternity pants.
Pink Blush Maternity is a top-selling retailer of quality pregnancy clothing, and its plus-sized maternity pants are no exception.
When you want to add a comfy pair of maternity lounge pants to your collection, these fashionable sweats are a top pick.
Black Drawstring Maternity Plus Sweatpants
Solid plus size sweatpants featuring an elastic waistband with a drawstring tie and po… [More]
They're machine washable, have a comfortable elastic waistband, and are lined with the coziest fleece you can imagine!
No list of popular maternity leggings would be complete without a great pair of pregnancy yoga pants.
BeyondYoga offers this buttery-soft collection of midi yoga pants that are perfect for growing baby bumps.
They feature moisture-wicking material, sizes up to XL, several color options, and convenient pockets!
Dressy Maternity Pants for a Night on the Town
Whether your partner is planning a date night or you've got a big event at work, it never hurts to have a cute pair of dressy pregnancy pants in your closet!
From the hottest restaurant to a friend's house party, these stylish velour maternity pants from H&M will turn a few heads! You can wear them several ways, and the soft spandex blend velour fabric will make you feel just as good as you look!
I'm sorry, but what pregnant mama doesn't deserve a hot pair of sequin maternity pants?
These dressy pregnancy trousers from Pretty Little Thing are the fun and sassy item your maternity wardrobe needs.
This particular pair of pants from Pink Blush Maternity is one of my favorites because it can easily be dressed up or down, depending on your current situation. Throw on a dressy maternity top, and you've got an adorable outfit to go out in. Add a tank top to the outfit, and you've got an eye-catching casual look.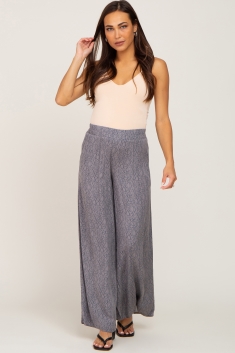 Grey Printed Wide Leg Maternity Pants
A pair of printed lightweight pants with wide legs an elastic waistband and side poc… [More]
These maternity pants are also great for tall bodies!
Stock Your Closet With Maternity Clothing You Love
Building a pregnancy wardrobe goes beyond cute shirts, dresses, and a couple of pairs of jeans. It's crucial to have clothing you feel good in for every situation. Whether you're in the market for pregnancy yoga pants, plus-size maternity scrubs, or a dressy pair of sequin trousers, these items are a great place to start your search.
Have you found any maternity pants you love? Which ones are your favorite?
Maternity Style Round-Up
Would you like to learn more about dressing during pregnancy? The articles below will provide great advice on picking clothing with a bump!
Kristen Bergeron is a freelance writer from Florida. In addition to writing, she is a wife, mother of two beautiful girls, Hadley and Scarlett, and a part-time photographer. After overcoming infertility and having two successful IVF cycles, she's made it a personal goal to help educate men and women on the realities of fertility struggles. She is passionate about supporting fellow women who are trying to navigate the complicated world of conception, pregnancy, and learning to be the best mothers we can be.