This site contains affiliate links, meaning that we earn a small commission for purchases made through our site. We only recommend products we personally use, love, or have thoroughly vetted.
---
When you're trying to figure out what to wear after giving birth in a hospital, or you're trying to pack your hospital bag for mom, postpartum diapers are probably the last thing on your mind.
After all, who wants to celebrate the birth of their child while rocking an adult diaper?
No matter how unstylish and uncomfortable they may seem, trust us when we say you're going to want to add them to your list of postpartum necessities. Whether you wear them for support, or to catch the collection of bodily fluids escaping your body after delivery, they're a must-have.
Before you rush out and grab a random pack of Depends, though, why not consider our list of the best postpartum diapers available?
First Published: February 28, 2022… Last Updated: August 1, 2022
How "Diapery" are Postpartum Adult Diapers?
So, when we're talking about postpartum adult diapers, what exactly does that mean?
Are these the grown-up alternative to those cute Honest Company diapers so many of us love for our little ones?
Nope. The postpartum diapers we're talking about aren't quite as adorable.
Basically, many mamas wear various types of adult diapers after birth because they hold significant amounts of liquid. You'll likely be bleeding a lot postpartum, so postpartum diapers keep you comfortable and protected.
While some new moms might want to rush back into their regular underwear after delivery (hooray, pre-birth clothes!), you run the risk of staining and discomfort.
This is where postpartum diapers come in. Product developers have crafted postpartum diapers to support your body after birth, and you're gonna need it.
While some women might choose to wear postpartum underwear after birth, these aren't necessarily the same thing as a postpartum adult diaper.
Manufacturers make adult diapers as a tool to help with absorption. When it comes to other types of underwear, they don't always offer the same protection. If you decide to go with some kind of fabric postpartum underwear, find out whether you'll still need to wear a pad with them.
Side note: interested in extra postpartum relief? Try our recipes for postpartum padsicles!
Do You Have to Use Them?
When I was packing my hospital bag for mom the first time, I planned my outfits around potential photo ops.
I brought cute nursing pajamas, a lightweight robe, breastfeeding bras, and, silly me, some cute underwear that I thought would make me "feel good" after delivery.
This was a bad idea.
After only a couple of hours in my trendy, non-postpartum panties, I found myself clamoring for the nearest pair of mesh, hospital-grade underwear. I never thought I'd feel so grateful for a piece of clothing that was so unbelievably unattractive.
The moral of the story is this: there's no rule that you HAVE to wear postpartum diapers after delivery…but you'll probably want to!
How Long Will You Need Postpartum Diapers?
After birth, you will lose something called lochia. To be honest, lochia is a pretty gross cocktail of the mucous, blood, and tissue your womb sheds after birth. Typically, this process lasts up to six weeks.
This doesn't mean that you'll need to rock postpartum diapers during the entire six-week period.
For most people, bleeding is light enough by day 10 postpartum to switch to traditional pads or panty liners.
Please remember you shouldn't use tampons until after your six week postpartum check-up. This is because there is a fresh wound where the placenta has detached from your uterus. You may also have tears or fissures around your vagina from delivery. You don't want to run the risk of infection by using a tampon.
What Are the Best Postpartum Diapers on the Market?
And now, the moment you've been waiting for – our list of the best postpartum diapers currently available.
Just to reiterate, though, you're not trying to make the cover of "Postpartum Weekly" (lightbulb moment – this should be a real thing!) with your adult diaper style. These products might not be the best-looking item in your new mom survival kit, but trust us when we say you'll be grateful for them.
These sustainably-produced incontinence briefs are thin enough to provide more comfort than your average diaper, but thick enough to keep you clean and comfortable. We LOVE that, unlike many bigger brands, they're free from chlorine, synthetic fragrances, and latex, so you can feel 100% about what's on your skin.
Their breathable design adds to the comfort factor, which is the #1 thing moms rave about.
Side note: If you're looking for a pair of postpartum diapers at Target, these are usually readily available.
If finding organic postpartum diapers is important to you, Rael is here to help! This company specializes in holistic period care for women, including some amazing products that are ideal for your postpartum body.
These postpartum adult diapers have more than 13,000 impressive reviews and claim to hold as much as four regular pads at once.
Okay, we get it – mesh postpartum adult diapers are not for everyone. Even if it's a temporary postpartum solution, many women are searching for something a little less "diapery."
That's where Speax Postpartum Underwear comes in! While these products are not disposable, they can provide the dependable absorbency new moms need in those first days and weeks after birth. Created for women with bladder leakage, they fit just like regular panties and come in your favorite styles–but there's built-in padding to manage leaks.
Thinx Hiphugger Period Underwear – Beige I…
Our original best-selling pair with a full-coverage fit, a comfy lace waistband, and mo… [More]
Sale: $29.75
They come in tons of cute styles and colors to fit your postpartum style needs, and they are machine washable (and easier on old mother earth). Our founder, Katy, lived in these during pregnancy and postpartum.
Now technically, these are referred to as postpartum underwear, but since they're disposable, we've decided they've earned a spot on our list.
I am a BIG fan of Frida Baby and Frida Mom products, so I wasn't surprised to see the incredible reviews their disposable postpartum underwear has.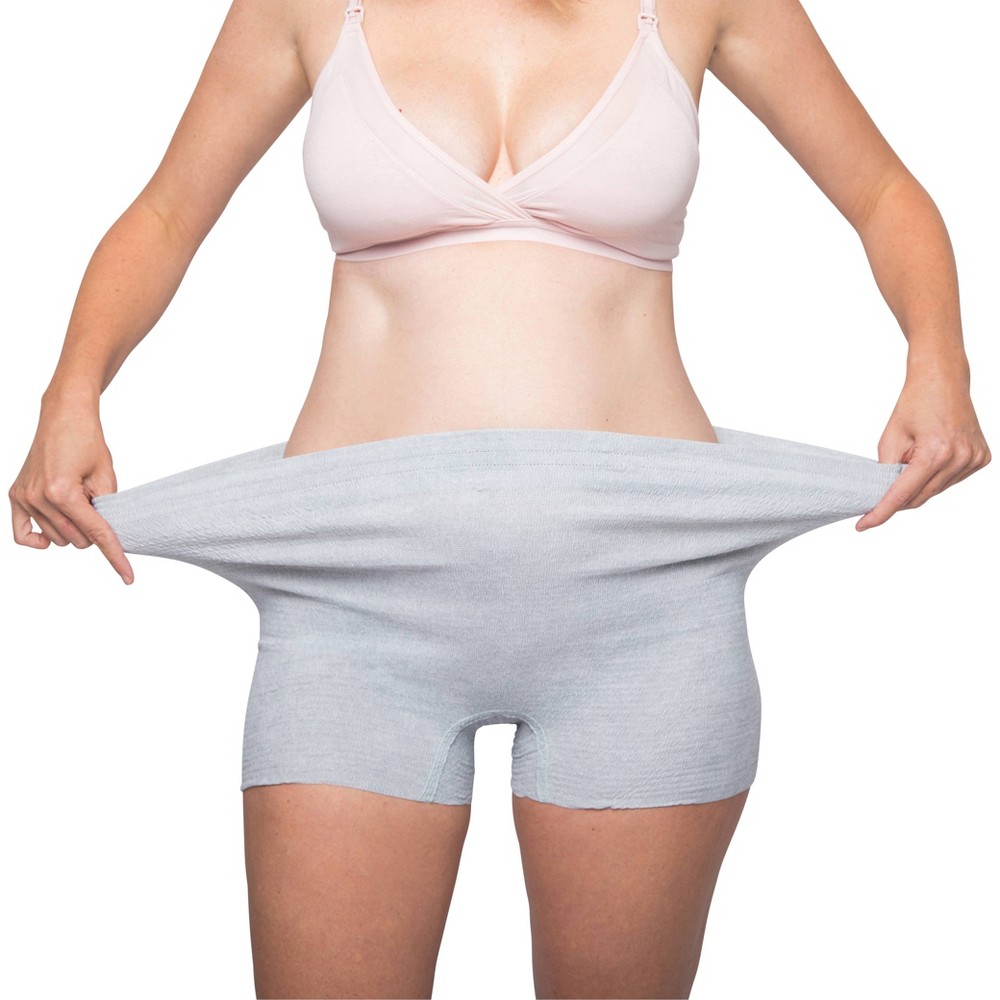 These offer full coverage, comfortable stretch, and high-power absorbency you can rely on.
If you're on the hunt for the best postpartum diapers for c-section deliveries, your search ends now.
The Frida Mom C-Section Postpartum Diapers feature a high-waist cut that will protect your incision. We love to see it.\
Are you on the hunt for hypoallergenic products that are environmentally friendly and safe for sensitive skin? If so, Veeda has some of the best postpartum diapers for the situation! These organic postpartum diapers also include quality green tea extract that will help keep you feeling cool and dry while wearing them.
What's even better, however, is that reviewers rave about how absorbent they are for postpartum lochia.
It's not always easy to find trustworthy postpartum supplies that don't break the bank. Not only are these products from Amazon Basics some of the best postpartum diapers we have on this list, but they're also some of the most affordable.
You'll get 20 dry-fit postpartum adult diapers for approximately $11! No wonder they've earned a 5-star rating and almost 13,000 reviews.
Postpartum Adult Diapers: The #1 Tool for Your Postpartum Recovery Kit
When most of us dream about having a child, we don't long for the day that we'll get to rock a mesh postpartum diaper. But this eccentric piece of postpartum recovery "lingerie" will probably become one of your favorite items after giving birth.
Not only will they keep you dry, but they'll also provide the comfort and support your healing body needs – especially if you use them with some type of soothing DIY padsicle after birth!
So, while you might dream of the day you get to return to your cutesy pre-baby underwear, don't rush the transition. Embrace the postpartum diaper. Your underwear drawer and your post-baby body will thank you.
What were your favorite postpartum diapers?
Other Favorites from Undefining Motherhood
Kristen Bergeron is a freelance writer from Florida. In addition to writing, she is a wife, mother of two beautiful girls, Hadley and Scarlett, and a part-time photographer. After overcoming infertility and having two successful IVF cycles, she's made it a personal goal to help educate men and women on the realities of fertility struggles. She is passionate about supporting fellow women who are trying to navigate the complicated world of conception, pregnancy, and learning to be the best mothers we can be.