This site contains affiliate links, meaning that we earn a small commission for purchases made through our site. We only recommend products we personally use, love, or have thoroughly vetted.
---
When you're experiencing pregnancy after loss, it may feel overwhelming, or it may seem nothing short of miraculous. For many women, it's both. One thing that helps some mamas is leaning into the idea of having a rainbow baby. Why not help yourself connect with the baby in your belly by adorning your new addition in some adorable rainbow baby clothes?
Whether you're looking for a rainbow baby onesie or a rainbow baby outfit for a first birthday, there are tons of great styles available!
From Etsy to Target, our team has scoured the shops to find the best options for your little love.
What Are Rainbow Baby Clothes?
So, we know what you might be thinking…how do rainbow-themed baby clothes differ from, you know, regular baby clothes?
Rainbow baby clothes certainly don't differ in function. They do, however, offer a symbolic meaning for any parent who understands/wants to honor the definition of a rainbow baby.
Pregnancy after miscarriage is often wrought with emotional turmoil. Studies show about one in five women who get pregnant after losing a pregnancy will experience anxiety on some level, and our experience at Undefining Motherhood leads us to suspect this number may be much higher.
The prize at the end of that journey, however, is worth the stress, which is why some say a baby born after loss is the rainbow after a storm (one of the many common quotes about rainbow babies!)
Many new parents will find themselves searching for particular clothing items that represent their pregnancy journey to celebrate this momentous occasion. Whether you're searching for rainbow baby boy clothes, girl clothes, or gender-neutral clothes, there are plenty of adorable options!
Why Wouldn't Some People Want to Dress Their Baby in Rainbow Theme Baby Clothes?
Here's the thing about rainbow baby clothes: there's no rule stating you HAVE to use them.
While loved ones might try to shower you with rainbow-related baby items, these types of products might not be for everyone.
Why you ask? There are a couple of reasons I've seen.
Some parents are uncomfortable with the term "rainbow baby." Some don't feel the phrase represents their feelings about their child; others fear that label will place unnecessary pressure on the child throughout its life.
I read about one mom who said a rainbow baby can sometimes sound like parents weren't planning on having the baby or that they conceived again to "replace" the little one they lost.
Another mom shared that she didn't like the idea of relating the memory of the child she'd lost to a "storm." Instead of viewing her pregnancy loss as a negative experience, she chose to remember the chapter as the small amount of time she had to be with her baby.
Our founder, Katy, regularly points out that she doesn't love the notion of the rainbow after the storm because it suggests the storm is over–yet we live with the aftermath of loss forever, and pregnancy, childbirth, and parenting come with their own share of different storms.
The point is, a "rainbow baby" might not mean the same thing to every person who's coping with a loss. For this reason, not every individual who's pregnant after a miscarriage might feel the need to buy tons of rainbow baby onesies and outfits, so if you're looking for gifts, check with the family you love first.
That said, many parents really lean into the notion of having a rainbow baby, and for those families, this article is just what they're looking for.
What Are the Best Places to Find a Rainbow Baby Outfit?
One of the great things about looking for rainbow-themed baby clothes is the fact that they're not hard to find. Whether you're looking to dress a rainbow baby or just love the design, there are tons of great stores that offer beautiful options for your little boy or girl.
Some of our favorites include:
Caden Lane has tons of adorable outfits, blankets, swaddles, and more.
Kyte BABY has an adorable rainbow baby pajama and clothing line.
Etsy offers unique, handmade options that often include rainbows, and can be customized to the special little one.
Target regularly carries cute rainbow baby clothes.
Amazon pulls in so many different retailers that you'll find tons of different rainbow baby outfits.
Our Top 3 Picks for a Rainbow Baby Onesie
Whether you're looking for a rainbow baby onesie to bring your little one home from the hospital in, or you just want to ramp up your newborn-friendly rainbow-themed baby clothes, here are a few of our favorite options!
If you're looking for a gender-neutral rainbow baby onesie, then the Aloe Rainbow Printed Bodysuit from Kyte BABY should be at the top of your list.
Made from luxurious bamboo cotton, this onesie is a favorite among many new parents (just look at the 1,200+ positive reviews!). The simple design is perfect as a standalone outfit, or parents can pair it with something else to create an adorable rainbow baby outfit.
When it comes to coming home outfits for your new arrival, this personalized rainbow baby onesie from Etsy is one of our top picks. It's available in several different sizes, and you can even pick what type of sleeve length or style you'd like your baby to have.
Available in several different colorways, this onesie is the perfect option, whether you're looking for rainbow baby girl clothes, boy clothes, or gender-neutral clothes!
While the product features high-grade organic cotton, you'll be surprised to learn it's extremely affordable. It also includes a tagless design which is a great option for any baby.
The Most Adorable Rainbow Baby Pajamas on the Market
Ahh, warm footed pajamas…a staple for any new baby's wardrobe.
When you first become a parent, you might be surprised to learn that no matter how many adorable outfits you buy your little one, they'll probably end up in baby pajamas most of the time.
If you're looking for cozy rainbow baby pajamas, make sure to add these options to your list of baby registry must-haves.
Ok, when it comes to precious rainbow baby girl clothes, give me all of the ruffle footie pajamas – swoon! And let me tell you, this design from Caden Lane doesn't disappoint!
It's made using a buttery-soft polyester/spandex blend that will keep your baby comfortable all day (and night!) long. It also has a zipper closure, which is the best thing in the world if you ask me because snaps kind suck in the middle of the night.
Are you looking to add some more rainbow baby boy clothes to your shopping cart? Caden Lane's Brook's Blue Rainbow Footie is sure to take your breath away!
Kyte Baby has a beautiful rainbow line that includes pajamas, clothing, sleep sacks, blankets, and more. Their clothes are always super high quality, and they make tons of our favorite bamboo baby pajamas.
These precious rainbow baby pajamas feature a dual zipper (an absolute must for easy diaper changes!), breathable fabric, sole grips for older babies, and fold-over mittens for younger babies.
If you're interested in adding a different spin to your little one's collection of rainbow baby clothes, then this set of rainbow baby pajamas from Old Navy might be a good choice.
These PJs feature a bright striped design that's bold and playful. Plus, it only costs $8 – score!
There's just something about sunshine and rainbows that sparks a little bit of joy in my soul. If you feel the same, then these Rainbow Sleep N'Play jammies from Target are sure to be a highlight in your little one's rainbow-themed baby wardrobe.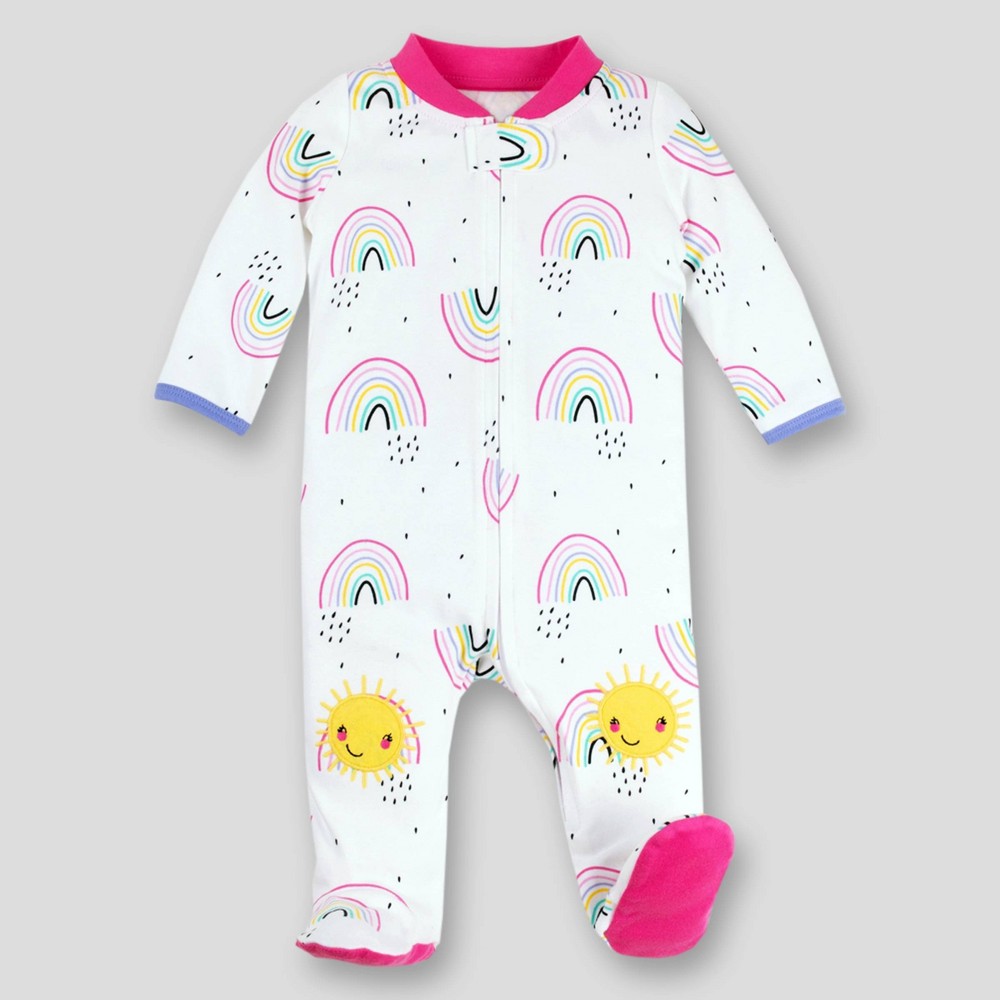 This set of rainbow baby pajamas is the epitome of happiness. They also have great features, such as a zipper closure, organic cotton, and tabs over the zippers to prevent scratches.
Are you interested in a baby gown instead of footie pajamas? Caden Lane has you covered! Their Earthy Rainbow Newborn gown is one of my personal favorites from this list!
Because this is a gown, it's only made for the youngest babies, so it's a perfect way to celebrate right when baby comes home. The opening at the bottom makes for easy diaper changes, and it comes with a matching hat.
5 of Our Favorite Rainbow Baby Outfits
Okay, rainbow baby onesies and pajamas aside, it's time to start talking about the most precious rainbow baby outfits on the market. Here are our top five picks:
Did you love the Aloe Rainbow design we mentioned in our rainbow baby onesie section? Well, you're in luck because there's more where that came from!
Kyte BABY also offers this silky soft printed twirl dress that's available in a wide range of sizes, from 18 months to 7T!
Ok, if you're rummaging through your rainbow baby boy clothes and still can't find the perfect "coming home" outfit, your search ends right now!
This gorgeous set from Etsy includes a personalized rainbow baby onesie, hat, and soft baby pants that all include a beautiful rainbow design.
I wish I could figure out why little sweatsuits on babies are just about the cutest thing I've ever seen. I'm here for all of the little hoodies and pants!
This Rainbow Baby Cotton Suit from Amazon comes in tons of different color and style options, so there's sure to be the perfect rainbow baby outfit for every family.
While we're talking about certain types of baby clothes that make my heart do a little pitter-patter, we might as well add baby overalls to the list. It should come as no surprise that this adorable rainbow baby outfit makes me melt.
I love the way the chambray-style romper looks against the playful yellow rainbow baby onesie. This is sure to be a hit for anyone looking for rainbow baby girl clothes.
From newborn photo sessions to creating an adorable rainbow baby outfit, many parents love a rainbow-themed tutu.
This option from Amazon is precious and is sure to brighten all your photos.
Rainbow Baby Swaddles You're Going to Love
When it comes to outfitting newborns, finding the right swaddles is a big part of the process. Luckily, you can keep the rainbow-themed baby clothes going, even with your baby blankets! Here are a few of our favorite rainbow baby swaddles:
Caden Lane is swooping in with another five-star option. Their Blue Rainbow oversized swaddle offers the comfort and warmth your baby needs when they're all wrapped up like a little burrito.
This swaddle has amazing reviews and is a top choice for your baby registry! And if you want a different color, check out their large variety of rainbow swaddles, named after beloved and missed babies.
Not everyone is looking for bright colors when it comes to their rainbow baby clothes and swaddles.
If you prefer more muted, gender-neutral shades, this beige rainbow swaddle is guaranteed to strike your fancy.
If you're searching for rainbow baby clothes and accessories that offer a boho vibe, you're going to love this personalized swaddle from Etsy.
It comes in several different sizes, styles, and fabrics. Plus, you can add on adorable hats and bows.
Finding Great Rainbow Baby Clothes is Easy (if You Want Them!)
So, the moral of the story is: If you're on the hunt for rainbow-theme baby clothes, there's no shortage of precious options available. Just remember, though, there's no rule stating you have to use them.
Do what feels right to you. We're sure your baby is going to love (or honestly, not care that much) whatever you decide to put them in!
Would you ever purchase rainbow baby clothes for your little one? If so, what types of products would be your favorites?
Kristen Bergeron is a freelance writer from Florida. In addition to writing, she is a wife, mother of two beautiful girls, Hadley and Scarlett, and a part-time photographer. After overcoming infertility and having two successful IVF cycles, she's made it a personal goal to help educate men and women on the realities of fertility struggles. She is passionate about supporting fellow women who are trying to navigate the complicated world of conception, pregnancy, and learning to be the best mothers we can be.