This site contains affiliate links, meaning that we earn a small commission for purchases made through our site. We only recommend products we personally use, love, or have thoroughly vetted.
---
When loss parents experience a pregnancy after miscarriage, the journey can leave them worried and anxious. At the same time, though, the thought of bringing a new life into the world deserves celebration, which is where rainbow baby onesies come in!
If you're trying to find the perfect rainbow baby outfit for a long-awaited new baby, onesies are always a good idea!
They're cute, simple, and easily accessible for all of those lovely disposable or cloth diapering changes. The only tricky part about buying a rainbow baby onesie is figuring out which one you want to get.
After all, it's not like there's some convenient rainbow baby clothes store that will point you in the right direction.
Lucky for you, we're here to simplify the decision. We've put together our list of tips on what to buy and which products we think are best!
What are Rainbow Baby Onesies?
So, here I am blathering on about rainbow baby onesies, and you're probably sitting there thinking – okay, but what ARE they?
Touche – I suppose before you commit to buying something, you should at least know what it is!
Let's start at the beginning, though: What is a rainbow baby?
A rainbow baby is any child born after a miscarriage, stillbirth, or infant loss.
To put it more poetically, many parents see rainbow babies as the rainbow after the "storm" of pregnancy loss or infant loss. Some parents view rainbow babies as a bright spot at the end of a dark period and the new chapter at the end of a story. The idea of a rainbow baby is to commemorate the memory of those losses and celebrate a new beginning.
Not all families choose to celebrate rainbow babies, and that's okay. Some parents don't want to "erase" the storm that was pregnancy or infant loss, and we totally get that. Celebrating a rainbow baby is a personal choice, so if you are gifting rainbow baby onesies, please make sure that this is a concept that the family is into.
If so, What better way to start that celebration than with a cute piece of baby clothing?
Hence, we've come back around to the concept of rainbow baby onesies, a.k.a., adorable one-piece baby outfits that announce and memorialize not only the new arrival, but all of the angel babies who have come before.
Reasons You Might Want to Buy a Rainbow Baby Outfit for Girls or Boys
Now that you know what rainbow baby onesies mean, it's time to figure out what to do with them. In addition to just letting your dear rainbow baby rock them as a part of their day-to-day wardrobe, there are several special occasions they'd be perfect for, including the following.
There are few things more exciting than deciding when to announce a pregnancy and how to do it. A rainbow baby pregnancy announcement, however, takes the thrill for some families to a whole new level.
Imagine how much your family and friends would love to see a photo of a sweet rainbow baby onesie announcement that includes an ultrasound photo of your little one. There's no denying how excited they'll be!
As your loved ones prepare for your rainbow baby shower, they might be shopping for sentimental gifts that convey how happy they are about your impending arrival. Any type of rainbow baby outfit for a new baby would be a great option.
You could even add a few of these onesies to your baby registry checklist in preparation!
3. Birth Announcements
Did you announce your rainbow baby pregnancy with a onesie? Why not put your little one in that same outfit for their birth announcement photo?
4. Commemorative Tributes
It's important to remember that rainbow baby onesies and other items are just as much about recognizing and memorializing pregnancy and infant losses as they are about celebrating new babies.
A rainbow baby outfit could be a great way to recognize your gratitude for both the babies who've made it earthside and the ones who've come before.
Each year on August 22nd, some parents who have struggled with loss but who have gone on to have another child celebrate all of their little ones on a day known as "Rainbow Baby Day." This is an excellent opportunity to let your baby wear all of their adorable rainbow baby clothes!
What to Look for in Rainbow Baby Onesie for Boys or Girls
Whether you're hunting for a bamboo baby onesie or an affordable rainbow baby onesie from Target, there are plenty of quality items available.
When it comes to making a selection, some parents aren't sure what they want.
Overall, most of the items you find online and in-store are going to be good options. Again, there's not a certified rainbow baby clothes store to refine your choices, so you'll be left to look at various places. From Wal-Mart to Etsy, though, you're likely going to find something cute.
If you want an eco-friendly onesie, bamboo baby clothes are a great place to start. They're environmentally friendly and, best of all, cozy and comfortable.
Beyond sustainable, eco-friendly fabrics, you'll always want to find high-quality materials for baby's sensitive skin. Some of the best fabrics for baby skin include linen, cotton, and fleece.
Finding rainbow baby onesies that snap at the bottom is a must for fast, easy diaper changing. You'll also want to find breathable fabrics to keep your little one cool.
Picking a Rainbow Baby Outfit for a Girl
Now for the fun part: our top picks for rainbow baby onesies!
If you're on the hunt for a rainbow baby outfit for girls, you'll be happy to hear there are tons of adorable options available. While picking our favorite might not be easy, we've whittled them down to our top five!
I know we said our top five, but if you buy this one, you're getting a little extra bang for your buck! This affordable set of girly Gerber bodysuits on Amazon is only $12.59 and includes 8 different bodysuits.
A few of which feature a lovely rainbow design that's ideal for your beautiful rainbow girl.
Don't ask me what it is, but I'm a sucker for adding a baby's name to anything and everything that will sit still long enough for customization. For that reason, it should come as no surprise that I'm slightly obsessed with this beautiful baby name onesie for girls (or boys! We're on board with gender fluidity if that's right for your family).
It features a pink color scheme that's really unique. Whether you're shopping for your baby or you're searching for rainbow baby gifts, this is a win!
Okay, I know this bamboo baby romper isn't the "normal" rainbow baby onesie for baby girls, but it was too cute to leave off the list!
Plus, this pastel shorty outfit is made from luxurious bamboo cotton and has a zipper (a big deal in the parenting world for those 3 am changes where you just cannot button another damn button).
Alright, alright, you've caught me – I'm a sucker for anything that comes in packs. That must be why you're finding another set of multiple onesies as an option on this list!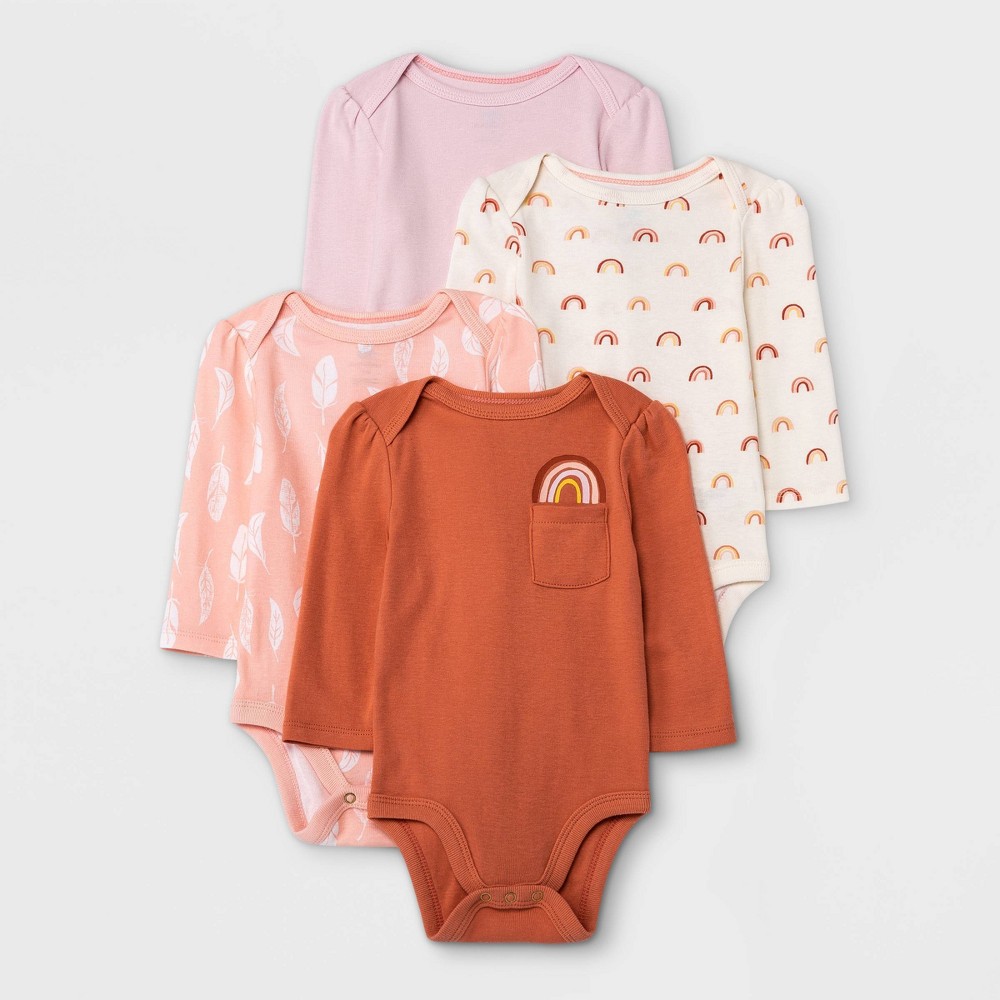 If you're searching for more of a boho rainbow baby outfit for girls, this set of Cloud Island Onesies at Target is just the ticket.
While many of the previous options feature subtle nods to the rainbow symbolism, this rainbow baby onesie is more to the point for families who celebrate rainbow babies in a religious way.
It also includes a popular saying that many loss parents can likely relate to if they subscribe to this idea. If not, options 1-4 are great for non-religious families.
Finding an Adorable Rainbow Baby Onesies for a Boy
Okay, now onto the little dudes. While it's not unusual to feel like there are more clothing options for daughters than sons, this isn't necessarily the case regarding rainbow baby onesies for boys. And again, if your family practices gender fluidity, then these options are great for girls, as well!
Here are our top picks:
The concept of babies being the rainbow after a storm is the epitome of the "rainbow baby" idea.
This adorable onesie for babies is the perfect representation of it.
If you're searching for a more subtle way to represent your rainbow baby with their onesie, this Aloe Rainbow bodysuit from Kyte Baby is one of my personal favorites! Not only does it feature a unique, boho rainbow design, but you'll also be getting the Kyte Baby quality this company is famous for.
In fact, this bodysuit style has more than 1,500 positive reviews! (Fun fact: we LOVE Kyte baby!!).
If you thought I wouldn't include a personalized rainbow baby onesie for boys, think again!
This style features gorgeous earthy tones that are sure to make you swoon. Add a little one's name to make it the perfect rainbow baby gift.
As a major Beatles fan, this "Here Comes the Sun" onesie gives me all of the feels in more ways than one. It combines a rainbow and sunshine design to create a happy, lively onesie any little one is sure to look adorable in.
Can you imagine how cute this would be on your rainbow baby onesie announcement?
Remember that precious rainbow shorty we mentioned as a rainbow baby outfit for girls? Well, you'll be thrilled to learn they also make a version for boys!
This blue rainbow bamboo romper is something any parent experiencing pregnancy after miscarriage should have on their list of baby registry must-haves.
Whether you're waiting to find out your baby's sex or prefer a gender-neutral style for your little one, there are tons of great unisex rainbow baby onesies to fit your needs.
If you want to do a rainbow baby onesie announcement for your pregnancy, you won't find a better option than this Rainbow Baby onesie from LittleScouts Co.
What's even better is it's incredibly budget-friendly!
Made from high-quality fabrics and kid-safe ink, this gender-neutral rainbow baby onesie is an excellent option for a baby's sensitive skin.
It features a beautiful unisex design and can even be customized with your little one's name, birth date, or other wording if that's something you'd like.
Not all rainbow baby onesies have to be exactly the same – that's why we love the unique style of this bodysuit!
We're also big fans of the fact that it's made from organic materials and has gorgeous bohemian-style rainbows all over it.
Do You Have to Get Your Little One a Rainbow Baby Onesie?
While rainbow baby onesies for boys and girls are certainly a cute way to celebrate a baby after miscarriage, stillbirth, or infant loss, that doesn't mean they're for everyone.
Some people dislike the term "rainbow baby," because it suggests that the storm of grief after pregnancy and infant loss is over.
If this sounds familiar, we get it, and we've been there.
There's no reason anyone should feel like they have to embrace the concept of a "rainbow baby."
If it doesn't feel like a part of your parenting journey, please don't let societal pressure force you into using it. Sure, a rainbow baby pregnancy announcement might be sweet, but not if it's something that will negate your unique feelings about your family-building process.
Situations like these are why our team has created our "Undefining Pregnancy" group. We believe in meeting mothers where they are and offering the support, so many of us want and need after infertility, miscarriage, and infant loss.
So, Are Rainbow Baby Onesies Going to Be a Part of Your Parenting Plan?
Whether you decide to buy one rainbow baby onesie, several, or none at all, our community has your back!
There are so many adorable products on the market that are sure to be a hit as a part of your Rainbow Baby Day celebration, pregnancy announcement, or birth photos if you choose to use them. From bamboo baby rompers to personalized onesies, there's something for parents and loved ones who choose to celebrate rainbow babies.
Will you buy your little one any rainbow baby onesies? Why or why not?
Kristen Bergeron is a freelance writer from Florida. In addition to writing, she is a wife, mother of two beautiful girls, Hadley and Scarlett, and a part-time photographer. After overcoming infertility and having two successful IVF cycles, she's made it a personal goal to help educate men and women on the realities of fertility struggles. She is passionate about supporting fellow women who are trying to navigate the complicated world of conception, pregnancy, and learning to be the best mothers we can be.