This site contains affiliate links, meaning that we earn a small commission for purchases made through our site. We only recommend products we personally use, love, or have thoroughly vetted.
---
Let's be real here. Miscarriage gifts don't take the pain away. But when I was in the depths of recurrent miscarriage, my friend Mary Katherine showed up with a miscarriage care package that really perked me up.
I don't mean that I suddenly felt better. Or that I needed things. But when people took the time to create a miscarriage care package, or to figure out appropriate gifts for miscarriage, I understood that they really, truly cared.
First Published: September 11,2019… Last Updated: October 28, 2020
Gifts are one of many ways of helping a friend through a miscarriage. Texts and calls were great, and I appreciated them tremendously. But I felt so loved when I received something physical, no matter how small.
These gift ideas are based on my experience as a miscarriage mom, as well as input I've gotten from hundreds of women who I've worked with over the past 4 years.
What to Do For Someone Who Has a Miscarriage
This is the most common question I'm asked when people reach out to me because a loved one is experiencing pregnancy loss: "What do I do for someone who has a miscarriage?"
The answer: Do something!
It really is that simple.
I'm not suggesting that you do anything major. Just a small token of your love and thoughts is worth more than you'd imagine.
Miscarriage is a subject that has been kept silent for so long that most of us don't know how to support others through it. And when we go through it, we often aren't aware of how common an experience it is.
If someone has opened up enough to tell you they're experiencing a miscarriage, just do something. The fact that you're doing anything at all, no matter how big or small, shows that you recognize their grief as valid and you're trying to support them.
When you're in the depths of this intangible grief–having lost this person you dreamed of but didn't really know–the most important things are knowing that people are trying to understand your loss, and that they care.
Healing Gifts for Miscarriage
Whether you print out some beautiful miscarriage quotes or purchase a gift, your actions will be worth so much to the grieving mama you love. What helps people heal most is the ability to work through their grief and a sense of community.
You can gift them both here.
This journal is by a miscarriage mama (me), for miscarriage mamas. It provides 100 pages of healing that help women experiencing pregnancy loss feel their emotions and move forward in their grief.
Not a typical journal, Mourning Retreat: A Journal for the Sisterhood of Pregnancy Loss goes well beyond typical journal prompts. It includes those pages, but also includes actionable exercises to help a new mom move forward–when, and only when, she personally feels ready.
(2) Miscarriage Jewelry
Jewelry is a common symbol because it is something you can keep with you, which many loss parents find comforting.
If you're buying jewelry as a miscarriage gift, think small, simple, and thoughtful.
My favorite piece of jewelry for a miscarriage gift is made by a loss mom, for loss moms. This lovely remembrance necklace is perfect for any loss mom, and it comes with the added bonus of a beautiful linen keepsake box where grieving parents can store all the tiny memories they were holding on to.
If you want something a little smaller, we love this gorgeous angel wing necklace from NY Metals.
I also love this sweet "Too beautiful for earth" bracelet by Joycuff.
Creating a Miscarriage Care Package
One extremely thoughtful gift for miscarriage is a miscarriage care package.
The upside to a miscarriage care package is that it shows how seriously you're taking the loss.
The downside is that it takes a bit of work to assemble a group of items.
If you want to buy a pre-made care package, you might be able to find a spa gift basket, like this one from the hilariously named Bougie Bath.
To create your own spa gift basket, consider items like
Note: Before buying bath products as a gift for miscarriage or to create a miscarriage care package, know that women who have a dilation & curettage (D&C) are usually put on bath restrictions for 6 weeks.
What To Include in a Miscarriage Care Package
Because so many women can't take baths after miscarriage, and because I like the personal touch of a care package someone assembled personally, I'll provide suggestions below for the best miscarriage care package contents.
(1) Something soft and fuzzy
A miscarriage teddy bear is always a good choice because it's easy to snuggle with, and having something to wrap your arms around while you grieve is never a bad thing. Especially when you wanted to wrap your arms around a new baby.
Fuzzy socks because they are warm and comforting. For me, having on a sweatshirt and fuzzy socks on makes me feel like I'm tucking myself away from the world. It's insulating and intensely comforting.
(2) Candy or a favorite snack
I'm partial to edible cookie dough.
Having something to snack on (especially your favorite snack) can be comforting because your brain releases serotonin when you stress eat, the same chemical released by antidepressants. This can make you happier–even if only for that moment.
(3) Magazine or book
You Are Not Alone is a fantastic book for helping moms feel less isolated in their grief.
Escaping through a magazine or an easy-to-read book can be the perfect way to release yourself from grief for a bit.
We also have a full list of recommended miscarriage books.
(4) Heating pad
Microwavable heating pads are the easiest option because they're so portable.
Flowers as a Miscarriage Gift
Flowers are obviously a quick and easy gift for miscarriage. If you want to do something simpler than creating a miscarriage care package, flowers are a good bet.
People aren't sure of protocol, so questions I get a lot are things like, "Should you send flowers for a miscarriage?" and "What color is the miscarriage flower?"
I'll answer in order.
Send flowers for a miscarriage if you want to. Again, what's important isn't so much what you do, but that you do something.
And no, there is not actually a miscarriage flower. And if there's a color, I've never heard of it. Still, this is a common question.
To pick the best flowers, keep the following ideas in mind.
Judge based on the person. You know them, and you know what they like. I love the color purple, so I wasn't surprised when I received purple flowers, and it felt like a special, personal touch.
White flowers tend to symbolize innocence, so I think they're a great choice for miscarriage flowers.
Other Miscarriage Gift Ideas
Of course, there are tons of other things you can send as gifts for miscarriage.
(1) Miscarriage Art
I know many women who have received artwork, included hand-drawn artwork. This is so special because it's so personal. The three hearts my friend Tessa sent after my third loss will likely live on my dresser forever.
Another great gift is anything small and pretty involving angels. Many parents of loss refer to their lost children as "angel babies," and they regularly see angels as representing their children.
(2) Angels
I keep 4 wooden angels on my bookshelf to represent the 4 children we lost.
Interested in buying an angel gift? I love this simple remembrance angel by Willow Tree.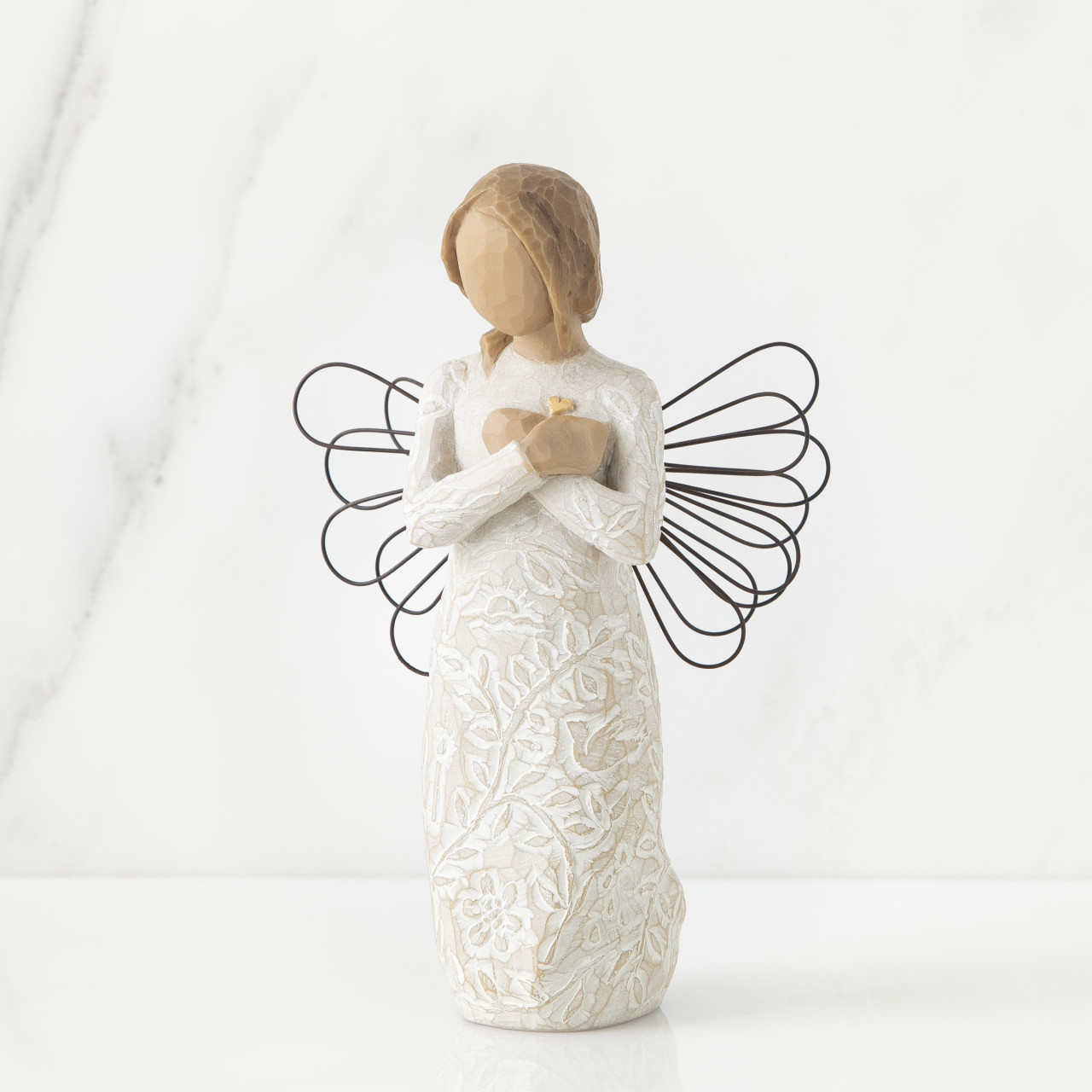 Remembrance
A gift to express sympathy, comfort, remembrance and healing. Willow Tree angels resona…
If you're buying for someone who has experienced multiple losses, we love these angels from Lotty Lollipop.
And finally, a gift card for dinner never hurts.
Gift cards tend to be too impersonal for this sort of loss, but when my friend Tessa sent one for a meal delivery service, I knew she was thinking of making my life easier. And it meant the world to me.
When to Send a Miscarriage Gift
I suggest sending a small gift as soon as you learn someone has had a miscarriage. The gift can be something as big as putting together a miscarriage care package or as simple as a card.
What matters is that the person you want to support feels loved and supported through a time during which most people feel very isolated.
Articles About Rainbow Babies
What gift for miscarriage have you found to be especially helpful?
General FAQs

What is a miscarriage care package?

A miscarriage care package is a thoughtfully curated group of items arranged in a basket or gift bag that help support parents who have recently experienced a miscarriage.

Why should I sent a miscarriage care package?

Miscarriage care packages are a great way to show parents experiencing pregnancy loss that you care. These parents are at a vulnerable time, and letting them know you're thinking of them is invaluable.

How do I know when to send a gift for miscarriage?

There is no bad time to send a gift for a miscarriage, but we suggest sending something immediately after you hear about the loss.

What should I say to someone who had a miscarriage?

There is nothing you can say to make someone's experience less painful. The best thing you can do for someone experiencing miscarriage is to be present and allow them to grieve with you.
---
Posts About Miscarriage Support
Katy Huie Harrison, PhD, is an author, mom, recurrent miscarriage survivor, & owner of Undefining Motherhood. She lives in Atlanta with her husband (affectionately known on the internet as "Husband,") son (Jack), and dog (Charlotte). She believes our society puts too many expectations on women that make womanhood and motherhood restrictive. Her goal is to shift the paradigm about what it means to be a woman and mother, giving all women a greater sense of agency over their own lives. You can find Katy and her work featured in places like CNN's Headline News, Romper, Scary Mommy, Demeter Press's Motherhood and Social Exclusion, & more.