I remember sitting in a dark Broadway theatre, excited to see Hamilton for the first time. The music was upbeat, the actors were phenomenal, and I was enthralled. And then it happened. The words started pouring out much like the tears streaming down my cheeks, and I found myself unable to breathe, heaving sobs, fully unprepared for the impact this random night at the theatre would have as I worked through the trauma of baby loss.
🎵 There are moments that the words don't reach. There is suffering too terrible to name. You hold your child as tight as you can and push away the unimaginable. 🎵

🎵 If you see him in the street, walking by himself, talking to himself, have pity . . . He is working through the unimaginable🎵

Hamilton by Lin Manuel Miranda
I looked to me left at the face of my friend Julia, who like me, had lost many babies during pregnancy. My mind flashed the faces Jamie, and her precious son Jackson. I recalled images of Hannah holding her daughter Senna, who was stillborn. I saw all the friends and community members I know and love who have worked through the unimaginable grief of stillbirth and infant loss.
Watching someone you love struggling through the loss of a child can feel unbearable, and people ask me daily how they can support grieving parents who lost a baby. Being surrounded by loving support goes a long way for parents experiencing this type of grief, and you can be that support.
Gifts can be really supportive, but baby loss gifts require a special level of care. There are things many people don't know to think of–like, if you send flowers, parents often re-experience a type of devastation when those flowers die. With all this unique and devastating knowledge in tow, we're here to help with a curated list of thoughtful and supportive gifts for grieving parents who lost a baby.
First Published: November 18,2019… Last Updated: September 21, 2023
This site contains affiliate links, meaning that we earn a small commission for purchases made through our site. We only recommend products we personally use, love, or have thoroughly vetted.

What is a good Gift for Someone Who Lost a Baby?
The reality, which we all know, is that there is nothing we can do that will help alleviate the pain of losing a child.
Nothing.
But there are things we can do to support the parents through their loss, while recognizing that we can't make it better.
A few great ways to provide support include the following:
Show you care by sending a gift or making a charitable donation in the lost child's name
Be there when the parents need you to be, but give space when they need to be alone with their grief
SAY THEIR CHILD'S NAME! So many people fear that they'll bring up the grief again, but most people who are grieving crave hearing that others remember the person they've lost
Tell stories about their child
Mark important dates on your calendar so you can reach out to the parents when those dates occur–their child's birthday and the date of their death; Mother's Day & Father's Day; and all holidays the parents will have to celebrate without their beloved child.
What to Send Someone Who Lost a Baby (besides flowers)
Flowers are obviously the easiest go-to, which is why a lot of people don't want to send them. If you are sending flowers, see if you can find a way to make them mean just a bit more. Read about the symbolism of flowers, or send flowers that you knew were the lost child's favorite if he or she was old enough to have one.
Aside from flowers, there are many thoughtful sympathy gifts you can send that will honor and respect the lost life that make great gifts for parents who have lost a child.
1.) A charitable donation in the child's name
Did the child pass from a specific disease, or is there a cause to support that was the child's passion? Look for not-for-profit organizations (with a designation 501(c)3 in the US) that support research, other struggling families, or children with the same interests.
Here's an example. We've shared Addie's story before–Addie was a beloved 7-month-old baby who died after doctors missed the symptoms of appendicitis and signs of infant sepsis. Given her cause of death, a lovely gift in Addy's memory might include a donation to the Sepsis Alliance, or to her local Children's Hospital.
If remembering a child who loved Disney, you might donate to Kids Give the World, an organization that sends children with terminal illness to Disney World with their families.
You might also consider donating to an organization that supports bereaved families. See what's available in the bereaved parents' area and donate there. Or give to an organization like The Compassionate Friends, which provides support to families who have lost a child.
2.) Meals
Maybe it's the Southerner in me, but when someone is going through a hard time, my first thought is to send them a meal.
There are a few things to remember about sending meals. First, bereaved parents will be inundated with meals in the beginning. That's not a problem–they need to feel taken care of in every way possible–but waiting a few weeks, or even a couple of months, to send a meal can also mean a lot.
After loss, the support eventually dies down, which often heightens the grief. Showing your support at a later date can go a long way in showing a grieving family that their village is still there to support them. Ideally, you'll take food both immediately and later.
Meal Train allows you to organize a calendar for different friends and family members to sign up to deliver meals. It also allows contributors to fill in what you will take and when. This helps ensure the bereaved parents stay fed, while also helping ensure they don't receive lasagna every single day.
Setting up a meal train is a great way to support parents who have lost a baby or child, and to help others know how to support them, as well.
3.) Write a Letter About Their Lost Child
One thing that's so hard for parents grieving the loss of a child is that they want to know that others remember their child's life, just like they do.
Writing letters is a great way to provide this because it allows parents to read the letter when they feel emotionally prepared, and they're able to read it over and over again.
Sending a hand-written letter is the most personal way to give this type of gift to a parent who has lost a child, although email and social media are options that will work. Still, we highly recommend hand-written letters.
In the letter, tell them stories about their child. When did their child make you laugh? Cry? Support you or your own child? How was your life better for their child being in it?
If you're writing a letter as a gift for parents who have lost a baby, tell stories about the baby. You may not be as specific, but you can talk about the times you saw the baby and things the baby did. You can speak to the baby's temperament, to how loved the baby was.
If you never met the child or baby, you can still talk about how much you loved seeing pictures of them on social media, comment on outfits and facial expressions you loved, etc. The bereaved parents are holding on to all of these memories, so it's nice to know that others remember them too.
Letter writing is free, but it makes a truly beautiful gift.
Photo books can be amazing gifts for parents who have lost a child, especially if you knew the child well enough to have a lot of pictures. You likely have pictures that the grieving parents don't, so sending a book with those photos is an amazing way to help keep the child's memory alive.
If you are crafty and want to put something together yourself, choosing a beautiful scrapbook like this one that you can have engraved with the child's birth date is a great choice. That way you can create a personalized gift, filled with printed photos and memories for the parents to hold on to.
If you are less crafty (no judgement here), you might want to consider creating a custom photo book from pictures from the parents' Instagram and/or Facebook accounts. We like the customizable photo books from Shutterfly.
Things Besides Gifts for Grieving Mother: What to do and ways to support
Before we move into more gifts, let's talk a little bit about what to do for parents who have lost a baby or child that is not a gift. Because remember, gifts show that you care, but they aren't essential.
Some of the most important things to do include:
Offering a safe space to shed tears, feel pain, talk, or reminisce
Supporting or helping to organize a memorial project–a fundraiser, an event that remembers the lost child, etc.
Be present long-term, not just short-term. Check in regularly. Show up. Give love.
Don't expect the grief to disappear, or even lessen. It will likely get worse for a while.
If you do want to buy gifts for a mother who lost her child, hopefully in addition to doing the above, here are some of our favorite ideas.
You may notice that most of these ideas come from Etsy. That's because most Etsy stores give you the ability to customize purchases, which is an extremely important, personal touch when buying gifts for parents who have lost a baby or child.
Jewelry is a timeless gift, and we especially love it as a gift for grieving parents because it can help parents have something tangible to touch that's with them at all times and honors their child.
It's this desire to feel like their child is always with them that leads many parents to buy birthstone jewelry and get tattoos of their children's artwork.
See if you can ask a teacher, spouse, or grandparent to help you locate a drawing the child did (if old enough). You can have it framed to create a special wall hanging of the lost child's art.
Framed art is an exceptionally thoughtful memorial gift because it showcases work the child did themselves, and the parents will cherish having that visible in their home.
We love this custom family print. The tree of life is so symbolic, and we love the idea of a lost child flying with freedom. What we love most, though, is that it shows the whole family together.
It also uses the lost child's name, which means so much after parents lose a baby or child. Remember, using someone's name is so important to their loved ones after their death.
We love Dear Ava's sympathy jewelry for parents, which comes with beautiful inspirational and supportive messages.
We always suggest being careful with messages you choose, and this is among our favorites for parents who lost a child–simple, gentle, loving.
An angel is a comforting symbol in times of loss, and parents often appreciate having a token to remind them of their child.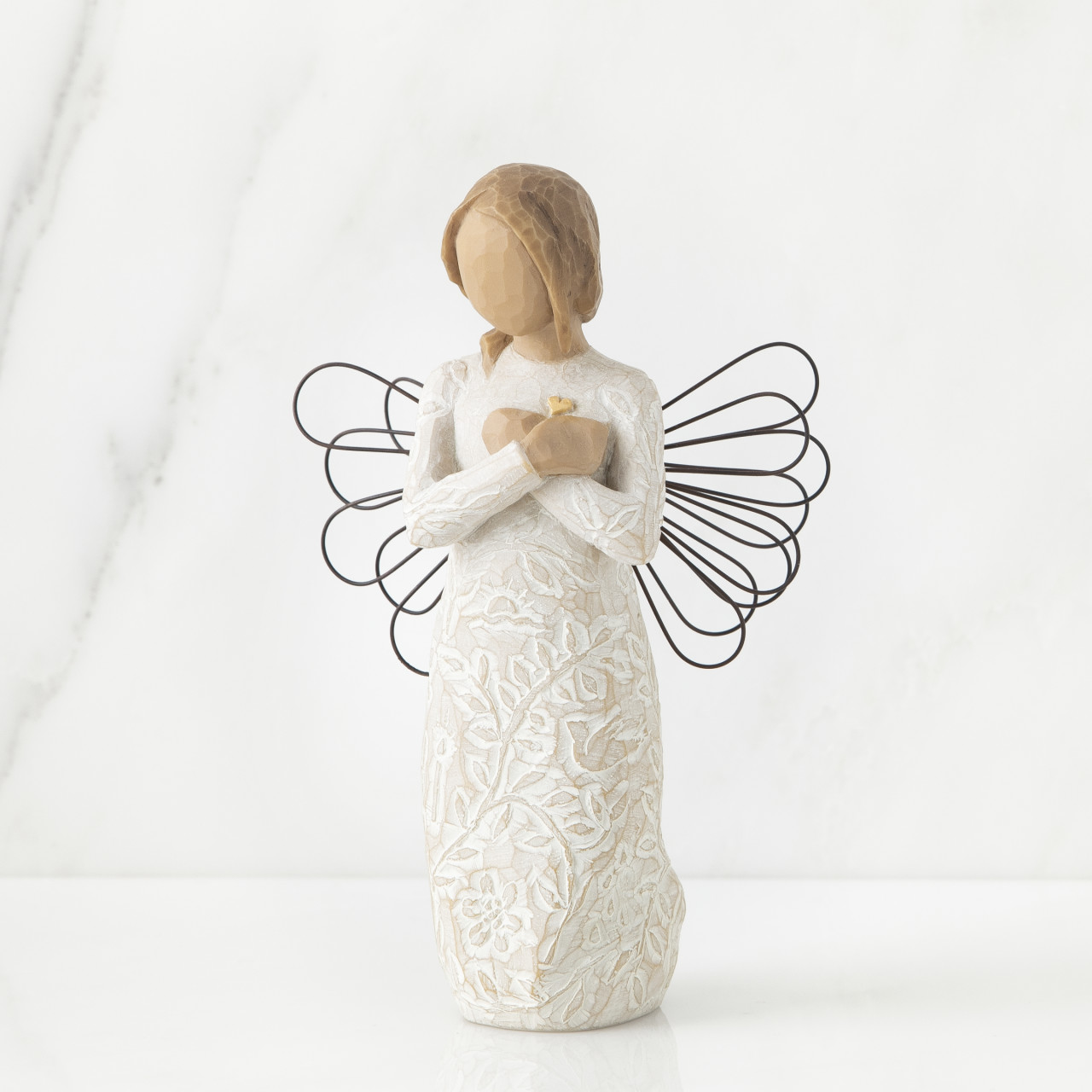 We love the beautiful angel figures designed by Willow Tree, a simple comfort for a grieving home.
Memorial Gifts for Loss of Son or Daughter for Dad
Our society's conceptualization of masculinity does not usually include grief, tears, or heartbreak for men. Because of this, we tend to focus on moms in times of loss.
But is absolutely unfair to overlook a grieving dad because we, as a society, are not comfortable with his grief.
Instead, we need to help him know it's okay to grieve, and that we're here to support him. That's why, even though we don't think gifts are necessary, we do love gifts for fathers who have lost a child.
Here we share some ways that you can honor a father's grief.
If you know someone who's a great artist, ask them to do it. If it's someone the grieving parents know, all the better. The photo will be even more special if it's painted or sketched by someone who loved their child, and gifted by someone else.
If you need to find someone to do this, we're super impressed with the portraits from photos by P Harper Art on Etsy.
If the dad you are trying to honor doesn't necessarily wear his heart on his sleeve (and might not want to take a coffee mug with his child's face on it to work), then consider something more subtle like this engraved watch
Jewelry has always been a nice memorial gift, and this style is great for dads who are understated.
With a customized keepsake box, dad can remember his lost little one with all the treasures he wants to keep hidden in his closet–and close to his heart.
Have this stunning box from MadTree Woodcrafts customized with the child's name and birth date. Dad will love it.
If you know the family well enough to get some of their child's clothes, you can actually have a quilt made from that clothing. You certainly don't want to use all of their clothes, but using some is such a fantastic idea.
You may know someone locally who can do this for you, or you can have it done on Etsy.
Wind chimes can be a lovely gift for someone grieving a loss, allowing them to feel the spirit of their loved one in the air, in the breeze. These chimes give voice to those moments.
These chimes come in a lovely box with a sympathy message. At a time when nothing feels right to say, it's nice to have a bit of that work done for you.
Remember Grieving Parents During Holidays, Birthdays, and Anniversaries
After parents lose a child, they'll have an influx of love and support. But over time, that support begins to fade.
While we strongly recommend keeping the support going long-term, it's also important to remember special occasions that will be hard for the parents.
Their child's birthday, for instance, and the anniversary of their child's passing, will be especially difficult days.
When you write those cards, be careful to include memories of the child on that day, and always include his or her name.
If you had a tradition with the child–a favorite restaurant, or movie to watch–go to that restaurant or watch that movie on those days. And tell the parents you're doing it. Send them a photo. Remind them that their child is still loved and remembered by far more people than them.
It only takes a moment to plug those dates into the calendar on your smartphone.
When you get that reminder, place a card in the mail and know that the parents you are supporting will feel very, very loved in that moment.
And don't forget major holidays! All holidays will be hard, and if the parents lost their only child, be especially sure you send them love on Mother's Day and Father's Day.
Remember, plenty of people who don't have living children are still parents.
What are some of your favorite go-to ways to support parents who have lost a child? Tell us in the comments!
Katy Huie Harrison, PhD, is an author, mom, recurrent miscarriage survivor, & owner of Undefining Motherhood. She lives in Atlanta with her husband and 2 children (Jack & Branham). She believes our society puts too many expectations on women that make womanhood and motherhood restrictive. Her goal is to shift the paradigm about what it means to be a woman and mother, giving all women a greater sense of agency over their own lives. You can find Katy and her work featured in places like CNN's Headline News, Romper, Scary Mommy, Love What Matters & more.