As I sat scrolling through Amazon looking at loungewear sets to wear after giving birth, I longed to find the perfect postpartum pajama set to make my recovering body feel good.
Trust me; I understood that no PJs would entirely erase the discomfort of bringing a baby into the world. Still, I figured if I could at least find something soft and cozy, I might feel a little more human than I would in the traditional delivery gown.
Oh, how right I was.
Packing a luxurious nursing pajama set is one of the best decisions I made for my labor and delivery experience. There was something absolutely heavenly about sliding off my shitty cotton hospital gown (which was covered in all sorts of ungodly material) and slipping into fresh PJs.
If you're thinking about how to feel like a human post-birth, you're likely thinking about ditching that hospital gown and weighing the options about whether to buy a new nightgown or PJs. Guess what? We're here to help!
There are many excellent options available! Check out the information below to find out what to buy, where to buy, and which products will make you feel like life's worth living after a tiny human has exited your body.
This site contains affiliate links, meaning that we earn a small commission for purchases made through our site. We only recommend products we personally use, love, or have thoroughly vetted.

Despite how we might feel during our weekly jaunts to Target, there's a difference between want and need (although I still claim I "needed" those cute throw pillows I saw last week!).
Do you NEED to buy postpartum PJs for your hospital stay after delivery?
Well…no.
The hospital will undoubtedly provide a collection of oh-so-fashionable gowns to wear during your stay at Hotel Healthcare. So, if you're looking to take a minimalist approach to your post-delivery packing, you don't have to bring extra jammies.
That said, I still think packing a postpartum pajamas set to your list of hospital bag essentials is a great idea because, if you're anything like me, your entire family is going to be lining up outside the delivery room to see the new baby. Getting caught in a hospital gown that's slipping down your shoulders is less than idea.
Basically, I believe any new mama would appreciate the added comfort of changing out of a hospital gown and into a nice set of PJs. Plus, if you're planning on taking photos inside the hospital, a cute pajama set will look great in the pictures!
Other Must-Have Clothing Items for Your Hospital Bag
The perfect postpartum pajama set aside; there are plenty of other great products you might want to include on your hospital bag checklist! Some of our favorite suggestions are:
We also recommend packing two separate bags – one with items you'll want during labor and another with everything you'll want after the baby is born. This way, you can switch the bags out and not deal with tons of stuff to sort through.
Key Things to Consider Before Buying Any Postpartum Pajamas Set
You might think that pajama shopping is a no-brainer – just go to the store a grab the first cute set you see.
When shopping for your postpartum period, however, you want to ensure that whatever PJs or nightgown you buy will be comfortable and convenient. After all, a lot is going on with your body after birth; no new mom should deal with clothing they don't feel great in.
Before you start your search, consider the following guidelines:
1. Season
During my first pregnancy, I gave birth in the middle of the summer. When it came to all of the postpartum clothing I packed, I basically went with anything possible to stay cool. Even though hospital rooms tend to stay chilly, I was fearful that the hot Florida sun would still seep its way in and make me miserable.
Considering the season during your PJ shopping will be helpful where comfort is concerned.
Just remember, though, no matter what time of year it is, most hospitals tend to keep rooms cold. Packing a robe is a good idea to help beat the chill if needed.
2. Nursing
Whether you're a former nursing mom or a first-timer, the early days of breastfeeding a newborn are often a challenge. Wearing clothes that provide easy access to your breasts will improve the experience.
There are tons of great nursing pajamas on the market that will simplify things. If you don't want to go with a specific nursing PJ set, just pick products that offer convenient accessibility.
3. C-Section Recovery
Based on data from 2020, approximately 31.8% of deliveries are c-sections – many of these are unexpected.
C-sections are commonly used as an emergency option when vaginal delivery isn't safe for mom or baby. Since there's no way to know whether you'll end up requiring one, expecting the unexpected about delivery is never a bad idea.
Try to find a postpartum pajama set that's good for c-section or vaginal birth. Loose, stretchy clothing usually works well.
4. Fabric
Your body will be doing all sorts of strange things in the early days after delivery. One of which might be heavy sweating, especially at night. This is due primarily to hormonal changes and the need to eliminate extra fluids.
While shopping for your postpartum nightgown or PJ set, you might want to look for something that offers lightweight, breathable fabric. Something with moisture-wicking material is even better for tolerating those late-night, post-delivery sweats!
Is Wearing a Nursing Bra Under PJs Necessary?
Listen, I'm about to tell you something super glamorous about becoming a nursing mama for the first time – you are going to leak…A LOT OF MILK.
Especially in the beginning.
I was never the kind of person who could go without nursing pads while breastfeeding, at least not until I was further along in my postpartum journey. So, I always felt more comfortable wearing a nursing bra to keep my breast pads in place.
So, no, you don't have to wear a nursing bra under your pajamas in the hospital, but it might not be a bad idea to bring one, just in case.
The Most Stylish (and Comfortable) Postpartum and Nursing Pajamas on the Market
With so many different nightgowns and PJ sets on the market, figuring out which ones you want to buy can seem nearly impossible. I swear, I must have browsed about fifty different listings before I finally settled on the "perfect" pajama pants and top.
To help ensure you don't struggle as much as we did, our team has put together a list of our favorite postpartum pajama sets from some of the best stores around.
The ultimate in pajama luxury, there is no more comfortable pajama set out there than this incredible bamboo pajama set by Cozy Earth. So soft it's like sleeping on a cloud, their innovative fabric that not only provides versatility and flexibility throughout your pregnancy but also regulates your body temperature, ensuring you enjoy a peaceful night's sleep. Ideal for postpartum hot flashes.
Get 40% Off With Code UNDEFININGMOTHERHOOD40. For a limited time.
With easy nursing access through it's button-up design, these pajamas are a game changer for postpartum comfort. Honestly, it's no wonder they were one of Oprah's Favorite Things!
When I tell you I'm OBSESSED with the Davy postpartum pajamas set from Kindred Bravely, it's no lie.
Not only are these made from a cozy, stretchy fabric called viscose, but they also feature a stylish design that will have you feeling chic during your first few days as a new mom.

Davy Nursing & Maternity Pajama Set / Dusty Mauve – $49.99
from:
Kindred Bravely
Their soft waistband is ideal for C-section mamas, and the ruching at the top offers easy breastfeeding access.
This short, button-up PJ set is the same one I purchased to wear after delivering my first daughter. The soft fabric is so luxurious that I went on to buy more sets and continue wearing them today!
I love that they also have drawstring pajama bottoms for an adjustable waistband. This way, they can adapt to your recovering body after childbirth.
If you prefer long sleeves and pants, that's an option with this amazing design.
Are you looking for something loose and cozy to wear after delivery? If so, you're guaranteed to love this henley nightgown from Target.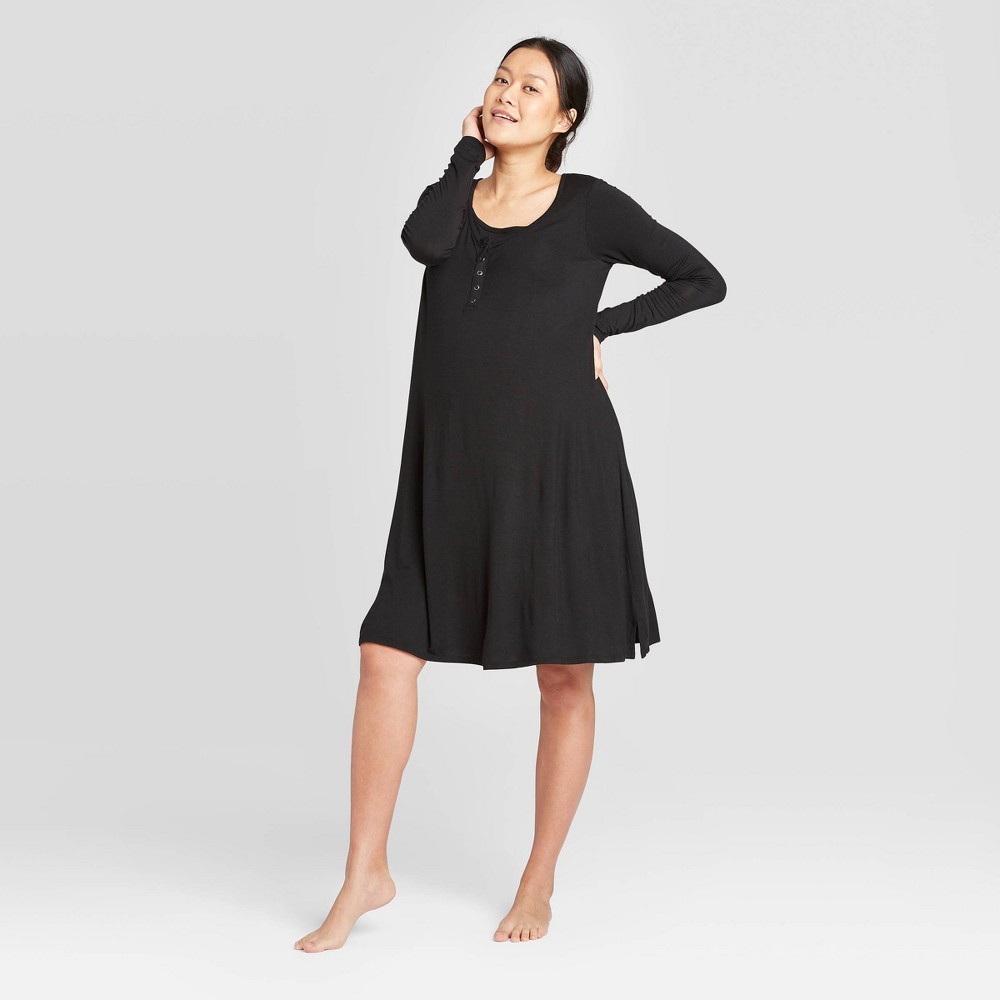 It's made with soft cotton knit that will be gentle on your body but includes a small amount of spandex to give it a little stretch.
If you're a tank top person, Kindred Bravely's Sloan Postpartum PJ set might be the best option for your hospital bag.
When tackling the fourth trimester of pregnancy, these pajamas are undefeated.

Sloan Organic Cotton Nursing Pajama Set / Blue Fjord – $54.99
from:
Kindred Bravely
From a discreet nursing panel to breathable fabric, this short set has all the fantastic features your postpartum body deserves.
Okay, this is not a postpartum pajama set; it's just the pants. That said, it's still earned a place on our list for a VERY good reason…the pants have pockets! What new mama does not want and deserve a good pair of pockets on her PJs?
So, slap on a t-shirt or nursing tank with these long pants, and you'll have the ideal post-delivery PJ set with room for a paci or your cell phone during long nursing sessions.
Pockets might be awesome, but some new moms are looking for postpartum sleepwear that's slightly more romantic and feminine (read: great for photos).
If this sounds like you, your search is about to end. The Lucille Nursing Nightgown is pure luxury and beauty that will make you feel gorgeous after delivery.
It has many lovely design elements, including a delicate lace top, empire waist, and several attractive color options.

Lucille Maternity & Nursing Nightgown / Rose – $29.98
from:
Kindred Bravely
When you also want easy nursing access, you'll be happy to hear this nightgown also features convenient snaps for late-night feeds.
Would you like a nursing nightgown that packs a fun, fancy flair with its pattern and design options?
You're going to adore the options at Little Sleepies! From elephants to lemons, their cute bamboo products are a hit among shoppers.
Thanks to its loose design, the Clea Button-Up Nightgown at Kindred Bravely is great for protecting your C-section incision after birth. It's also made from top-rated bamboo cotton and includes, you guessed it, pockets!
My only complaint about this style is that I also wish short sleeves were an option.

Clea Bamboo Classic Long Sleeve Sleep Shirt / Black – $49.99
from:
Kindred Bravely
However, given the cold nature of hospital rooms, I'm sure you'll be grateful for the extra fabric!
Pick Pajamas that Make Your Postpartum Body Feel Good
You might not think that hospital sleepwear ranks high on the list of postpartum essentials. In reality, you have no idea how good it will feel to step out of a hospital-grade delivery gown and into a set of pajamas explicitly made to accommodate your healing body.
Whether you want an elastic waistband, button-down nightgown, or bamboo cotton material, there are many outstanding postpartum PJ options out there.
Just use our list of things to consider, and pick a set that works for your body and new mama needs!
What type of postpartum pajamas set would you want to wear after childbirth?
Kristen Bergeron is a freelance writer from Florida. In addition to writing, she is a wife, mother of two beautiful girls, Hadley and Scarlett, and a part-time photographer. After overcoming infertility and having two successful IVF cycles, she's made it a personal goal to help educate men and women on the realities of fertility struggles. She is passionate about supporting fellow women who are trying to navigate the complicated world of conception, pregnancy, and learning to be the best mothers we can be.